With the clocks going back for an hour it seems that the days are getting shorter and the nights are getting longer. All the better for going to see New York Punk band Manitoba NYC, formerly known as The Dictators NYC formerly known as The Dictators. Legal issues forced the name changes but what's in a name? It's still the original roadie became singer Handsome Dick Manitoba and original lead guitarist Ross 'The Boss' Friedman with the other three band members clocking up over four decades between them, and at least the change prevents any tater (or spud related) incidents!
Just one year ago Dictators NYC played FAC251 in Manchester, this time with the name change, Manitoba NYC were playing well know local punk venue, The Star & Garter. A historic red brick pub, a mere stone's throw from Manchester Piccadilly Rail Station.
Opening band came in the form of Heavy Sentence a Heavy Metal band from Manchester. Great music, great riffs and growly vocals. They played a short set with songs including Never Be Alone and Wicked Lady.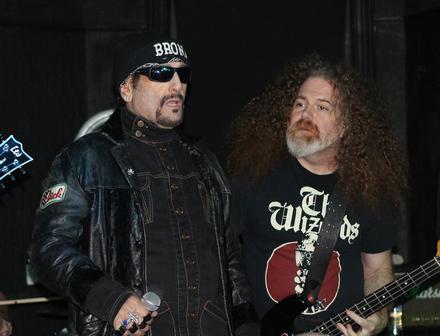 Next up came a band who describe themselves as a punk-grunge-surf band. Frontman and guitarist Stuart announced 'We're Litterbug from Preston – I think. I Will Not Explain' although that didn't mean he wouldn't explain, it was the title of their first song. After which bass player Andy said 'I'll just put something right. We're not from Preston.' He didn't enlighten us either, but the Blackpool t-shirt was a bit of a giveaway! Their set included Punk Rock Ain't What It Used To Be and You Don' t Want and I picked up similarities to the Buzzcocks, Ramones and Sham 69 along the way. Stuart quipped that they had played every song fast to get ahead of schedule so that Andy could tune his guitar. Said guitar tuned, they finished with two Motorhead fast numbers Timebomb and I Listen To Bands and a 'Thanks for having us' from Stuart.
Then Manitoba NYC took to the stage with frontman Handsome Dick Manitoba telling us 'Manchester we came all the way from New York City to see you. I say we have a party and I say The Party Starts Now', an energetic opener by his own (Manitoba's) Wild Kingdom, with a Flamin' Groovies/Rolling Stones vibe, which got their set off to a lively start. Dick in a black beanie hat, emblazoned with the word Bronx, and leather jacket still a striking man with looks belying that he's now into his sixth decade.
With Dick at the front and centre, Ross 'The Boss' his right-hand man, Daniel Rey and Dean 'The Dream' Rispler to his left, there wasn't much room to manoeuvre on that stage but Ross managed to showcase some fine riffage at the front and Dean, with his mass of corkscrew curls, kept holding his bass aloft. I couldn't really see JP 'Thunderbolt' Patterson on his drumming stool but the rhythm was tight. Dick expressive throughout, miming actions such as injecting drugs or downing a shot where appropriate, interspersed the set with anecdotes about the band, politics, music and just life in general.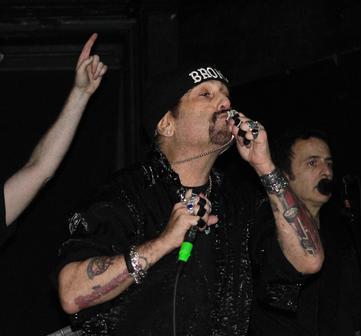 Dick asked if we watched the news and told us that he watched BBC News over here, as it was better than the American news. He said that in the last (American) election people had to choose between two vicious people. What do Americans aspire to. The winner was rich and grabbed a girl's pussy when getting out of a limo, which led to the song Pussy and Money.
Dick informed us that back in 1975 they (The Dictators) made a record, 'The first band to make a punk record. Go Girl Crazy' and they played Weekend with Dick miming knocking back a shot, then he asked us who remembered records? 'We even got to do our cocaine off the covers' but said that his fourteen-year-old kid didn't even know what an album was.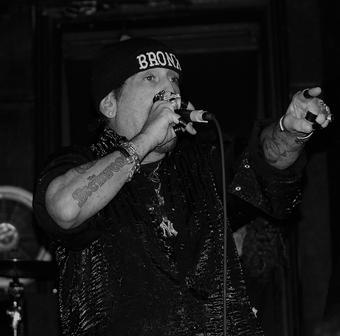 Somewhere along the way Dick like a snake shed a few layers, first the black leather jacket then the black denim jacket leaving him wearing a black shiny shirt. Defiantly he said he was going to call the band The Dictators as, although there would never be all four original members playing together, this was the closest before Baby Let's Twist a song from the 1978 album 'Bloodbrothers', which saw Ross 'The Boss' and Daniel banging their heads in unison and Ross holding his guitar up to play some mighty fine riffs, but Dean wielded his bass guitar even higher.
Another song from the first album Go Girl Crazy followed, a protest song Master Race Rock which turned out to be very popular, with the majority of the audience dancing and singing along. After finishing the song, Dick said Master Race Rock had pissed people off, as most of the band were Jewish, but he advised us to just listen to the lyrics
I spotted a few people in the audience wearing Manowar t-shirts, the heavy metal band which Ross formed with Joey DeMaio back in 1980. I hope they hadn't come expecting to hear any Manowar songs because, if so, they would have been disappointed. If they came to see Ross 'The Boss' playing some fantastic licks and riffs then they got what they came for.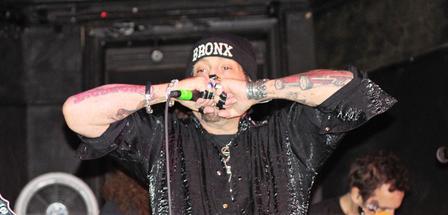 A bit of an introduction to members of the band came from Dick who told us that Daniel (Rey) had been close to Joey Ramone and that he had written tracks with the Ramones and also been the producer/guitarist for Ronnie Spector, some fine credentials there. He then said 'If your drummer's not great, the band sucks - JP "Thunderbolt" Patterson' who did a drum roll for us before new song Supply and Demand. A bit of a mosh pit started. It looked like it was going to kick off but with the intervention of fellow audience members the crisis was averted. The possible trouble was noticed by the band and Dean said 'No fighting or we stop playing. We're friends here, go home if you want to fight. Come on fellas'
Dick said the greatest city in the world was New York and we should get Manchester United to play the New York Yankees. He then held up and kissed the pendant he was wearing round his neck before announcing the song New York, New York during which he encouraged the audience to sing along. At the end of the set Dick said 'Thank you Manchester for keeping rock 'n' roll alive'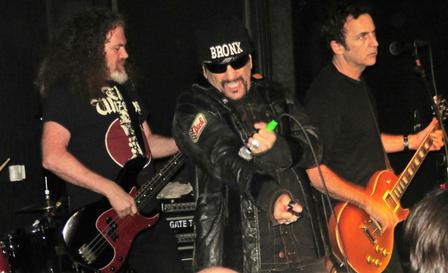 The band then exited stage left, depending which way you were facing. After shouts for more they came back on. In case we were wondering Dick asked 'What are we doing this for at our age? We make a couple of bucks a year but it's not making us rich' then he answered the question for us 'We love it that's why we do it.' He made a promise that the band would go to the merchandise table after the show and would stand there and sign or pose for pictures until the last person had left, but it would be nice if we bought something too and he indicated that they would come back next year. Then Manitoba NYC or The Dictators, if that's how you lie to think of them because you can call them what you like in your own mind, finished with two encore songs Two Tub Man which reminded me of Bon Jovi's Sleep When I'm Dead in places. Dick then announced 'Look what time it is' before tapping his wrist watch 'It's time to 'Kick Out The Jams' Motherfuckers' a catchy cover of the MC5 classic announced in true MC5 style.
Then it really was the end. The band might have been in existence for over forty years but despite the passing of four decades they played with the same energy and passion as The Dictators did back in 1973 (and no I didn't see them then, but I have watched the videos!). Roll on next time!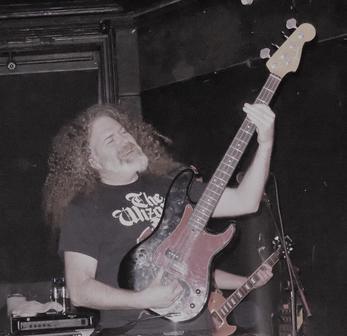 Band Members
Handsome Dick Manitoba - Vocals
Ross "The Boss" Friedman – Lead Guitar
JP "Thunderbolt" Patterson - Drums
Daniel Rey - Guitar
Dean "The Dream" Rispler – Bass Guitar
Links: