"Kickin' Up Moonlight Dust"
(Moonlight Dust Inc. 2005)
Review By: Rotten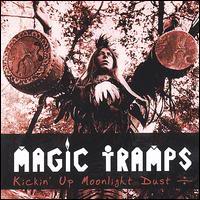 Punks in the UK that you see today, are normally of the Mohawk variety, who seem to think Punk was all about the leather and chains. Not really wanting to delve back to the US roots of the music. Bands such as the New York Dolls and even our own Jayne County are pushed back in favor of the hardcore stuff.
After reading the interview with Magic Tramps drummer Sesu Coleman in the last issue of Punk Globe. I decided to check out a forgotten band who helped build the foundations of American Punk.
"KICKIN' UP MOONLIGHT DUST" is a great CD of Tramps songs recorded in 1970 to 1975, and is a compilation of songs from the soon to be released Magic Tramps back catalog of 3 albums. The recording quality on some tracks is raw, but this stuff is timeless and should not be overlooked.
The CD opens with the free form instrumental ODE TO JIMMY DEAN, an odd way to begin, with an instrumental, but it seems to fit the album well.
WARRIORS OF THE RAINBOW is a cool chanted song with an infectious rhythm, using some great violin playing and tribal drums.
The pick of the Eric Emerson lead vocal songs is definitely S+M LEATHER QUEEN, which is worth buying the CD alone for. A real rocker, a powerhouse of a song which paved the way forward for what the Tramps became afterwards. A thoroughly great song.
The last four songs feature another line up of the Tramps, with Jay Mala on vocals, altogether more of a precursor to the bands that were supporting the Tramps in concert at the time, like the New York Dolls. The pick of these tracks is the ode to MAX's Kansas City - here's represented as a girl named Queen Max.
You should definitely search out this CD, as it has a great mix of sedate, mellow tunes and some great rock n roll music. Give it up for Art Punk's founding fathers, THE MAGIC TRAMPS.