I have known Gere since her days in San Francisco.... I have seen her play with all kinds bands playing metal, glam, goth,pop, jazz, swing, punk, and classic rock with perfection... Gere played with The White Trash Debutantes for awhile adding much flair and fashion to the band..... I was able to ask Gere a some questions about her career....I hope you enjoy....
PUNK GLOBE: Thanks so very much for the interview Gere. How old were you when started playing piano?
Gere: I used to go over my friend Janet's house when I was 6 and bang on her piano- until her dad suggested to my dad, that I had talent and should start lessons.
PUNK GLOBE: Was Piano your first choice to master?
Gere: Yes. I was ALWAYS obsessed! Actually I started being obsessed with the church organ when I was 3! Started playing organ in my church by age 10!
PUNK GLOBE: Did you ever play guitar?
Gere: I can, but I'm not very good.
PUNK GLOBE: Did you grow up in Redwood City or The East Bay?
Gere: San Bruno, where the SF airport is.
PUNK GLOBE: Was the family you grew up musical themselves?
Gere: No, but my dad really liked music and would play records for me all the time when I was young. Both my parents were really supportive of my musical life.
PUNK GLOBE: I first remember you playing with Roxx. Did you play with any bands prior?
Gere: Oh, yeah! I was always in bands from the time I was 14! Played Nugent and Lynard Skynard covers!
PUNK GLOBE: You hooking up with Roxx was a pretty funny. Tell the readers about how that came about?
Gere: I had heard about this great all-girl band. I saw them in Fremont on my 18th birthday, went up to Dyan after the show and said "I'm a great keyboardist, I should be in your band"!
PUNK GLOBE: Many do know not realize the impact that Roxx had during their era. Tell us about the bands accomplishments.You were before The Go Go's... The Runaways were contemporaries. Did you ever do any shows with them?
Gere: The Go Go's actually opened up for us at the Mabuhay in '79!
PUNK GLOBE: The band went to Japan. Tell us about the reception you got there?
Gere: We had a blast! Sang in Japanese, played on TV all the time. Then we were bad and got sent home for having our boyfriends mail us drugs!
PUNK GLOBE: Who did you start playing with after Roxx?
Gere: After Rox, I played with Anvil Chorus, Bonnie Hayes, Deborah Iyall, Specimen, and OF COURSE, White Trash Debutatnes! Plus a whole lot of weird art bands, solo shows, Elton John tribute bands, it goes on and on and on!
PUNK GLOBE: White Trash Debutantes made quite an impact playing gigs with GG ALLIN, The Circus Of The Perverse show with most everyone in music, dates with GWAR, Agnostic Front, The Ramones , Murphy's Law to name just a few.
Gere: Such a blast! Yeah!
PUNK GLOBE: Tell us about your move to Hollywood?
Gere: In '91 and it was NOT GOOD, I got a chance to move to Hollywood to play with Redd Kross! It came at a good time for me, I felt like I had done all I could do in SF, plus I needed to get away from the drugs. I was doing a lot of meth, and it was NOT GOOD
PUNK GLOBE: Besides Red Kross did you play with any other bands?
Gere: During the Redd Kross years, I also played with Kathy Valentine's all girls blues band, and also Abby Travis.
PUNK GLOBE: You got involved with the comedy circuit. Tell us who you played with?
Gere: During the late 80's in SF, I started playing with this comedy improv group that had Margaret Cho, Laura Milligan and Greg Behrendt. WE all ended up being roommates in the early 90's in Hollywood, and started doing shows at Largo and UnCaberet with the whole alt comedy scene of those days…Janeane Garafalo, David Cross, Kathy Griffin
PUNK GLOBE: Laura Milligan was working with Andy Prieboy at Largo. Did you know Andy during his days in San Francisco playing with Eye Protection? He is also a great keyboard player.
Gere: I did! We rehearsed at Turk St. Studies together
PUNK GLOBE: How did you meet your fabulous husband Steve Crane?
Gere: On Match.com! YAY!
PUNK GLOBE: What prompted you to get married?
Gere: We got married in December! My first marriage. Although I'm his third wife, TROPHY WIFE! Ha Ha
PUNK GLOBE: You are still making a living from music. Tell the readers about that?
Gere: I have a big piano teaching business now! Passing the torch, as it were...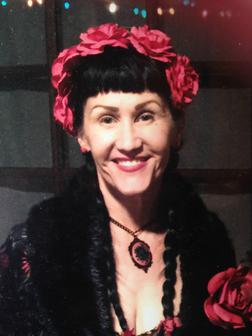 PUNK GLOBE: I will always be grateful for the ride home... That traffic jam on 15 would have been a bitch.... Tell us what is in store for Gere in the future?
Gere: More fun! More groovy vibes to send into the world! WE NEED IT
PUNK GLOBE: Punk Globe will be celebrating it's 40th year anniversary in August! Any thoughts about that?
Gere: Congratulations, Punk Globe and Ginger..... We really are the last one's standing....
PUNK GLOBE: Do you have any Internet addresses you would like to share with the readers?
Gere: My website is www.gerefennelly.com
PUNK GLOBE: Describe yourself in three words?
Gere: FAB FUN FEARLESS
PUNK GLOBE: Any last words for Punk Globe readers?
Gere:We are the last ones standing, bitches!!!!