"http://www.w3.org/TR/xhtml1/DTD/xhtml1-transitional.dtd">
IN FLAGRANTE DELICTO
(Sonic Unyon)
By: Gerry Jenn Wilson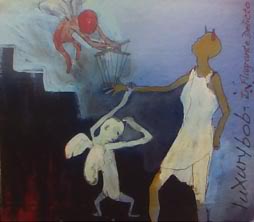 LUXURY BOB'S debut CD release "IN FLAGRANTE DELICTO" on SONIC UNYON is "ALL HITS & NO MRS.!" The Toronto, Ontario based Singer/Songwriter DONNA KERBEL & her partner in noise crimes JOHN McMULLIN are possibly the best dynamic pop duo since LEE HAZLEWOOD & NANCY SINATRA! This influence really shines through on the first track, "CUT & PASTE!" where you'll find the talented Ms, Kerbel playing the upright bass while singing with vocals so sweet that you would think actress JENNIFER TILLY was whispering sweet nothings into your ear! Just when you think you're going to get a toothache from Donna's sugar coated vox box... in comes John McMullin's deep NICK CAVE~like vocal response that saves the damsel in distress tied to the tracks from the oncoming train!
WORD OF CAUTION!!!: ..The infectious tunes on Luxury Bob's "IN FLAGRANTE DELICTO" (Now available on I~Tunes)... will get you hooked like a bad habit with its arsenal of non~stop pop sensibilities! Donna Kerbel's inspiring & thought provoking lyrics are coming from a brutally & beautifully honest place with just enough humor to keep you laughing in the face of the devil! In the track "MONKEYS & ANGELS" you just have to love it when Donna croons ..."HOW COULD YOU DO IT!?!...YOU SUNK MY BATTLE SHIP!"...and then there is the morbid knee slapper of a pity ditty called "OLY GOT DEAD" , inspired by a grotesquely obese longshore ~ man from Vancouver, B.C., who also moonlighted as a heroin dealer. Oly broke rule number one as a drug dealer when he chose to get high on his own supply. Eventually Oly ended up paying the ultimate price!
LUXURY BOB'S band name was inspired from an infamous roadie, also known as "Luxury Bob", (Who coincidently also died from a heroin overdose), LUX BOB ran a booze can with the same namesake in the late 80's, and roadied for Vancouver's legendary punks, D.O.A., ART BERGMAN's "POISON" (not to be confused with the American metal band!) , THE SCRAMBLERS etc..
Of the 12 brilliantly produced songs by GENE HUGES on LUXURY BOB'S debut "IN FLAGRANTE DELICTO" , I honestly can't tell you which song that I like the best!...The icing on the cake is the bonus track "DECADENT LOVE" featuring fabulous vocals by JUNO AWARD winning rebel rouser, ART BERGMAN which fits LUXURY BOB's chemistry like a pair of fingerless gloves!