Punk Globe: Thanks for doing this interview .. Give us a description QBO?
LUIS SALINAS: Thanks you Cris! QBO is a band, no doubt, we love to rock live, unpretentious, dedicated to their music and very respectful of their audience.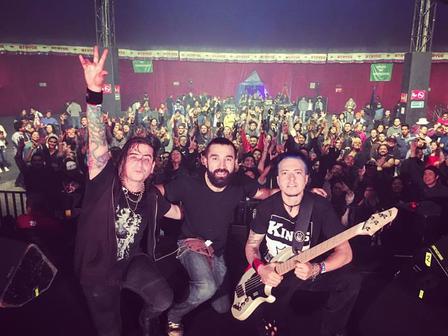 Punk Globe: Who is in the band and what do they play?
LUIS SALINAS: The power trio is composed by Tonio Ruiz (Guitar and Voice), Arturo Martínez "Jarro" (Drums) and Luis Salinas "Lu" (Bass)
Punk Globe: Tell us how you came up with the name of the band?
LUIS SALINAS: The name of the band was selected from a list of several options that had to choose from at that time, originally was "cube", but Tonio came up with Modify the "cu" by "q" and thus keep 3 letters "q-b-o" representing the power trio and qbo does not refer to the geometric figure but to the power to the cube Which is a 3 in its nomenclature as liquids and volumes are measured.
Punk Globe: Where in Mexico is the band located and in what year did the band form?
LUIS SALINAS: The band is originally from Mexico City (Capital) and formed in 2001
Punk Globe: How many albums do you have and in what years did they come out?
LUIS SALINAS: We have 6 discs: qbo (2003) - Air (2004) - III (2006) - Time Stops (2008) - Fallen Angel (2011) - Immortal
Punk Globe: Tell us about your last CD. Where did you record it and is it analogue or digital? How do you come up with the concept?
LUIS SALINAS: Immortal, just "unpacked" in February of this year 2017.. It is a disc of 7 tracks that reflect the current moment of the band, a new era, new vibes with much magic and naturalness at the time of creating it, is a kind of "qbo renovated", returning to the origin of the power trio. It was recorded in SOGA Recordings (Morelos, Mexico) on tape. Totally analog, which means that the main base of the disc was recorded simultaneously between the 3, the same room, etc. Later on, the dubbing of guitars, vocals, etc. He was mixed and mastered in the studio of Tonio Ruiz (Tonio Ruiz Recordings, Mexico City). The topics are being polished among all, for example, Tonio arrives with an idea and shares it, we are rehearsing, assembling and producing on the fly, that helps a lot at the time of recording And to go and feel the scroll, what you need, what you have left or what you are asking for.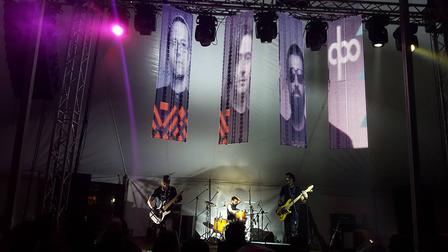 Punk Globe: How did you think about the graphic design of the CD's?
LUIS SALINAS: Looking for ideas on the net, I met a Polish designer who had this composition of stock images in his "book", showed it to Tarro and Tonio and it immediately hit us. In fact that a single image could represent the current moment of the band, the constant struggle, no surrender, follow our path despite adversities, with much honesty and energy. The name of the designer is Thomasz Szczepuchowski
Punk Globe: Some of your musical influences?
LUIS SALINAS: Bush, Goo Goo Dolls, Chevelle, Depeche Mode, Mudvayne, Coal Chamber, Staind
Punk Globe: How is the music scene in Mexico?
LUIS SALINAS: It is complex in every way, like all of them, but when you dedicate yourself to rock in a country that consumes more "band" or "pop" it is even more complex.
Punk Globe: Are there a lot of places to play in Mexico?
LUIS SALINAS: Each state of the Republic, speaking of rock, generally has its bar, den or forum for it. Sometimes outside patios are conditioned. Massive festivals and concerts in Mexico have increased considerably in the last 5 years, not only with Vive Latino, but with "multigeneral" festivals like The Machaca Fest, Pal Norte, Knot Fest, Corona Capital and more! So it is always "healthy" and necessary to keep knocking on doors to be play there.
Punk Globe: Where are some favorite cites to play shows?
LUIS SALINAS: All of our shows in Mexico City or in the interior of the Mexican Republic has its magic and charm, its vibe, its warmth. I would not venture to give you a specific area, every show is unique!
Punk Globe: Has the band signed with a record label or are you independent?
LUIS SALINAS: The first two albums (qbo and Aire) the band was signed with EMI Music. We are now independent and we have one Distribution deal with Discs Intolerance.
Punk Globe: What do you remember about your first concert?
LUIS SALINAS: What do I remember about my first concert I joined the band in December 2014, my first show was in the bar (Caradura) in August 2015, here in Mexico City. It was extraordinary how the people, the fans, the qbo family, the "qbo Army" welcomed me with open arms and rocking With all that energy. What a great feeling I had.
Punk Globe: Have you toured?
LUIS SALINAS: The band has played in the USA and Central America, We are looking forward to this year to take us to rock The Southern Cone, it would be a pleasure to do a tour in South America and also in Europe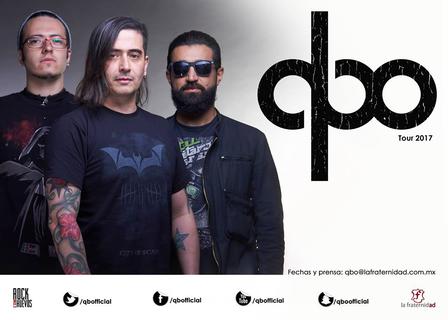 Punk Globe: What bands would you like to share stage with?
LUIS SALINAS: We have shared stage with Placebo, Incubus, Molotov, Café Tacuba, Enanitos Verdes. And with great friends and industry colleagues. We would love to be play with Foo Fighters.
Punk Globe: What is the best show you have played?
LUIS SALINAS: We were playing "Ghost" in the INFEST of Guadalajara, here in Mexico and we saw a "dude", without a shirt on, with a large "Mayhem" tattoo across his chest, singing the full roll, at full throttle, from start to finish. We believe that there is qbo for all kinds of musical tastes, is for everyone.
Punk Globe: And the worst?
LUIS SALINAS: At the Empire Music Fest in Guatemala, while we played "Fade Out", I hit the bass so hard that the battery cover flew off! In short, I "uncorked" it and we were almost without instruments to play. fortunately, after seeing the piles flying, hanging from the tiny cables, Nothing of bad happened, We had stop to sound immediately
Punk Globe: Tell us what you do besides the band?
LUIS SALINAS: We all give music lessons in Mexico and Latin America via Skype, Tonio produces, mixes and masters Mexican and foreign bands as well.
Punk Globe: Do you have any Internet addresses that you would like to share with Punk Globe readers?
LUIS SALINAS: All our social networks are @qbofficial, in any internet search engine will find us. This is where we announce shows, news from the band, live broadcasts and more!
Punk Globe: Any last words for Punk Globe readers?
LUIS SALINAS: Very grateful to everyone for reading us, hopefully we can meet soon in their land and be able to rock with everyone. Immortal, our new album
Is available on all digital platforms, I hope you like it as much as we do!
Many thanks Cris!