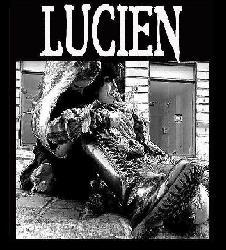 Available @ CDON.COM,
GINZA.COM, INTERPUNK, KLICKTRACK
Lucien hail from Stockholm, Sweden, and have been wowing the country with their Metal/Punk music for quite some time and are finally releasing their debut CD on Dead Lamb Records from Ireland . . .
Lucien features members from other prominent bands as
Mr.Zippy, Construcdead and Maze Of Torment . . . . Greg, who played and toured extensively with the English skate band Mr. Zippy, describes Lucien's sound "similar to Zeke or The Hellacopters - but a bit darker sounding. . ." However, I personally think that the reason Lucien are A-OK -- is not so much the sound -- but the fact that they have played with San Francisco's Fabulous Disaster... Who Rawk!
"Dirty garage rock with enough flair to make any stadium cock-rockers cower in embarassment. Steel balls, garage rock with flair, a competent and driving rhythm section and a twin-guitar attack that makes KISS look like the clowns they truly were." - Siczine


Greg Hell - Guitar/Vocals, Vic - Guitar, S.S - Drums, Johan - Bass
www.myspace.com/empireinruinsdistro