TALKS WITH GINGER COYOTE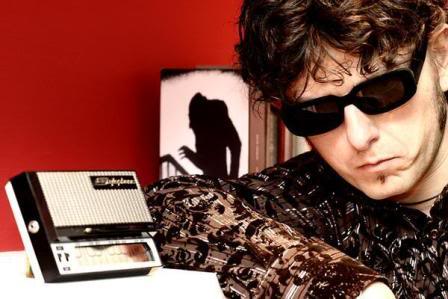 Punk Globe: Hi Luca , Thanks for taking the time to do an interview with Punk Globe. Can you tell the readers a bit about what you are currently doing in Italy?
Luca: Hi guys, currently I am in tour with Luca Faggella, an important Italian singer-song-writer and at the same time I'm working for new photo sets. I am a photographer too and I love taking fetish photos...I love women's feet! I also had the chance to collaborate with Roy Stuart for a photo set in Rome, he's amazing! Recently I also debut as actor (a "cameo") in an action movie directed by Claudio Fragasso!!
Punk Globe: Tell us about what you are currently doing?
Punk Globe: Where in Italy are you centered put of?
Luca: Basically I work in Rome
Punk Globe: Who were some of your influences when you were younger?
Luca: Since I was younger I like different musical genres; my punk icons are The Ramones, The Clash, The Sex Pistols, The Buzzcocks as well as Serge Gainsbourg, Joy Division, Kraftwerk, Lou Reed, David Bowie, Siouxsie, Chet Baker, Thelonious Monk, Jeff Buckley...and Jim Carroll of course!
Punk Globe: I know from our Facebook communication that Jim Carroll played an important part in your life? Tell us how his death affected you?
Punk Globe: Can you tell us about the music scene there? Do you get any support from the Government for tours?
Luca: The musical scene in Italy is very poor and the Government cares about sexual scandals in which our premier is involved instead of taking care of Italian arts and artists. In this country living on music and cinema is more and more difficult because of lacking of support from both state institutions and society.
Punk Globe: Judging from your Facebook and My Space pages it would appear yo play larger venues in Italy. Am I correct ?
Luca: Yes, it's true. I played in some of the largest venues in Italy. For example I played twice at Teatro Regio in Parma, and it was a wonderful experience because I played the piano with the accompaniment of a big orchestra. In Rome I played at Teatro Argentina, one of the most important theatre in Italy, and recently, for Moog Fest at Auditorium Parco della Musica, a theatre designed by the famous architect Renzo Piano.
Punk Globe: Do you have a Label that you work with?
Punk Globe: Any plans to tour the United States?
Luca: I hope to come in the Usa to play on the occasion of next Moog Fest!
Punk Globe: Can you give our readers any web addresses so they can check out your music?
Punk Globe: What is in store for the future with you? Any recording projects or tours?
Punk Globe: Thanks so much for the great interview..Can you give the readers any last words?
Luca: Thank you...I send you a big CIAO from Rome...VIVA IL PUNK!!!!
Punk Globe would like to thank Luca for taking the time to do this interview. He is truly a gifted musician and I hope you check out his links that he has provided for us to find out more about him...