Punk Globe: Thank you for doing this interview. Give us a description of Lörihen ?
Lörihen: is a band that has been mutating over the years, its roots in Heavy and Power metal, within the years it was turning more to the Rock or Hard Rock. In this mutation can always can be be recognized the sound of the band, Lörihen is prevailing the song and the composition over speed and the complex. Today is a more complete and mature band that could open to a much wider audience.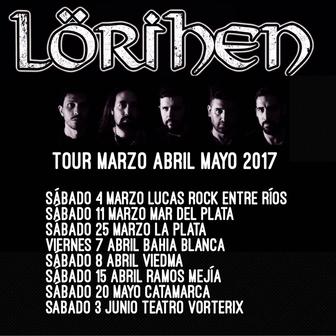 Punk Globe: Tell us how you came up with the name of the band?
Lörihen: Emiliano Obregón was always a fan of the fantastic literature of J.R.R. Tolkien, especially "Lord of the Rings". The name of the band arises from the kingdom of the Lothlórien Elves, then for aesthetic reasons it was cut only to Lörihen by adding a diaeresis and an "H"
Punk Globe: Who are the members of the band?
Lörihen: Lucas Gerardo (Voice)
Emiliano Obregón (Guitar)
Julián Barrett (Guitar)
Hernán Rios (Drums)
Ezequiel Gimenez (Bass)
Punk Globe: In what part of Argentina is the band located at and what year did you form?
Lörihen: was born in Buenos Aires, Argentina in 1996.
Lörihen's Video
Punk Globe: Who are some of your musical influences?
Lörihen: They are varied and in each stage of the band has been varied, but those that were taken as influences in the beginning were Iron Maiden, Racer X, Helloween, Yngwie Malmsteen and Judas Priest.
Punk Globe: How is the music scene in Argentina?
Lörihen: The scene for the bands is not easy, the quantity of international shows that are produced impacts much in the call that can have to have as a local band. It is not easy to produce large dates, when people have to decide between buying a ticket for a band that may not ever return to the country for many years, or seeing a national band that they most likely see again at some other time. However, there are many bands that want to come to the light and at the cost of losing even silver come out to play.
Punk Globe: Are there alot of places to play in Argentina?
Lörihen: Because of the lack of security many places have closed their doors, drastically reducing the options that bands have when organizing a show. Today Lörihen, because of the call it has, has no more than 2 or 3 suitable places in the city of Buenos Aires, since the great majority are small places or micro stadiums very costs where a great call is required to make it feasible to organize A recital of that type.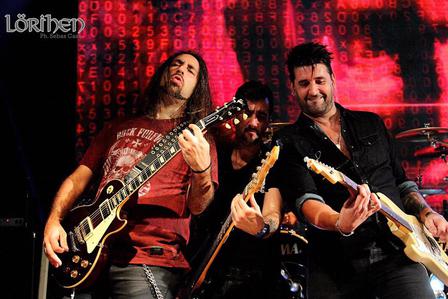 Punk Globe: Any favorite venues or cities to play?
Lörihen: This last year Vorterix has been the chosen as the venue to record our DVD live at...
Punk Globe: Is the band signed with a record label?
Lörihen: Since the year 2016 the band has been re-managed independently by the label Virtual Records, whose director is the guitarist of the band, Emiliano Obregón.
Punk Globe: What do you remember about your first concert? How did it feel playing that first show?
Lörihen: It was a recital where most of the audience present friends of the bands, as normally happens when the first steps are being taken. It was in a place in the city of Buenos Aires, and the response was great that made us happy, and then we knew we had the potential to make a name for ourselves on the national scene.
Punk Globe: Have you done national tours of Argentina or played with any other countries?
Here is a link of our recent new video clip that is called "Ashes Of Pain"
Lörihen: In 2017 we will be playing in the interior of the country and in Buenos Aires. With regard to the outside, we have visited Uruguay in many opportunities, we also made presentations in Paraguay and Bolivia. We are in negotiations with different producers to close dates in Chile and Brazil that we hope can happen during 2017.
Punk Globe: Which soloist or band would you like to share stage?
Lörihen: Lörihen feels privileged to have shared stage with more than a dozen international bands, to name a few of the most important I would say The Monsters Of Rock of 2005 next to Judas Priest and Whitesnake, Stratovarius - two Opportuniades, Rhapsody, Hammerfall, Exodus, Andgra, among others.
Punk Globe: What is the best moments/ anecdotes playing live in a concert?
Lörihen: Well, with a show it is not very normal to have anecdotes, but I remember that on the second date of the band, a boy who had to much to drink, took the stage, took a microphone and began to insult every person or institution that went through his head at that moment, the funny thing was when it closed with "death to the referi"
Punk Globe: And the worst?
Lörihen: Some other show where we had to stop a because of some violence by people who do not understand that at our shows people do not hit other people.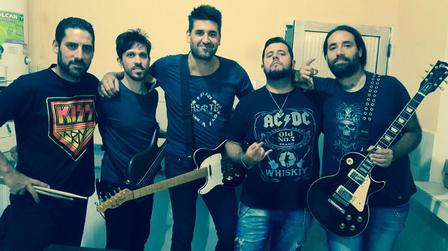 Punk Globe: Do you have any Internet addresses that you would like to share with the Punk Globe readers?
Lörihen: All our official channels:
Https://www.facebook.com/lorihenoficial
Https://twitter.com/lorihenoficial
Https://www.instagram.com/lorihenoficial/
Https://www.youtube.com/c/LorihenCanalOficial
Punk Globe: Some last words for readers of Punk Globe
Lörihen: Thank you very much for the interview with Punk Globe, Cris. We highly appreciate the support to the Latin American bands. We hope that someday we can bring the band to play in America . So all can enjoy the experience of seeing Lörihen live.
LORIHEN Just your eyes