PUNK GLOBE : Lori, firstly thank you for accepting this interview. You had collobrated with Parenthetical Girls on their 2008 album Entanglements as one of your recent projects.How was 2009 for you?
LORI GOLDSTON : Thanks very much for your interest in my work.
2009 was a really good year, musically and otherwise; very busy with satisfying projects.
This year I started playing with Earth, which has been has been wonderful. I've been learning al lot from them about amplification, tone, and effects, and from their amazing focus and clear intention. I also performed with a couple of Jherek Bischoff's projects and with the Portland Cello project, and played on a Secret Chiefs 3 album.
I composed and recorded soundtracks for two new films, "Bass Ackwards" with Tara Jane O'Neil, and "Crashing Waves" a short film by Britta Johnson; I was commissioned to write and perform music with a dance piece in New York and a theater piece in Seattle.
I've been playing more and more solo shows, and spent much of the summer on a solo tour through the east coast and midwest.
Also, a local documentary film maker, Gabriel Miller, is making a film, "Degrees of Inspiration", in which I'm one of three artists that he's profiling.
In 2009 I played in one of the strangest venues I've performed in so far, a solo set on a dock that was floating in the middle of a lake. Here's a short film from that show:
http://www.youtube.com/watch?v=-atWmyb_xFU&feature=related
Videos of a couple of other shows I did last year have ended up online. Here are links:
http://www.youtube.com/watch?v=wYRMjxOP5tQ
http://vimeo.com/3578253
PUNK GLOBE : You'll be playing with Trey Gunn of King Crimson at Kirkland Performing Arts Center on April 3rd 2010 and there's also a West Coast Tour coming up with the band "Earth" between April 14 and April 30. (In January "Bass Ackwards" premiered at the Sundance Film Festival with an original score by you and Tara Jane O'Neil and in February Ozu's 1933 silent film "Passing Fancy" premiered as part of WNYC's New Sounds Live with again an original score by you on cello and other artists on different instruments.) As these are the current events happening in the Lori Goldston world, what can we expect during the rest of 2010 and next year from you?
LORI GOLDSTON : When I tour with Earth in April my solo cello set will be the opener for many of the shows, so right now I'm playing a series of informal solo shows here in Seattle as a warmup. I'm excited about it for several reasons, one of which is that another of my favorite bands, Wolves in the Throne Room, will be on the tour.

Later this year I'm planning to tour with a couple of silent film scores, both as a soloist and with the trio that I put together for the score that I premiered in New York a couple of weeks ago.
PUNK GLOBE : Please tell us a bit about the early days. What made you decide to start making music and is there a story behind your choice for cello?
LORI GOLDSTON : I started playing guitar when I was seven years old. Nobody in my family is at all musical, or particularly artistic in any way, and I think they were a little mystified. At twelve I took up cello when it was offered it in school. I didn't know much about it, but of all the orchestral instruments it seemed most similar to the guitar. I played in orchestras through high school, and continued to play guitar on my own and in school jazz band, etc. In college I shifted my focus to playing cello less traditionally.
PUNK GLOBE : You are also a member of Black Cat Orchestra, The Shifting Light and Spectratone International. Please give us some information.(Who are the main members?For how long they have been active?)
LORI GOLDSTON : My husband, Kyle Hanson, plays accordion and has been my collaborator on many projects, including the Black Cat Orchestra, which was very active from something like 1992-2005. Eventually it kind of mutated into Spectratone International. The repertoire of our duo, Shifitng LIght is made up mostly of pared down Black Cat Orchestra material. All three bands reflect my love of a huge variety of musical styles.
During its long life the Black Cat Orchestra varied in size and instrumentation. Its core was cello, accordion, bass and drums, and at various times included voice, french horn, saxophone, guitar, marimba and harmonica. In addition to original material by Kyle and me, we preformed folk and old pop songs from America, Eastern Europe, Turkey, Latin America and Asia with a cinematic, cabaret-ish sensibility, with little or no concern about authenticity.
Spectratone International was formed in 2005 and includes a Middle Eastern percussionist, Jane Hall, and Kane Mathis on oud in addition to Kyle and me. We collaborated on a set of songs with our friend Mirah, and commissioned a film maker friend, Britta Johnson, to make films to go with the songs we'd written. We toured that project, "Share This Place", as a live music/film show, and iti was released as both a cd and dvd by K records.
http://www.lorigoldston.com/sharethisplace.htm
PUNK GLOBE : As you are one of the most talented and important cellists around the world, you have collobrated during sessions or performances with many different artists and groups like, Wedding Present/Cinerama, Laura Veirs, David Byrne, Jeff Greinke, Heather Duby, Cat Power and more…..Among all these which was the most fun-interesting or unforgettable to work with?
LORI GOLDSTON : Thanks very much for the kind words! David Byrne is an amazingly nice, smart guy and a very gracious collaborator. When I played with Cat Power she was on tour with a band from Memphis. I was almost extremely star struck by her guitarist, including Teenie Hodges, an amazing musician whose biggest claim to fame playing on Al Green's incredible early records.

I'm very lucky to live in a city with a great music community, and many of the people I've worked with - including Jeff Greinke, Heather Duby, Mirah and Laura Veirs - have been friends or acquaintances for years.
PUNK GLOBE : Is there any bands or artist you wish to work with,which you haven't collobrated yet?
LORI GOLDSTON : Yes - it's a very long list! : ))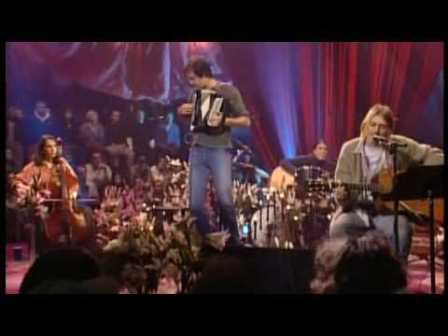 PUNK GLOBE : You were also an important part of Nirvana during the 1993-1994 period. Other than being the cellist in their "In Utero U.S. Tour" , you played with them as the 5th member of Nirvana during the legendary "Unplugged in New York" concert. What do you remember from those days? Do you have any memories to share with us or interesting moments as being a part of the Nirvana history?
LORI GOLDSTON : It was a great experience to work with those guys. I went from playing very small local shows - usually a couple hundred people max, but often much smaller - to playing for thousands of people every night. It was surreal at first, but it's funny what you can get used to. In retrospect I'm surprised they hired someone with no experience playing in that kind of situation, but I'm grateful they gave me a chance and I guess it worked out alright.

For the U.S. tour I was on there was a wonderful lineup of opening bands. Before that tour I was more of an jazz/classical/experimental music person, and the combination of playing with Nirvana and watching the openers - Mudhoney, the Meat Puppets, the Melvins, the Breeders, etc. - was quite an education. I think I'm still processing all that information.
PUNK GLOBE : For the Nirvana Unplugged concert, there was a list of songs considered at the rehearsals.Molly's Lips was one them that was crossed out later. There is also a rumour that there was a song named "Screen" on the list,which again did not make it to the final song list.Do you remember an unknown song named "Screen" or maybe was it a known song named differently? And as a last question about Nirvana, during the rehearsals for the In Utero Tour (maybe at Jukebox City Seattle and Universal City Soundstage LA) were there any Nirvana songs rehearsed that still is not known to this day??
LORI GOLDSTON : Sorry, I don't remember "Screen", or any other forgotten gems. I do remember rehearsing and really liking the song "I Hate Myself and I Want to Die", but I never performed it. I believe it was released as part of the soundtrack for the Beavis and Butthead movie, and maybe its made its way onto one or more of the box sets.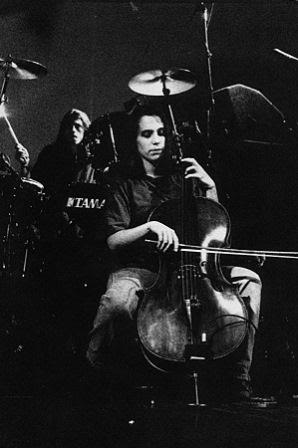 PUNK GLOBE : Do you play any instruments besides cello??
LORI GOLDSTON : Guitar. For a time I was also a percussionist, but it's been a while.
PUNK GLOBE : Which bands were you listening to when you were a teen and what are you listening to nowadays?? Any hidden treasures that you can recommend us to check out??
LORI GOLDSTON : I've always had extremely omnivorous taste in music. In high school I listened to Jimi Hendrix, Charles Mingus, Eric Dolphy, Joni Mitchell, Pablo Casals, Bob Dylan, Blondie, Neil Young, the Sex Pistols, John Coltrane, some classical music a little reggae and lots of old ethnographic records from the library, among many other things. Before that I listened to lots of pop, soul and R&B on the radio.

During the past few months I've been listening a lot to Wolves in the Throne Room, Wyrd Visions, Monteverdi's opera "L'Orfeo", Nico, Patti Smith, the Anthology of American Folk Music, Son House, Angelo Spencer Et Les Haunts Sommets and Glenn Gould; I regard them all as treasures for sure.
PUNK GLOBE : Lori, thank you very much once again…Any last words for Punk Globe Readers??
LORI GOLDSTON : Rock on!! Thanks for a fun interview!!
*Punk Globe would like to thank Lori Goldston for this amazing interview*

APRIL 2010 – PUNK GLOBE