PUNK GLOBE:Thanks for doing this interview .. Give us a description of MAZE OF TERROR ?
LEVIATHAN:Many thanks to you brother, for this question ,listen to the music and give us this space, We are MAZE OF TERROR, Thrash metal in the South American vein we are here opening our way with our themes as a gunner always on the warpath.
PUNK GLOBE:Tell who is in the band and what they play?
LEVIATHAN: We currently are 3 members, Hammer on drums, Criminal on guitars and Leviathan who is answering these questions on bass and shouts,
PUNK GLOBE: Tell us how you came up with the name of the band?
LEVIATHAN:The concept of the band itself is aimed at man's insanity brutality, we conceptualize the mind as a maze, every subject is like a dark passage of it so Maze maze in English was a correct description, and it is obvious that horror And terror is part of our premise.
PUNK GLOBE: Where in Peru are you from and what year was it formed?
LEVIATHAN: We are from Lima, Per, we formed in 2011, at the beginning we were only bass and drums after the first and came to the criminal band.
PUNK GLOBE:How many albums do you have and in what years did they come out?
LEVIATHAN:We currently have the Ep Skullcrusher that came out in 2012 edited by Capricorn Records of Lima, then came a split with the Amken brothers of Crecía edited by EBM records of Mexico in 2014, then in 2016 we got our debut album READY TO KILL, which was released in Cd and vinyl by Empire Records of Belgium, and tmb on tape for P18 records, we are grateful for it,
Comes a split with comedies Witchaven de Usa edited by Nero One Records, while we are working on a demo that will be released in the next few months.
PUNK GLOBE: Tell us about your last CD What inspired the music?
LEVIATHAN: The songs we do all together,
Our concept is brutal, but we explore what comes to us for example we have in this disc Rotting Force theme that opens the disc reflects the horrors and madness of war, and also the subject that closes Gilles de Rais talking about... This historical character, his madness and thirst for blood, or themes like Protectors, which talk about the damage we do to the world as a species and what we really deserve for it.
PUNK GLOBE: How long did it take to get the artwork together for of the Cd?
LEVIATHAN: We were looking for something brutal that reflected the combative attitude of the band, the art of the cover comes from the great artist Mario Lopez who has worked with great bands like Evil Invaders, Sabbat, Ax Battler, Speedbreaker, Tungsten, etc., we are grateful for this Great art.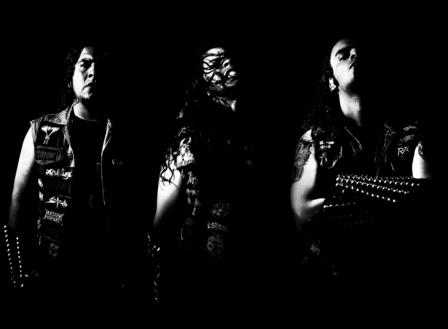 PUNK GLOBE: Some of your musical influences?
LEVIATHAN: Our main influence is the South American thrash metal, like Sepultura or Chakal, Vulcan tmb could say in Death Metal like Angel Corpse or Massacra, Black metal in some things too, but more than anything our intention is to make music brutal, aggressive direct to the vein.
PUNK GLOBE:How is the music scene in EL PERU?
LEVIATHAN: There are quite a few good bands like Cobra, Necropsya, Obscure Evil, Sordid, Evil Spectrum, Morbid Slaugther, Profaner, The Indians, Hermit Reign, Mandragora,
We have a nourished scene full of good bands come out pretty Material constantly the problem is that people are still looking towards the mainstream side of the music
They look a little underneath both local and worldwide.
PUNK GLOBE:Are there a lot of places to play at Peru?
LEVIATHAN: The truth are few spaces usually are about 4 or 5, the authorities do not let the thing grow as it should be,
Many locals can not work with freedom so it is more than anything to break through, for us mainly the most important is to make new material And travel quite as far as you can.
PUNK GLOBE: Some favorite places to play?
LEVIATHAN: We like to play wherever we are called as far as better brother! The most interesting of a trip is to know different places different scenes sharing scene
Sell ​​live destroy material, there are lots of anecdotes, the important thing is to go away every time more.
PUNK GLOBE: Is the band signed to a record label?
LEVIATHAN: We remain independent to control of what we do, We are very happy about that.
PUNK GLOBE:Do you remember your first show?
LEVIATHAN: It was difficult, but we learned, I think it went well for us, the second was brutal less pressure and we were more free. The second show was great for us there were only few people and it took the pressure off of us...
PUNK GLOBE:Have you toured?
LEVIATHAN: We toured Bolivia in 2012 in La Paz, Sucre, Oruro, Cochabamba where we opened for Whiplash, in 2015 we returned to Bolivia opening for Mx, Toxic, and Pentagram
In 2016 we did a tour of Ecuador, and we hope this year to tour in Colombia.
PUNK GLOBE:With which soloist or band would you like to share stage with?
LEVIATAHAN: Personally it would be great for me to be able to play with current bands like Tribulation or Vampire would be great because they are bands that are doing great.
PUNK GLOBE:What is the best live show?
LEVIATHAN: In the last date in Ecuador we played in a small place where people were completely wild and crazy, this also happened in Ayacucho a few weeks ago. It was off the wall and wonderful to see all the chaos that happened during our set
PUNK GLOBE: And the worst?
LEVIATHAN: Has not been less bad, the only bad thing was that on a date in our country we had played a small minimum show. But the organizer did not pay us and instead he offered a few beers as payment in an insulting way... But it was something so minimal that really does not matter.
PUNK GLOBE: Tell us if you work regular jobs besides the band?
LEVIATHAN: We are have regular jobs like the whole world, that is to say. Although our real vocation is extreme music.
PUNK GLOBE:Do you have any Internet addresses you would like to share with Punk Globe readers?
LEVIATHAN: Yes and thank you and thank you all for reading these lines if you are interested brothers can find material from the band on our sites
www.facebook.com/mazeofterrorthrash
PUNK GLOBE:Any last words for Punk Globe readers?
LEVIATHAN: A big greeting to all !!! And listen more music under new bands are going to be surprised and of course listen MAZE OF FUCKING TERROR !!!