By Pamela Torres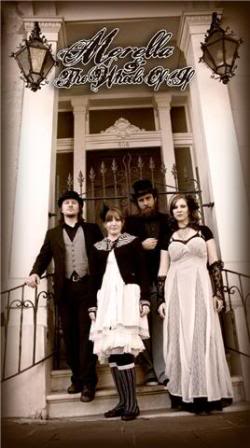 "One may have a blazing hearth in one's soul and yet no one ever came to sit by it. Passers-by see only a wisp of smoke from the chimney and continue on their way. " - Vincent Van Gogh
PUNK GLOBE: I understand you come from New Orleans, Louisiana, the heart of Dixie, blues and jazz music. How did you get together as a band?
LAURA: My brother Aeryk was performing solo piano at various parlor parties around New Orleans and he wanted to me to sing for his piano pieces. He asked me to collaborate on lyrics and melodies to enhance the parlor piano experience, but I'd only agree if Anastacia, my long-time friend, would sing along too. Anastacia had already performed theater songs previously with Aeryk and that had worked out just splendidly, so a pact was made. With the new addition of vocals, Morella acquired a name, songs with lyrics, and we started playing numerous parlor parties and art shows. That was where Morella began to develop a unique parlor sound. Then upon being booked at bars and bigger venues, we came to realize that the larger crowds required larger volume; we needed some percussion to expand our dynamic range. So we asked our friend Edward to join the band. He constructed his own suitcase drumkit that works great for our old-world aesthetic and has a unique and original tone too.
PUNK GLOBE: In your own words, how would you describe your music? Did any particular bands or artists inspire your sound?
LAURA: We have a dark cabaret sound enhanced with a theatrical performance. I think each one of us brings different musical additions to the band based on our personal influences. For example, Aeryk was classically trained on piano and grew up listening to Chopin, Liszt, Gottschalk and many performers from the Classical, Romantic era; but by his teens he was playing heavy metal/rock guitar in clubs and listening to anything from Acid Bath to Slayer, etc. So we feel this is one reason that his piano sound is so unique. He combines melancholy romantic melodies with the furious pounding passion of rock n roll. Edward loves nursery rhymes, calypso, English 60ís rock and we feel he definitely brings humor to our dark band and fun beats. Anastacia and I are both influenced by alot of 50ís singers like Sam Cooke, Otis Redding and The Shirelles. I've also sung country; I grew up listening to my Mamaw (southern for grandma) belt out the best of Patsy Cline, Loretta Lynn and many of countryís greats. We all have a wide array of many influences that blend together very well in our colorful New Orleans world.
PUNK GLOBE: One of the songs that really got my attention was "Vincent," your witty and morbid homage to the deceased Impressionist painter. How did that come about?
LAURA: Vincent was actually one of the only songs written by all of us simultaneously. Aeryk usually composes the piano and melody, then I write the lyrics then the rest of the band comes together to arrange the final song. Vincent is a song we all wrote together, in the same room, at the same time; and it hasnít changed much since thatinitial expression. It was a quick and fun process. We were inspired to write the song after watching Lust for Life, a wonderful movie about Vincent Van Gogh. We were all discussing his artwork and his demons and just decided to quickly write the song Vincent. The song was born very naturally, hopefully akin to some of Vincentís own aspiring strokes. At our shows we have a Van Gogh ear and doll that we dance with as we sing the song. Even though itís disheartening that Van Gogh didnít get recognition until he was dead, we try to have fun with the song while still paying him his proper respect.
PUNK GLOBE: Tell us about the vibes you felt during last Sunday's Circle Bar show with the By and By String Band, if you can?
LAURA: Itís funny that you mention our last show, because it was very different from most other shows weíve ever played. We decided to join forces with a Hard Rock band called the Sons of Payne/ formerly the Hands of Nero (an Aeryk and Eddie side project). Our reasoning was that the Saints were going to win the championship that night & subsequently going to the Super Bowl, which would create a HUGE eruption in our city. We needed a little more amplification than our norm to compete with rabid, yelling Saintís fans. The rock Morella/Payne show was tons of fun. There was so much excitement all around us. We were all happy to play together on what is considered a historical day in New Orleans. Lots of Who Dats were chanted after every song we played. Anastacia and I even did a bit of head-banging that evening!
PUNK GLOBE: Hey! Is it true that fans who attend your shows get free glasses of absinthe?
LAURA: Yes! At most of our shows we do give out a taste of Absinthe and demonstrate the preparation of it on stage. Like many of the surreal artists before us, we too like to partake in the inspiration of the green muse. We do a bit of Absinthe education in the process & have fun harkening back to an older era of New Orleans. We have had a few Absinthe sponsors for our past events and are always on the look out for more!
PUNK GLOBE: Speaking of the beverage, why do you suppose the green fairy is making such a big comeback in today's booze market?
LAURA: There are many reasons why Absinthe is having a comeback and one of them is that it should have never been banned in the first place. There was a successful movement recently to distribute genuine Absinthe legally in the States and along with this has come much promotion of Absinthe again. There is a difference between genuine Absinthe & nasty imitations so make sure you do your research before you spend a hefty dime on green colored mouthwash! Aeryk has spent many years learning about Absinthe, has been involved on Absinthe documentaries, private Absinthe parlor parties (when it was still taboo) and incorporated the fabled history into his art. We always thought that it felt right at home with Morellaís music (since Aeryk usually had a glass on the piano at all times anyway). Not to mention that New Orleans itself was the largest hub of American Absinthe during the turn of the century and now has itís own Absinthe museum on Royal Street. If youíd like to learn more about Absinthe and Morella check out www.morellamusic.com/absinthe
PUNK GLOBE: What can we expect from your upcoming album "Shipwrecked?"
LAURA: Our album "Shipwrecked" has extravagant lyrical storytelling, mixed with haunting piano melodies, sprinkled with rhythmic break-beats and waltzes, and finally topped off with ethereal vocals.
PUNK GLOBE: Are you planning more dates in the U.S. later in 2010?
LAURA: We would like to set sail in the summers and depart our lovely humid city to play shows in cooler climates. We are continuously pulling our resources together to tour outside of New Orleans in the summer. We have been holding off on our World Tour till after the release of our debut album.
PUNK GLOBE: What are your favorite vices?
LAURA: Booze, Hootch, & Adult Beverages! Donít forget we can walk about with our booze drinks anywhere inside Orleans Parish. We also love New Orleans food and staying up till the wee hours. Singing, Dancing, Wearing Costumes, Drinking, Eating, & Playing Music is what makes us happy. Some might call it vices, but here in New Orleans itís just a way of life!
PUNK GLOBE: Last but not least, any last words you'd like to say to our art-obsessed Punk Globe readers (particularly those who have never been to New Orleans before)?
LAURA: Thereís a lot more to New Orleans than just Bourbon Street. There are many non-traditional musical styles here in the city to discover. Small neighborhood bars and side streets away from Bourbon are some of our favorite haunts to share in mixed musical adventures. We are inspired every day by our city, itís tradition and the people that live here, but still believe in crossing & mixing new musical boundaries. Check out our multi genre world at www.morellamusic.com or come visit us in New Orleans, where we have more to offer than just boobs and beads.