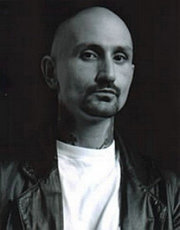 Robert LaSardo: In order to survive any business, you have to have killer instinct. People at the top of the pyramid understand this. If a formula works, they stick to it and capitalize on it. It's a very product oriented and supply-demand kind of business. Acting in commercial films provides escape and gives the audience a fast food fix to enjoy the fantasy. I think independent films are a saving grace.
RL: Early in my career, having many visible tattoos created obstacles and presented quite a challenge to move forward. I've heard comments like "actors don't have tattoos." The notion of type casting was a reoccurring theme despite my passion toward creativity and personal expression.
RO: You've been through many genres of film. Has one had a significant impact on you?
RL: I appreciated and admired Dee Snider for embracing a different subject with his film, Strangeland. Although my involvement was minimal, I liked the fact that I was playing a hard working blue collar tow truck driver and not the typical bad guy with tattoos. For its time, Strangeland was a brave exploration into the world of tattooing and body piercing. It made a contribution to this particular phenomenon, which is now more mainstream. In some cultures, tattooing is a right of passage and represents spiritual growth.
RO: What was the first film you worked on?
RL: My first film was Abel Ferrara's China Girl.
RO: Nice. What was it like working with Abel?
RL: Fascinating. The way he perceived reality through the film medium was strikingly similar to the way I experienced reality through my own lens. His vision and raw storytelling made me feel at home. There seems to be a hit list for particular types of filmmakers who show it raw. It may not be the way to the promised land, but it definitely comes from a real place.
RO: Did you get more recognition after that film?
RL: Yeah, I did a comedy with Richard Pryor called Moving. I played Perry, one of the movers who steals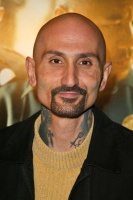 from Richard and sets him on his rampage of revenge.
RO: Then you shifted into the action genre with people like Steven Seagal. What was that like?
RL: They say timing is everything and with this came the action star, Steven Seagal. His impact on the action genre was groundbreaking and unique. A significant break for me was when I was invited by Steven to participate in a series of films that to this day are landmark action movies like Hard to Kill and Out For Justice, both released by Warner Brothers.
RO: Currently, Warner Brothers is experiencing great success with the F/X series, Nip/Tuck. You have a reoccurring role on the show, right?
RL: Yes. My character is Escobar Gallardo, the merciless drug lord that terrorizes plastic surgeons. Television has been pretty friendly with me, especially Steven Bochco with his hit series NYPD Blue, Philly and Murder One. All of which I've had reoccurring roles. Each of these series not only made me much more visible on prime time television but legitimized me as an actor and not just the guy with all the tattoos.
RO: You had a film in the New York International Independent Film and Video Festival called Pandemonium. How did the film turn out ?
RL: The response to the film was tremendous. Thanks to its director, Ron Hamady providing me with an arena to create without limitation in an independent film unlike the commercial filmmaking cage.
RO: So what's next for you?
RL: I will be starring opposite Cuba Gooding Jr. in the Sundance candidate, Dirty. Also, I'm working on a film I co-wrote, produced and acted in called Never Down, which has been described as haunting, possessing and emotionally powerful. I star opposite Kurt Vonnegut and James Toback.