Formed by Esteban Munoz of the Bergen Hardcore Punks 'Social Suicide' and joined by members from a few other bands from the Norwegian underground scene, Punk rebels 'Korrupt' deliver, in the shape of their debut album 'Preachers and Creatures', a very modern and intense chunk of blackened Hardcore Punk, laced with thrash-inspired riffs and topped with shouty, sometimes angry vocals.
All four members; Esteban, along with Cato Voreland, Fredrik Angelius Nome and Marius Myhren originate from the Bible belt-part of Norway and all rejected the doctrines of their Christian community at an early age and although the album was never meant to be a concept album, it portrays the image of a young man, angry and fed up with the looming hand of organized religion. The lyrics deal mostly with personal authority, about building resistance and finding your own path in a world of confusion, greed and destructive propaganda.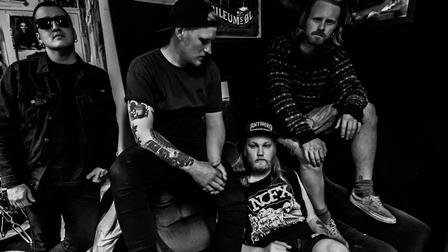 'Preachers and Creatures' is an album packed with attitude, delivered with raw melodic power and an addictive edge to the overall sound and there are some very memorable tracks here. I love how they work other elements into their sound too particularly on my favourite track 'Revolt' which has a subtle nod to their roots given that they not only come from the Bible belt of Norway but Black Metal ground zero with a superb chunk of blackened riffs to close, but then I love everything about this track; the addictive riffs, the punchy pace, the vocal delivery with its shouty backing harmonies and addictive sing along lyrics that are so memorable.
The ten track, twenty-three minute release is a great listen from start to finish and the more you listen the more you'll love it, it really grows on you in a big way. My personal highlights on this well varied release are; 'Serpents 'which has amazingly slick direction and tempo switching, 'Hellions', a track that opens on manically good drum work and I love the chugging Hardcore close, 'Martyrs' which is an addictive listen and that despite lyrics that suggests their backs are against the walls, is delivered in a hugely anthemic manner and comes across very upbeat and optimistic, with drum work that just pummels and drives you along and 'Scum' which is deceptively powerful, at just a minute and a half long with a slow delivery of just bleak piano and dirty riffs that are delivered in a Doom like pace making it, with the addition of slow tortuous shouty vocals, a hugely impacting and different piece.
'Preachers and Creatures' was recorded and mixed by Turbonegro and Silver's Tommy Akerholdt.
Track list
Serpents
Hellions
Revolt
Martyrs
No Past, No Future
Preachers and Creatures
Khaver
Capitalist
Scum
Intuition
Find out more about the band at
https://www.facebook.com/korruptband
Check out the video of Martyrs, the first single from the album