THE KINGS ROYAL
By: Kim Acrylic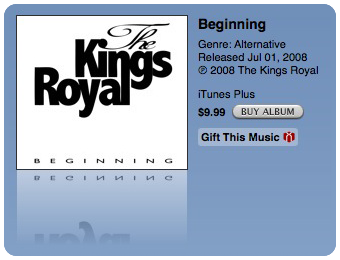 The Kings Royal's debut album "Beginning" is an intense mix of early 90s grunge-type rock and a pure original musical

experience. "Invisible" the first track on the CD reminds me a bit of more relaxed Pearl Jam .



Then songs like the second track "How good you've got it" is reminiscent of the Doors on uppers. The songs on the CD I found

to be really catchy, fun and nostalgic. Its interesting to me how a band can be "classic rock" sounding and remind me of other

bands but have the talent and power to actually sound completely original in the same sense.



The third track "Tweeked" reminds me of a British band in the mid 90's with the catchy "UH OHS" and la la la's. The Kings Royal

are an amazing band and "Beginning" is A smart first release.



TKR is a Los Angeles-based band founded in 2007 by lead singer/guitarist Benny Marchant, guitarist Sean Hennesy (The

Hiwatts), bass guitarist Adam Kury (The Hiwatts), and drummer Brian Burwell (Neve. Adding to the band's unique sound is

Dave Krusen (Pearl Jam) on drums and Walker Gibson, keys.