Scott Kempner Speaks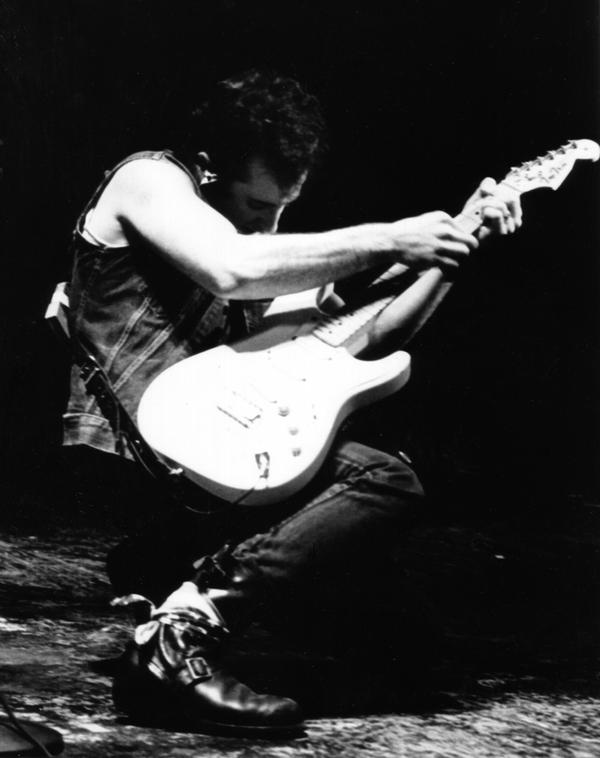 Hi Scott,
How are you doing? What's new in the life of Scott Kempner?
Well hey hey hey, I'm outasite as usual. What's new is a new solo record that will be out in January called SAVING GRACE. It's on a label outta NYC called 2:59 (as in two minutes fifty-nine seconds). And, in a wild spin of the wheel of fate, I am the subject of a documentary that began shooting about a week or so ago. '08 should be a fun year. The record, I am very excited about and the documentary still feels very surreal to me.


For all the people who don't know you, how would you introduce yourself?
I play rock'n'roll. I was born in the Bronx and grew up on the 60's. I left home just before my 19th birthday to start a band with Andy Shernoff and Ross the Boss. We became the Dictators. Manitoba joined about a year and a half later. I played rhythm guitar. We made our first record in 1974 and 33 years later we're still together, albeit in a loosed, less everyday kind of way. in 1982 I started the Del-Lords with Eric Ambel, Manny Caiati and Frank Funaro. We played what they now call Americana but they weren't calling it that then, just like they weren't using the word Punk when the Dictators made their first record. I was the songwriter, sang most of the tunes and Eric and i played guitar. we made four albums between 1984 1989. I've made one solo album, produced a few, play with the great Dion DiMucci, and there ya pretty much have it.

How did the original line-up of The Dictators come together?
Mutual friends introduced kindred spirits is how I would describe it. And a little bit of the hand of fate. We found each other and held on for dear life

What do you remember from recording "The Dictators Go Girl Crazy"?
I remember Ross nailing the solo in THE NEXT BIG THING when Andy Warhol was in the studio. I remember thinking this record would surely change the world. I remember a secret tape recorder running whenever Manitoba was doing vocals. Somewhere there's 24 hours of stuff similar to the in-between song stuff that's on the album. In fact, that's where it all came from.

How do you feel about the impact you guys had on the punk scene?
I'm a bit fuzzy on that. I mean, I know we were an acknowledged influence on the Ramones. in fact, I remember Joey before he was a Ramone, when he was a drummer in a glam band. But outside of them it seems that most of the bands we had an impact on were a generation or two later, and by then I had fallen almost completely out of touch with the punk scene. It had pretty much withered and died and by the time it came back I was into a whole new bag, and was very busy doing it. So, it wasn't until Little Steven had that Underground garage Festival in 04 that I became aware of the impact we had on all these super cool little rock'n'roll bands. I'm not sure if very many of them could be classified as punk though. But I can say it made incredibly proud, and more than a little grateful that we had managed to pass something on.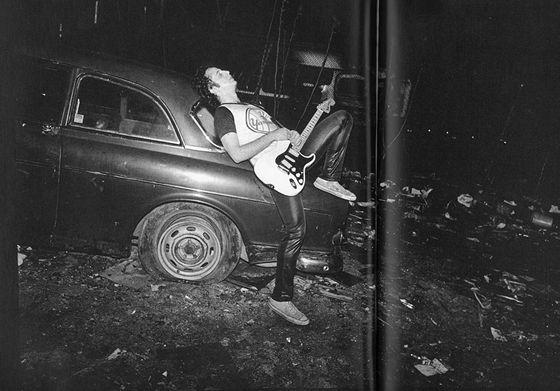 Do you feel you get the respect you deserve today?
There are certainly those who do respect and acknowledge us, our great fans mostly, but for the most part I absolutely do not feel we get the respect we deserve

What do you think about punk scene today? Is punk dead?
As a musical style and attitude it's alive. It is part of the great continuum of rock'n'roll and its Holy Spirit but, as a cultural force, well, here in the USA it never was one anyway. It was a musical movement first and foremost. I do think the whole faster than a speeding bullet downstroke eighth note thing that the Ramones defined and perfected, has been done and overdone to death, and feels at this point, to me, as boring, sexless, and purely imitative. Not to mention pointless. so, is it alive? If you call that a life than it's alive.

Where is the humour in punk rock today?
Humour is a tough trick to pull off. It killed us. As much as it was essential to who we were, very few of our recorded attempts at it were very successful. In person it's another story but on record it has to be like Tenacious D, Jack Black's thing which thinks of itself as comedy-rock when really it's neither. So, I dunno, I guess the Beastie Boys are funny but you asked about punk and neither of these acts are punk so, I'm not sure if it's there. I don't hear it, I know that.

(To quote a song by The Dictators) Who will save rock n roll?
Great bands still play rock'n'roll but in order to save it, to restore its prominence, you need a totally galvanizing figure like Cobain, or like so many of the giants of the 50's and 60's. And then, you gotta hope that person plays rock'n'toll to begin with. I have made peace with the notion that it is probably never coming back, at least to where it once was. On the other hand, as far as the music is concerned, and good righteous people to play it, then Danny and the Juniors and Neil Young were right and Rock'n'Roll can never die, anyway.

What made you decide to leave the band back in the seventies?
I didn't. We broke up as far as being a day to day, daily concern.

What was different when you guys hit the studio again after more than twenty years to record D.F.F.D?
Surprisingly little has changed within the inner dynamics of the band. Shit, we've been friends for over three decades, me and Manitoba over four. What was ever gonna change did so long ago.

Any plans to play again soon?
Not at the moment.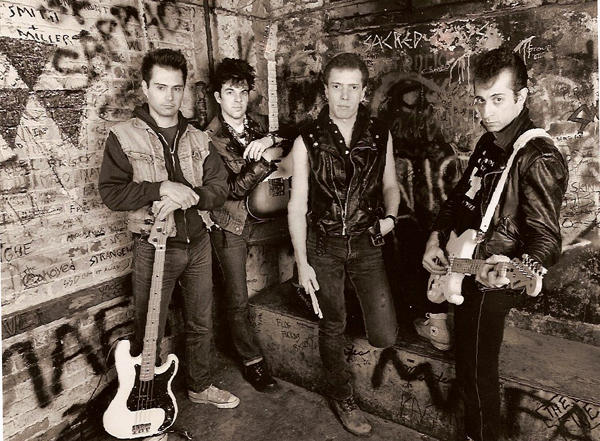 What were your ideas forming The Del-Lords?
The Del-Lords was a truer reflection of who I was left to be myself. I was who I was in the Dictators but it was also who I needed to be in that band. We had a fantastic guitar player, a brilliant and unique songwriter, and a super charismatic powerful lead singer. The Del-Lords was me attempting to step into all those roles. I had this burning thing inside me, a desire and a need to write songs that could move and inspire people like the ones that moved and inspired me. I also am madly and insanely in love with the guitar so, I wanted to be the lead guitar guy, too. and, I wanted to get up there out front with my songs and find out what I got , what I could do, how far I could take it, and hopefully do it for the rest of my life.

How did you get the people together?
Manny I met when he was playing with my dear departed friend Helen Wheels, Eric heard from someone who had auditioned that I was looking for a guitarist, and Frank was told of the band by this character we knew who we used to buy joints from.

It is certainly something far from what you did with The Dictators. You were also very successful with The Del-Lords and helped influence many bands. Do you remember what you felt back then about being in a position where you started writing songs with The Del-Lords and singing them yourself?
The Del-Lords was and remains a dream come true. we had one foot in the roots and one foot in the present, and always looking to the future. it was wonderful and magical and we were pretty fuckin' good, as well. We all believed that this was the band the world needed, that this is where the true Rock'n'Roll Spirit was in those dreadful early 80's, all that MTV crap, there was just nothing real going on. then, there were the Blasters, Los Lobos, Jason and the Scorchers, Treat Her Right, and we were kinda all lumped together to some extent. and, I loved all those bands. The Del-Lords will always remain a peak experience of my life.

As a musician you have played different styles of music in your various projects.
What do you like to listen to on a Saturday night?
Over the years, great Saturday night standby's which are pretty much the same as pre-gig would be Chuck Berry, The Who Live at Leeds, Springsteen, Dylan '66, Robert Johnson, NRBQ, the 1st Nuggets, all things that are physical, emotional and spiritual. Gotta get the whole thing workin'.

What do you like to listen to on a Sunday morning?
I like good hangover Country, Buddy Holly, The Byrds, old Country Blues, Beatles always, Velvet Underground, old deep Gospel. or it could be AC/DC's Highway To Hell. Sometimes you just don't know.

What is the latest record you bought?
I bought and love the new Black Rebel Motorcycle Club record, Baby 81, the new Nick Lowe, great, the Springsteen Live in Dublin which is awesome and religious, the third and final in a series of compilations of songs my heroes, Leiber and Stoller were involved in. They were geniuses. I bought the Sly and the Family Stone re-masters, which ya gotta gotta gotta have, or at least Stand! oh, and the new one by the great Porter Wagoner, "Wagonmaster". Man, Porter's 80 fuckin' years old, he's gotta new record out which is great, he's opening for the White Stripes in Madison Square Garden, I mean, you want a role model, kids, well here ya go, 80 years old, survived a stroke or two, singin' for the folks, and just till following his heart's dream like a hungry jungle cat. Yeah, man, I wanna be like that. just like that!


What are your thoughts about the mp3 revolution and file-sharing?
Mp3's sound like shit, and for that they should be banished to Hell. my sympathies to a generation that will be further mediocritized by these heinous little items. people should demand more out of life, and be willing to throw down, get out there and make it happen. on the one hand a pity, on the other you get what you deserve sometimes. about file-sharing i just lump it in with sampling, free downloading and other such, and that is if you want my work, pay me. if I want your work i will pay you. simple and fair. if you take my work without paying me, then chances are you're stealing it. I'm not worried about some kid buying it and making a copy for a friend, there's degrees here; if that same fan essentially distributes a hundred or more or whatever, that's a business. cut me in, or else.

Do you have any other particular interests besides music?
like any good Bronx boy, the New York Yankees are one of the most important and overwhelming concerns in my world. right up there with life and death. i bleed pinstripes. other than that, i'm a news junkie. the stakes are just too high not to be these days. i'm exceptionally interested in my girlfriend. i should mention that.

Have you discovered any new emerging bands lately?
most of the new stuff i hear is the stuff i hear on Little Steven's Underground Garage radio show, or on Manitoba's show on Steven's Sirius Satellite Radio Network.he's played a bunch of things lately that i really dig on an LA label called Teenacide Records, run by a super fan and great guy, Jim Freek. there's Peachfuzz, Boink!, Sisely and the Safety Pin-ups. i think i have that right. i like the Len Price 3, very early Who-ish. there's the Ditty Bops who are on Joan Jett's label. Neko Case is not new to too many people anymore, but she's still under the radar, and she's completely amazing.

Tell me about your proudest moment as a musician?
There's been several but I guess my favorite moment took place at a charity dinner sponsored by Dave Marsh and his wife Barbara Carr. Dave is a writer, used to edit Creem magazine, has written several books, including two bios on Bruce Springsteen. Barbara co-manages Bruce with Jon Landau. Barbara had lost a daughter, who was a friend of my then wife, several years earlier to a particularly brutal form of cancer. the dinner was to raise money for a fund set up in their daughter's name. They do it every year and every year Bruce shows up, mostly to help Dave and Barbara sell these $1,000 a plate dinners. Every year it's a sell out, partly due to the presence of Springsteen. Well, my wife and I were guests of Barbara and Dave. and we're just hanging out by the bar. We know no one, and no one knows us. We're gettin' bored and antsy when suddenly I hear an old familiar gruff chuckle of a voice calling my name from across this big room. well, it's Bruce and he's with Patti, and he's waving and calling me, and waving, and people are following him like a snowball gathering snow speeding downhill. and, he's comin' straight at me waving and calling me. Then, he grabs me, starts hugging me, and causing quite a scene. There's all these people milling around wondering who the hell is this guy that is so interesting to Bruce Springsteen. Meanwhile, Bruce is going on and on and on about how great the Del-Lords compilation is ( i had given him a copy a few months before at one of his shows in Jersey). i mean on and on; how he can't believe i wrote all those songs, me, little Top 10, great great great, fantastic fantastic fantastic, on and on and on. it actually got embarrassing. in a good way, of course. it was like the movie of your life that you get to write, direct and star in. everything is perfect. all that's missing is your ex-girlfriends, ex-schoolteachers, old bosses, your parents. it was amazing. my wife and i were pinching each other in mutual disbelief. he talked about several of the songs. it was just so overwhelming because i have such respect and admiration for him and his art, and he has been a gigantic inspiration to me. just a huge moment of validation, and belonging to the club, and something i'll be able to talk about for the rest of my life.

Wlhat are you up to today music wise?
Basically like i said, new record, putting the finishing touches on that. the documentary. getting ready to get back out and start playing.

What people are you working with?
I'm working with a great drummer, cool record label head, and great guy named Ric Menck, a local guitarist named Erik Meade, and then i'm bot sure

When did first pick up the guitar?
I was about 15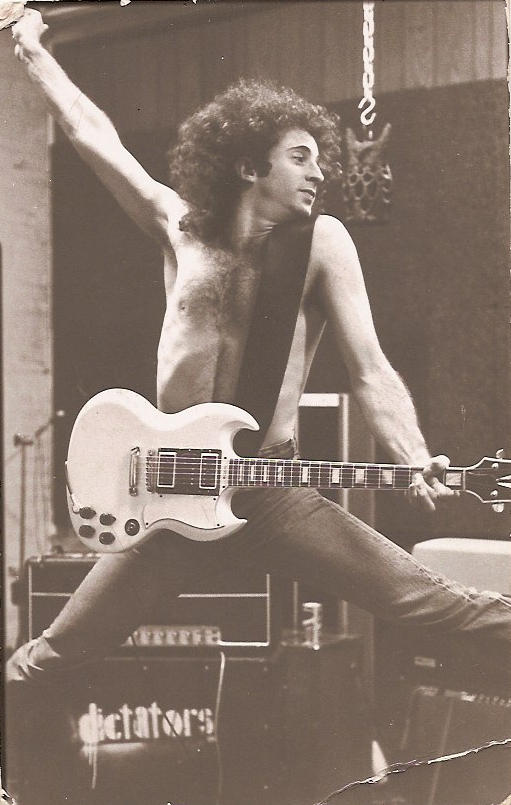 Do you play any other instruments?
Nope

What equipment are you using?
still playing a Strat. i'm using a Dr. Z 38-watt handmade beauty of an amp. a fantastic piece of gear. learned about them through Eric Ambel.

Who are your influences as a guitarist?
Hmmmm. Keith Richards, Chuck Berry, Pete Townshend, Jeff Beck, Roger McGuinn, Steve Cropper, Richard Thompson, Robert Johnson, Muddy Waters, Dick Dale, James Burton, George Harrison,

And as a songwriter?
Bob Dylan, Lennon & McCartney, Jagger/Richards, Chuck Berry, Brian Wilson,, Springsteen, Leiber & Stoller, Ellie Greenwich & Jeff Barry, Richard Thompson, Ray Davies, Pete Townshend, Carole King, Steve Cropper, Lou Reed, Johnny Cash, Doc Pomus & Mort Shuman, Hank Williams, Tom Waits

How did you get the nick name "Top Ten"?
it's a better name than the story that goes with it

If you could put together the band of your dreams with any musician, dead or living, what would that band look like?
drums: Ringo or Al Jackson Jr. or Hal Blaine
bass: Paul McCartney or James Jamerson or Duck Dunn
piano: Terry Adams or Jerry Lee Lewis or Nicky Hopkins
backgound vocals: the Beach Boys or the Beatles or the Four Tops

Anything else you would like to say to the readers of Punkglobe Magazine?
Remember, as far as Rock'n'Roll goes, you get back what you put in. believe in yourselves and your dreams and your friends and if you can combine all of those things, then, brothers and sisters, you got it all. believe me, i know

Thanks for your time Scott! Best of luck with everything!

Jones Vigilantes, Punkglobe Magazine