It is always refreshing to find bands with strong women in them. Syteria are a killer band with three kick ass women..... I was able to speak with bassist Keira Kenworthy recently and get all the juicy details about Syteria....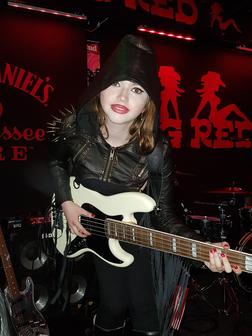 PUNK GLOBE: Thanks so much for the interview Keira. How did you pick bass as your instrument of choice? How long have you been playing ?
Keira: I've always been more attracted to the rhythm section of a band. A rhythm section can either make or break a band and it gives a song its feel and groove, make you want to dance, mosh etc. that's what it's there to do. So I think picking up the bass just came to me naturally although I did try my hand at the drums but failed miserably. [Laughs] I would say I'm approaching my eighth year of playing the instrument and still continue to learn something new and excel at it.
PUNK GLOBE: Any other instruments that you excel with?
Keira: Not really! I mean I have had a go at playing electric guitar and keyboard mainly for song writing purposes. I tried the drums again and I'm still shit at it [Laughs]. But recently I've been picking up on double bass and I suppose I'm just as good on a fretless bass as on fretted bass.
PUNK GLOBE: Who are some of the bands influences?
Keira: Each member brings their own influences to the band. Me I love my theatrical bands such as Motley Crue and Rammstein but I also love Southern Rock bands like Blackberry Smoke and Lynyrd Skynyrd and of course I love me Funk. Jax obviously coming from a punk background so Ramones, The Dickies but also likes pop punk stuff like Paramore and Good Charlotte. We both absolutely adore Alice Cooper. Julia's influences come from more of the Goth rock side such as Sisters of Mercy and Bauhaus and Pablo likes his Prog and 70s rock. Having these various influences certainly gives our distinct style.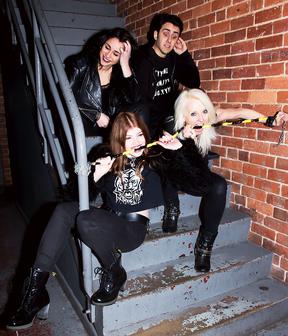 PUNK GLOBE: The entire band lives in South Yorkshire but you rehearse in Leeds. Is there a reason why?
Keira: Leeds is home base for us because Jax lives there and I live in Harrogate (North Yorkshire) which is about 15 miles away. Julia and Pablo live in Sheffield so they're aren't really that far apart from us so Leeds is in centre for all of us to travel and rehearse. We've used Eiger Studios as our main place for practice. But we have also used White Noise Studios (Harrogate) and Attic Rehearsal Rooms (Sheffield).
PUNK GLOBE: Tell us about Syteria? When did you form and who is in the band and what do they play?
Keira:
Julia Calvo – Vocal/ Rhythm Guitar
Jax Chambers – Lead Guitar/Backing Vocals
Me –Bass Guitar/Backing Vocals
Pablo Calvo – Drums/Backing Vocals
Syteria's official line-up formed in 2016 but me, Julia and Jax have been together playing music way back in 2014. We didn't necessarily meet up in the traditional way, social media was what brought us together. Jax contacted me one day via Facebook says she was putting a band together, she already met Julia at that time so I jumped onto the band wagon. Then the real fun happened when we needed to find ourselves a drummer to complete the band.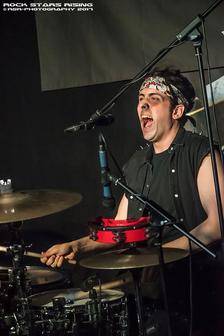 PUNK GLOBE: Pablo your drummer rawks. Is he an original member?
Keira: Originally the idea was to form an all-girl band but finding a "Great" female drummer was proving quite difficult. All the lasses we auditioned either couldn't commit or weren't good enough. We had a lass called Emma for a short period of time and she is featured on our Christmas single 'Santa's Harley' but again due to issues following up to our 'Wake Up' EP she didn't last. We also had my dad Mike Kenworthy (former Raven drummer) step in to do drum tracks for the EP and my mate Joshua Stephens from Amsovel dep at rehearsals. But finally when we found out that Julia's brother Pablo was a drummer he was a perfect fit straight away and the rest is history. If you can fucking play that's what matters. The ladies love him [Laughs]
PUNK GLOBE: Tell us about the bands name?
Keira: When it came to picking the name it wasn't easy because you would always come up with a good idea and then all of a sudden another band has it already. We kind of kept to the lines of having an empowering and spiritual name and compile a list and then pick out the crap ones and then we'd be left with 3 or 4. Syteria had a great ring to it although I think some of the band member's first thoughts on it was it sounded like a disease or something [Laughs] But the name grew on us it was easy to remember and anything starting with am 'S' sticks with you. The actual definition of it I don't really know but apparently some women are named Syteria which is cool.
PUNK GLOBE: How would you best describe Syteria?
Keira: Energetic, punchy music and lyrics about random rants, non-conformity and sheep all being hollered out in harmony by a bunch of Tykes!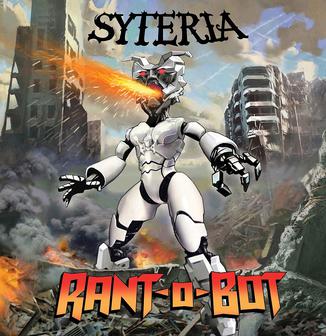 PUNK GLOBE: Was hard finding just the right people to make Syteria work?
Keira: I wouldn't say it was too difficult. We managed to gel so quickly as a band and when performing and recording we get shit done. Probably the only drawback when we firstly started was finding the right drummer and we could have maybe started sooner but things happen for a reason. When we eventually got Pablo in band then it was full steam ahead!!
PUNK GLOBE: Tell us about your killer new album 'Rant o Bot'?
Keira: We started a pledge campaign for 'Rant o Bot' in October last year and just within hours we reached our goal and was able to fund the album. We chose Tim Hamil to produce the album, his previous work the Girlschool Legacy album which featured Lemmy and Ronnie James Dio proved that he would give the album the balls it needed compared to the 'Wake Up' EP that was done by an Indie producer and lacked power. We took a trip down to Llanelli, Wales for two weeks to record the album. Pablo and I first did the drum and bass tracks which only took about 2-3 days to get down. Then Julia laid down the vocals and then Jax with her guitar. All of us did harmonies for the songs which fills out the choruses of the songs very well. I think the time we had down there we managed to get it all nailed along with a few extra tracks quite quickly. But we were very precise and still added a rawness and power to the sound of the music.
The album's name comes from the fact that most of our songs are ranting about something whether it's conformity, social commentary and conspiracy. Not too political we don't point names of who do we rant about, who do we hate at the moment ect. But a lot has happened recently so why not just put in one full song or two [Laughs]. And 'Rant o bot' is a manifestation of that.
I'm very proud that it's been getting great reviews and everyone who has bought it has had so many great things to say about it. When people say what their favourite song is off the album it varies, I think probably our most popular ones are 'I'm all Woman' and 'When I get out of High School' but some people also like 'Sheeple' and 'New World Order'. Recently one of our songs reached number one on the Hard Rock Hell radio beating off Wednesday 13 and even Stone Sour. It also gets heavy rotation on an American radio network called the 365 network and the songs reach the top 10 majority of the time. And to people who love their Vinyl it's available in that format too.
PUNK GLOBE: I met Jackie when she was playing in Girlschool at NAMM. Do you ever play with them?
Keira: We did a festival with them at Whitehaven this summer.
http://www.numberonemusic.com/syteria/song/669003-Stupid-Girl
PUNK GLOBE: You also played with Tequila Mockingbyrd. How long did you play with them? Do you also play with another band?
Keira: I did their last UK tour in March supporting Swedish band Bonafide. We were mainly touring the O2 academies and we did Hard Rock Hell AOR which was incredible. I recently got to meet the new line up in Doncaster and me and the Syteria got to watch them at Rock n Blues Custom Show.
I do play with various bands, I'm in a band with my dad called Straightshooter, and we'll be playing the Introducing stage at Giants of Rock in January 2018 and working on an EP. And recently I've been asked to do some German dates with art rock band The Red Paintings. I'm a busy bee!!
PUNK GLOBE: Does the amazing Dutch Michaels have plans to bring Syteria to America?
Keira: In the middle of planning it. I definitely want to visit TRUMPTON!! [Laughs]
PUNK GLOBE: Did you play any shows with L7 when they were playing in England last year?
Keira: Unfortunately no! We were playing at Bannermans in Edinburgh around that time but we were never a support act for their UK tour. I would love to because I like their music. Got their greatest hits album The Slash Years.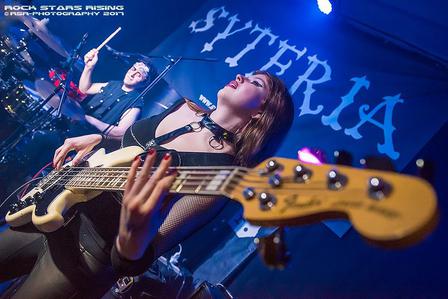 PUNK GLOBE: You are playing alot of the festivals this year... Any shows that are stand out gigs?
Keira: Probably my favourite one so far would have to be Wildfire Festival in Biggar, Scotland. That was a blast to do, we had a great crowd and great sound. During the end of our set we finished off with 'When I get out of High School' and Jax noticed these little girls with inflatable guitars, so we invited them up on stage with us. After the show we autographed each one of the guitars. Bless em! [Laughs]
Rock n Blues Custom show was awesome just not the weather. [Laughs] There was mud everywhere and I think everyone was soaked to the bone that day. I suppose when you do outside festivals there is going to be that chance where you're gonna get drenched.
PUNK GLOBE: What is in store for Syteria for the future?
Keira: Hopefully to take Syteria across the globe. Possibly a US and European tour, Yarmagedon in Gt Yarmouth in March, Finland boat cruise and a tour in Thailand maybe. We'll shall see. But this year we have some killer gigs coming up. We'll be performing on our home turf of Leeds at Brudnell Social Club on 1st September and then straight on to Off the Tracks fest in Derby on 2nd Sept. Then we have a series of gigs in November starting with Hard Rock Hell 11 on Nov 10th, Day of Rock in Kettering on Nov 11th. Then we have our third mini Scottish tour beginning with Bannermans on 22nd Nov, Hard Rock Cafe Glasgow on 23rd November and finally Winterstorm Fest in Troon on 24th November.
Bits and bobs from our mini Scottish tour! - Live footage by Danny Chestnut - Mixed by Paul Rooney from Vice Squ...
PUNK GLOBE: Do you have any Internet addresses that you would like to share with the readers?
Keira: Certainly! You can find Syteria at www.syteria.co.uk . You can also find us on Facebook, Twitter and Instagram. You can check our latest music videos on our YouTube. CHECK EM OUT!!
https://www.facebook.com/syteriagirls/
https://twitter.com/SyteriaBand
https://www.instagram.com/syteriaband
https://www.youtube.com/channel/UCxhTNvKJfLjHNV0FzdrIlCw
PUNK GLOBE: Describe yourself in three words?
Keira: BASS BOURBON BEAUTIFUL
PUNK GLOBE: Thank you so much for the interview any last words for Punk Globe readers?
Keira: I'd like to thank Punk Globe for the interview and I hope you readers get a chance to check out the mighty Syteria. Every person who's seen us has had their mind blown. SO GET TO IT!! Buy our debut album Rant o Bot!!