Kay Stanton kicks ass!!! I went to see The Pylon Reenactment Society as Vanessa Briscoe Hay who is an long time friend invited me to the show... We also both share the same birth date.... I was so blown away by the mind blowing talent in the band. Kay Stanton on bass really caught my eye... what a powerhouse on stage... I wanted to find out more, so I begged Kay for the following interview. Enjoy!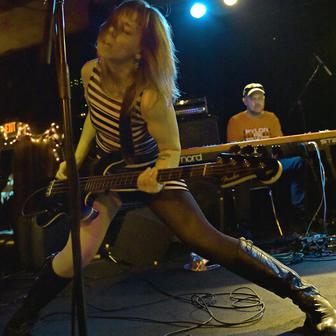 Punk Globe: Thanks for the interview Kay can you give us some background on yourself?
Kay: Thanks for interviewing me! It's an honor! I'm a painter turned performer turned musician and aerialist. In addition to my two primary bands, I play on occasion with The New Sound of Numbers and in an all-female Andrew WK tribute band, Girls Own Love.
Punk Globe: Tell us some of your musical influences?
Kay: I loved Bow Wow Wow and Duran Duran as a kid, but the point at which I decided I would be a musician was when I saw Fugazi at the Masquerade in Atlanta in 1993. I started going to shows every weekend, seeing bands like Sonic Youth, Superchunk, the Flaming Lips, Sebadoh, Shudder to Think, and Stereolab. I discovered the Riot Grrl movement and so much of what they were saying and doing spoke to me at that time in my life. I also have a deep love for Simon and Garfunkel and Dolly Parton. Their music has always been some of my favorite to paint to. Soon after college, I was in an artist collective and I started experimenting with performance art and I got very interested in Fluxus, That introduced me to Nam June Paik, Yoko Ono, Captain Beefheart, and Steve Reich. I DO remember the first time I heard Vanessa Briscoe Hay! I was watching a VHS of "Athens, Georgia Inside Out" and someone said something like, "That's Vanessa! Can you believe that voice comes out of that sweet face?" My mind was blown. I almost skipped my own show to see Pylon's "secret" show when they reunited in 2004. Luckily, Jason and I were able to sneak in the back door and cozy right up to the stage.
Punk Globe: How old you when you joined your first band?
Kay: I joined my first real band that played shows in 1993, when I was 21. We were called The Zookeeper's Wife. I still think that's a terrific band name, and the songs were good. I was a terrible player, though. I've only ever learned music through playing, and that band was where I learned the basics. I was in a fake band before that called "Stinkfinger." That's where I learned my moves.
Punk Globe: Are you originally from Athens?
Kay: I grew up in Columbus, Georgia, and moved to Atlanta after college. I was in Atlanta during the Olympics and for a few years after, but I got burned out with that city. I've been in Athens for 17 years now, and it feels like I've come home.
Punk Globe: Tell us how you met your husband Jason and is he related to Mike Nesmith?
Kay: I met Jason in 1995 when I was in Atlanta. I was asked to play bass in my friend Dave's band, and Jason was the drummer. I still remember the first time I met him for band practice. He was adorable...and grumpy. He had just woken up from a nap. We ended up being close friends, then started dating after a couple of years and got married in 2000. As far as I know, Mike Nesmith is a very distant relation to Jason. Mike's son is also named Jason, and went to Berklee School of Music at the same time as our Jason. PRS Jason still gets emails occasionally from people who think they're contacting Mike's kid.
Punk Globe: You also play with your husband Jason Nesmith in Casper And The Cookies tell us about that?
Kay: We started the Cookies in 1998. Jason had been writing a lot and had been playing and recording with a couple of other bands and as a solo artist. Originally we were going to change the second half of the band name with each record, but we decided that was a bad idea, so we've been stuck with Casper & the Cookies ever since. It's been a great experience working with him. I'm glad we played in a band together before we were dating, but for the most part it works really well. We don't have too much drama, and clearly there's a good connection. We both write and have coauthored a couple of things. I'd like to do more of that in the future.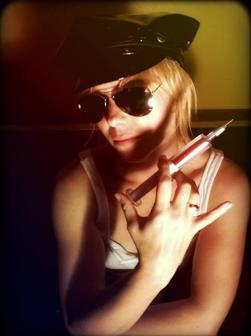 Punk Globe: Has the band released any product and have you toured?
Kay: Yes, and yes! We have 4 official full-length albums (Oh!, The Optimist's Club, Modern Silence, and Dingbats) and a handful of singles, EPs, and unofficial or digital-only releases. We are working on our fifth album now, which will hopefully come out next year.
We toured extensively between 2006 and 2010, making several rounds of the US and Canada, as well as two tours in Japan. We almost got arrested at that border stop near El Paso back in 2009 or '10. That's a different story, though. I'm hoping we'll be able to do some more touring after this next record.
Punk Globe: Does Damon Denton play in the band with you?
Kay: Damon has played in the band with us as a guest artist, but he is not a full-time member, which is a shame. Maybe we should display a photo of him at all of our shows. Or he could just sit on the stage, moodily smoking a cigarette and wearing mirrored sunglasses. He is one of Athens biggest kept secrets, but that is changing!!!
Punk Globe: Indeed Damon is a treasure!!! Tell us how The Pylon Reenactment Society came about?
Kay: I had been playing with Vanessa in Supercluster since about 2007. Jason joined after Randy died, and I remember Vanessa telling us there is no Pylon without Randy. And that's still the case. But in 2014, Jason curated the musical portion of Art Rocks Athens, which was a retrospective of art and music from 1975-1985. He broached the subject with Vanessa about playing one or two Pylon songs at the event, because we felt strongly that Pylon needed to be represented. We really didn't think she would do it, but after some time, she agreed that she would play three Pylon songs with a backing band. Vanessa came up with the name "Pylon Reenactment Society." It's perfect, really; we know we'll never be Pylon, but we want to do our best to play in the spirit of Michael, Randy, and Curtis. The first line-up of PRS was basically the Cookies (Jason, Gregory Sanders, and me) plus Damon. We thought it would be a one-time thing, but then we were asked to play a full set at Art Rocks Athens the next year. Gregory had had surgery on his shoulder, so we asked Joe to join. We all had so much fun, and I'm assuming Vanessa did, too, because she started talking about playing more shows.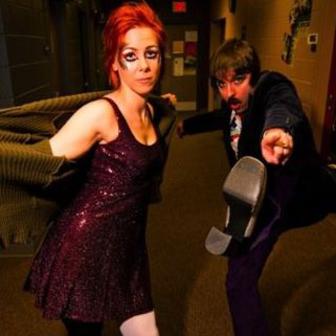 Punk Globe: Leslie Michel who is an old pal of Vanessa's is also involved with Art Rocks Athens...Tell us who is in the band and what they do?
Kay: Currently, the band is Vanessa Briscoe Hay (vocals, Queen of Amazing), Damon Denton (keys/piano), Jason NeSmith (guitar), Joe Rowe (drums), and me on bass.
Punk Globe: You have been going out on short tours tell us about that?
Kay: After the Art Rocks shows, we played a couple of local shows, but soon had the opportunity to do some short tours. So far we've played in the southeast, up to New York, a few dates on the west coast, Detroit, and Chicago. We're doing a few dates with Cindy Wilson's band later this summer and continue to add things here and there. We haven't been able to go on long tours because a couple of us have day jobs that prevent that.
Punk Globe: Do you have any special show or shows that you have played?
Kay: I've been lucky enough to open for the B-52's with two of my bands (Supercluster and the Cookies). Those shows were all amazing! The Cookies opened for them the night of their 34th anniversary. There's a DVD of the B's show from that night! We've gotten to play with so many great bands and have had some real adventures on the road. It's hard to pick a single show. I remember once opening for The Apples in Stereo at the Independent in San Francisco (2007, I think) and thinking it was the most magical night of my life. Turns out I was running a high fever, but I'll take it. I still think it was probably a good show.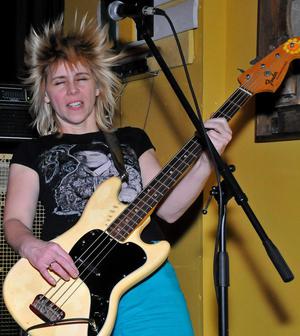 Punk Globe: You mention another Athens hero the fabulous Cindy Wilson who has been touring with her own new band. I am so happy that Vanessa and Cindy have played together with their new bands.
Kay: We played a show with Cindy's new band earlier this year and they were AMAZING. Cindy also jumped up on stage with us for a benefit we were doing earlier this year. That was a lot of fun! Please tell everyone to see her new band, though. They are so good!!!
Punk Globe: Have you gone into the studio to record?
Kay: We did two recording sessions on Pylon material while we were touring.
PRS has not recorded any new material, but we've started talking about it. We've also discussed recording some unrecorded Pylon songs based on live footage/demos. I really want to record with this band that I love so much, but it feels a little precarious, too. I don't want there to be any misconceptions that we're trying to be Pylon. It's a different beast with the same head.
Punk Globe: Tell us about the show you recently played paying tribute to Vic Chestnut?
Kay: Dave Marr put on a two-day benefit for Nuci's Space (http://www.nuci.org/) to honor Vic Chesnutt's life and music. We played "What Do You Mean?" and "Splendid." Over 40 musicians performed Vic's songs, and it was truly amazing. Vanessa was amazing, of course. I love hearing her do covers.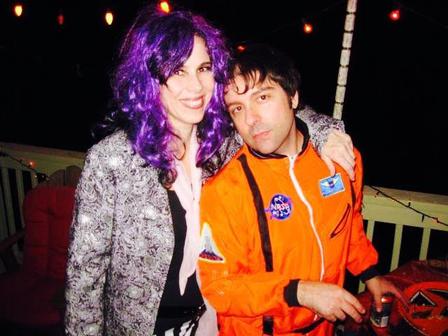 Punk Globe: What does the future hold in store for you and both of your bands?
Kay: Hopefully, a lot more shows and new recordings! Both bands are playing Athens Popfest in August and PRS continues to add dates. I suspect the Cookies will be out on the road a little more next year when we're done recording.
Punk Globe: Do you have any Internet Addresses you would like to share with the readers?
Kay: PRS - https://www.facebook.com/pylonreenactmentsociety/
Casper & the Cookies - https://www.facebook.com/casperandthecookies/
Girls Own Love - https://www.facebook.com/girlsownlove/
New Sound of Numbers - https://www.facebook.com/thenewsoundofnumbers/
and you can see some of my art at: https://www.facebook.com/IDRAWBUGS/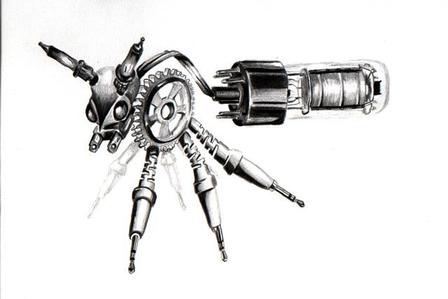 Punk Globe: Any thoughts on that cute ultra cool future Congressman Jon Ossoff?
Kay: LOVE him! I'm not in District 6, but a bunch of my friends are, and they all voted for him, right?? We should get Jon Ossoff and Justin Trudeau in a room together with a bottle of whiskey and see what happens. But seriously, I am ready to get Georgia out of the armpit of conservatism and a vote for Jon Ossoff is a step in the right direction. There is SO much to fix in this fucked up country right now, but don't get me started on that.
Punk Globe: And we can't forget Emmanuel Macron from France on that whiskey bender... Kay, Do you have any last words for Punk Globe readers?
Kay: Thank you for giving me the chance to tell you a little about these projects! I'm really proud of what I do, and I'm so lucky to work with such amazing and talented people. I'm so glad I go to meet The Ginger Coyote this past year, thanks to dear Vanessa! I hope to see you again. Until then, keep doing what you love!