I came across Kathy X on My Space a couple of weeks and after being sent the album I just had to interview the band. Here´s what Kathy had to say.

Punk Globe: First off Kathy why did you leave London to go to Germany?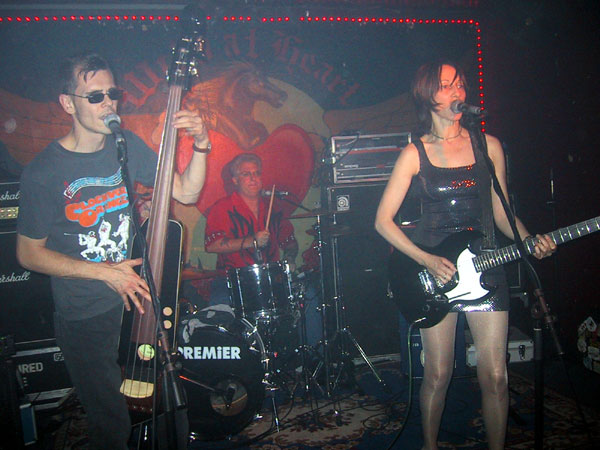 Kathy: Listen to OK UK on Ready For Anything. High rents and sterile music scene It was time to move on.

Punk Globe: It must have been hard for you living in Germany when we thrashed them at football?

Kathy: Not really the Germans didn't think much of their team either!

Punk Globe: Did you have plans for the band ´Kathy X´ when you were in the UK or did it all come together in Germany?

Kathy: I felt something was meant to happen. I didn't know what, but I knew it couldn't happen in London. So I moved, wrote a bunch of songs and went back to the UK briefly where Mark Penington of the Caravans produced my 4 track demo. With that I had a direction and the rest fell quickly into place.

Punk Globe: Isn´t one of your band members Stateside? Does this mean it´s difficult to play gigs?

Kathy: Mr Crome, our drummer, is in Berlin more than in the US.

Punk Globe: How come you ended up on a Polish label for your album?

Kathy: Poland´s not so far from Berlin. We played at the Punkt in Warsaw - the crowd went crazy and the label guy more or less signed us then and there.

Punk Globe: How pleased were you with the finished product of ´Ready For Anything´?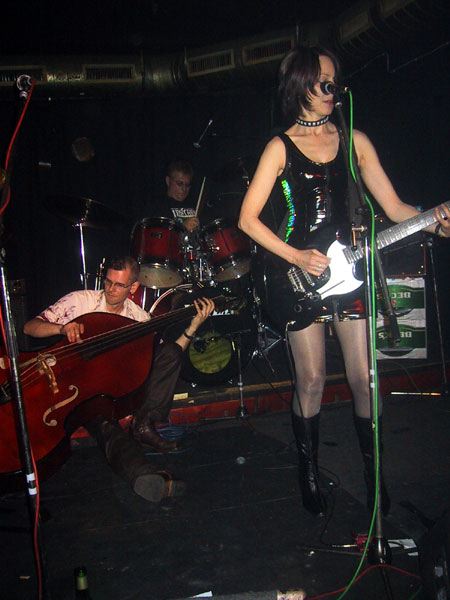 Kathy: Very. Couldn't fault the production and every track rocks, which aint bad considering we did the 13 tracks and 2 bonus tracks in 5 days.

Punk Globe: You´ve played with some awesome bands like the Meteors and Horrorpops so what have been the most special shows for you?

Kathy: It´s more special for me when we do a great show, not neccesarily when we are supporting a name band. The times we played in Poland were brilliant. In Berlin everyone is trying to be cool but the Polish let you know they're up for it.

Punk Globe: Did I read correctly that you´re back in the UK for a show soon?

Kathy: First Ive heard about it, but we'll probably do it if someone tells us where it is and we get a hot meal after the soundcheck.

Punk Globe: What attracted you to the Rockabilly scene in the first place?

Kathy: I was actually more into punk/metal but after my punk band Joyryde broke up around 98 , a chance meeting led to me recording one or two tracks for The Highliners, then joining Death Valley Surfers, who were playing lots of gigs on the psychobilly circuit. So I heard lots more Rockabilly and it kind of grew on me. Playing in a band with a slapbass is a totally different dynamic from what I was doing before. But I wouldn't say Kathy X is just for a Rockabilly audience.

Punk Globe: So what you expecting for Xmas anything cool?

Kathy: Maybe Mr Raw will buy me a ticket for Reverend Horton Heat hint hint.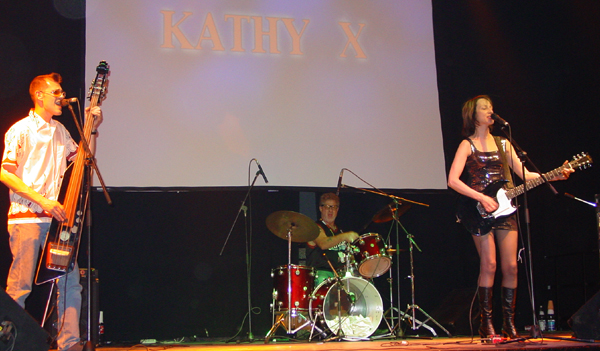 Punk Globe: Talking of Xmas you have this large box and out jumps a Naked UK Fanzine writer so what happens next................?

Kathy: Are they male or female?

Male.........

Punk Globe: How long have you been playing in bands/writing music?

Kathy: At least 20 years.

Punk Globe: If you had the chance to play with 5 bands on the same bill who would they be?

Kathy: Wanda Jackson Link Wray Nekromantix Motorhead Reverend Horton Heat.

Thanks to Kathy for taking time out to do this interview. You really must Check out Kathy X if the Rockabilly sound is your poison. I was impressed and I´m glad I checked them out.