Interview By: Ginger Coyote
It truly is wonderful to interview Kathy Peck because she is truly a caring Human Being...She proves this daily with all the hard work that she does with her non-profit organization H.E.A. R. I recently asked Kathy a few questions to catch up with her and find out what is new in her life... I hope you all enjoy the interview.....
Punk Globe: It has been awhile since we last interviewed you Kathy. Tell us what is new with H.E.A.R. (Hearing Education and Awareness for Rockers)?
Kathy Peck: Thank you Ginger and Punk Globe for your wonderful support and interest in HEAR. Recently, we launched our new pilot hearing education audience development and hearing protection campaign to music and new media schools and rock camps in the Bay Area with the support of The Bill Graham Foundation and The Hearing Aid Music Foundation, Mack's Plugs, 3M, Drum Magazine and others. We were also very fortunate to be part of "The Bigger Sound Lower Volume" Campaign with Miley Cyrus/Hannah Montana Star and Future Sonics. H.E.A.R. works hard to get the word out about hearing loss prevention through these and other public service education activities.
Punk Globe: Can you describe your services for musicians and other people who may be having issues with their ears?
Kathy Peck: In the San Francisco Bay Area, H.E.A.R. provides musicians hearing services, which includes free hearing screenings, ear checks and custom fittings for Musician Earplugs and In ear monitors for Stage. We also have a HEAR Partner listing of hearing professionals for musicians hearing services in other cites via our website
WWW.HEARNET.COM
. Here is a video link to some of the services H.E.A.R. provides.
(About H.E.A.R./ Kathy Peck video link)
http://link.brightcove.com/services/player/bcpid1697139303?bctid=1715728803
Punk Globe: It is amazing some of the people who you have seen and helped with their own hearing issues. Can you tell us some of your well-known clients?
Kathy Peck: Many people who come in like to be anonymous but, some have been generous with their support of HEAR. Recently, I was able to fit Ear Monitors and Musicians Earplugs for Circus De Soleil, David Byrne's Dancers, Josie Cotton, Chloe Trujillo, The Thrashers (America's Youngest Rock Band), and several young Disney artists.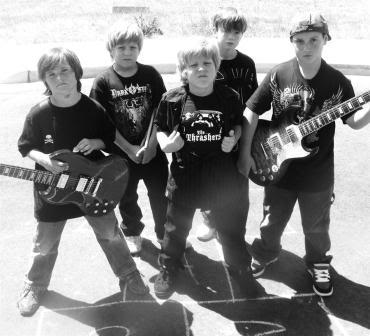 The Thrashers Band photo
Punk Globe: Is it true that you now also work with people involved with The San Francisco Opera?
Kathy Peck: Yes, I have been working with the SF Opera and Symphony Orchestra members for several years now. It is extremely loud in the pit even though the music is not amplified. Musicians Earplugs were originally designed with symphony players in mind. HEAR has worked over the last 25 years with Etymotic Research the inventors of Musicians Earplugs and others, advocating hearing protection for musicians and the development of new technologies that would prevent hearing loss, especially for rock musicians.
Punk Globe: It is amazing how you have become so well known. Tell the readers about the Russian Rock star you recently had come to your office?
Kathy Peck: H.E.A.R.'s message has gone all over the world and has been recognized and supported by many great artists such as, Pete Townshend of the WHO, Lars Ulrich from Metallica, as well as, many music industry companies over the years like MTV, NAMM, AES, Future Sonics, Westone, Shure, Mix Foundation, Mix, Drum!, Music Player and others. The word spread about H.E.A.R. even all the way to Russia's music community. A rock star heavy metal artist, Maxim Samosvat from Moscow drove up one day in his limo while on tour in the US. He wanted to be fitted with in ear monitors at HEAR. He was very nice and really fun. MeChAnIcAl PoEt - Stormchild - Vocals Max Samosvat
http://www.youtube.com/watch?v=IgYTYgXCLgw
Punk Globe: Have you filmed any PSA's lately for H.E.A.R.
Punk Globe: You recently won an award that was presented to you at last years NAMM Convention is that right?
Kathy Peck: At the 2008 NAMM Conference, NAMM president and CEO, Joe Lamond, presented me with their "Believe In Music" 20-year achievement award in recognition of my work in hearing conservation and education with H.E.A.R.

I was interviewed by long-time supporter, Future Sonics founder and president, Marty Garcia, for an upcoming video presentation commemorating my award for the NAMM Oral History video and historical archive.
Punk Globe: What is H.E.A.R.'s involvement with Future Sonics?
Kathy Peck: Future Sonics and Marty Garcia have been a tremendous support helping H.E.A.R. get to the NAMM and AES shows every year where we provide earplugs and hearing help at our H.E.A.R. booth.
Punk Globe: How long have you been involved with The Namm Convention?
Kathy Peck: I have been involved providing hearing protection and hearing services over 20 years at NAMM through my work with H.E.A.R. nonprofit organization.
Punk Globe: Exactly how many of the Namm Conventions do you attend a year?
Kathy Peck: The National Association of Music Manufactures -Summer NAMM and Winter NAMM. We also go to The Audio Engineering Society Conference –AES.

We have a staff of volunteer audiologists, my niece Jessica Dickson who volunteers at the booth (providing neck and cranial massage for tinnitus suffers) along with donated support from HEAR sponsors Mack's Earplugs and Future Sonics. Pete Benner, David Gray and Daniel East have volunteered at our booth along with many other HEAR folks.
Punk Globe: You have met so many luminaries are there any that have made you feel nervous to meet?
Kathy Peck: Pete Townshend, Les Paul and Ray Charles. I was more in awe of their tremendous kindness and respect that they shared by helping me in my work with H.E.A.R.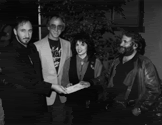 Pete Townshend, John Doyle, Kathy Peck, Flash Gordon MD of HEAR. -Photo Chauky Davis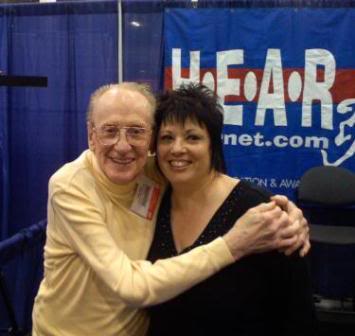 The Late Legendary Les Paul with Kathy Peck photo by Daniel East
Punk Globe: I know that you recently were the subject on a television show. Can you tell us about that?
Second Opinion: Hearing Loss Episode # 504. That airs on PBS television.
Here is a link to Second Opinion.
http://secondopinion-tv.org/secondopinion/episodes/hearingloss/index.html
Ginger, as you might know, hearing loss is the number one hidden disability. There are more musicians and baby boomers with hearing loss than there are people over the age of 65 with hearing loss. It's due mostly from noise and loud music exposure. As a result, those with hearing loss find it increasingly harder to understand normal conversation, especially when there's background noise. Sounds are starting to seem a bit muffled. And you find yourself asking people to repeat themselves more often. If you have any of these symptoms of hearing loss then, you're not alone... our episode explored the profound ways that this can affect the life of people suffering with hearing loss.
The show featured my story and personal experience with hearing loss and work with H.E.A.R. I was also a guest panelist on Second Opinion TV Series with several noted health professionals.
Punk Globe: Are you also available for speaking engagements?
Kathy Peck: Yes, I am very busy with talks at music and new media schools and colleges, sound arts colleges, rock camps, music and medical conferences and musicians unions. I am always happy to speak, screen our films and even check hearing and provide services at these events. Folks can reach me at
www.hearnet.com
or
hear@hearnet.com
.
Punk Globe: Can you tell the readers about how pleased you are that Dirk Dirksen now has a street named for him?
Kathy Peck: Dirk was a very dear friend and mentor to not only me but to so many others in the Punk scene and beyond. It was the right thing to happen and I was so privileged to be part of that.
Punk Globe: I know that you were the main force behind getting the street named. Who else was involved?
Kathy Peck: It was a tremendous effort and a real joy. And I could have never done it alone without the generous support of friends and family of Dirk. Special thanks must go out to California 13th District Assembly Member and Former San Francisco Supervisor and Comic Tom Ammiano, Supervisor Ammiano's Former Legislative Assistant Zack Tuller, Former San Francisco Supervisor Aaron Peskin, Barbara Moy SF DPW, Damon Malloy, Marli Dirksen, San Francisco Music Critic Joel Selvin, H.E.A.R., Punk Globe, Ginger Coyote and The Punk Rock Music Community.
As you know, Dirk Dirksen produced thousands of shows 7 nights a week at the at the Fab Mab with partner Ness Aquino the former owner of the Mabuhay Gardens Filipino Super Club at 443 Broadway Street.
It is a real honor to have a San Francisco City Street named in commemoration of the late great Dirk Dirksen.
DIRK DIRKSEN PLACE (street name) and Dirk's city plaque is at the old Mab location at 443 Broadway and Dirk Dirksen Place.
http://blogs.sfweekly.com/shookdown/2009/07/its_official_dirk_dirksen_plac.php
Punk Globe: Was there any special event that happened around the street naming?
Kathy Peck: Yes, DirkFest! It was fantastic send off tribute for Dirk. DirkFest tribute to "Pope of Punk" Dirk Dirksen (1937-2006), the punk rock impresario who ran San Francisco's Mabuhay Gardens "Fab Mab" nightclub and later the On Broadway during its heyday in the '70s, died in his sleep with a smile on his face at the age of 69. Kathy Peck of H.E.A.R. and The Contractions and Dirk's friends and colleagues hosted "Dirk Fest" at the Great American Music Hall and Slim's in San Francisco to pay tribute to the life of Dirk and help raise funds to pay off his final expenses and for the preservation of his rare archives of video taped performances, photos, posters, and other punk memorabilia.

DirkFest was a two-day celebration of the life of the legendary San Francisco punk rock promoter Dirk Dirksen, which took place at Slim's on Thursday, June 7th 2006 and at the Great American Music Hall on Friday, June 8th 2006. Many of the original San Francisco Bands got back together to give tribute to the life of Dirk. I have a list of the great bands below in the DirkFest Program and on the DirkFest posters. The Music performed by all the great legendary Punk Bands and Set Designs by Craig Po Artist were FAB!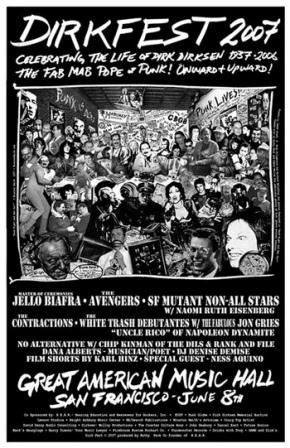 DirkFest Poster by Winston Smith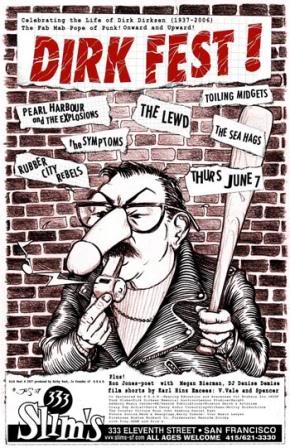 DirkFest poster by John Seabury

DirkFest Program designed by Victoria Wesson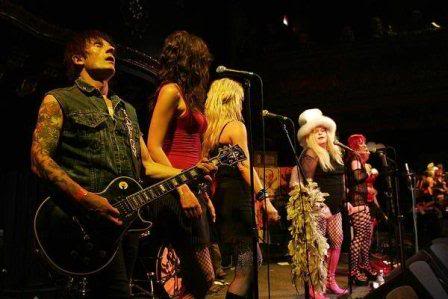 White Trash Debutantes at Dirkfest Photo: Chester Simpson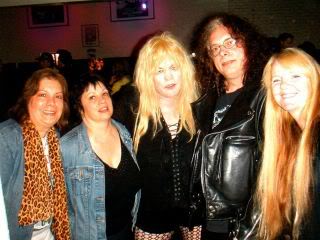 Judy Cantu, Kathy Peck, Ginger Coyote, Bob Clic of The Lewd and Tambre Bryant Photo: Rebecca G. Wilson
Punk Globe: You and your husband David Denny also recently wrote music for Ron Jone's play "The Wave" tell us how that happened?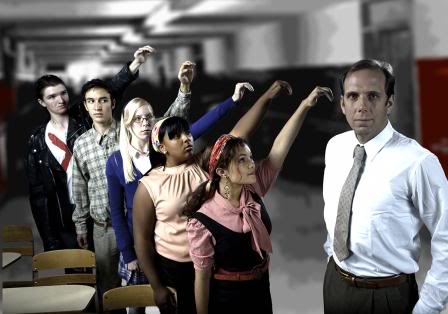 Photo by Light at 11B
Kathy Peck: There were 3 songwriters for the Wave musical, Emily Klion, David Denny, and Kathy Peck.
Emily Klion: The Marsh Youth Theater Director and seasoned songwriter,
David Denny: (
www.daviddenny.com
): David was formerly with Steve Miller Band. He is an audio consultant, producer, engineer, singer/songwriter and talented guitarists.
Kathy Peck: My background is as a singer songwriter, bass player for the Contraction and singer with ZasuPitts and Baby Buddah. I have been writing and performing since I was nine years old.
We all worked individually with Ron Jones as the book and lyric writer of the play to turn it into a musical. David and I wrote the bulk of the music in our Monima Music Publishing Company. David produced the songs at our Lyon Music Studio in San Francisco.
We meet the gifted storywriter Ron Jones through our mutual friend Dirk Dirksen. Through Dirk, Ron and David worked together on one of Ron's spoken word pieces "Jitterbugging" that he and Dirk Dirksen and Damon Molloy wanted to make into a movie. David on acoustic guitar and Carlos Reyes on violin ended up doing an amazing free flowing jam to his piece in one take. We knew then that working with Ron was very special and a creative happening.
The Wave is based on Ron Jones retelling of his story. The Wave depicts a classroom experiment on Fascism that got out of control. It took place in 1967 at Cubberly High School in Palo Alto, California. During a five-day period students gave up their freedom for the prospect of becoming superior to their classmates. Conformity and violence replaced student curiosity and questioning. Membership in The Wave extended beyond the classroom to involve the entire school and even other schools in the area.
The Wave is an international phenomenon. The story first appeared in a Whole Earth Catalog magazine article written by Ron Jones. As a psychological study, this article has been reprinted worldwide in academic journals and anthologies. In 1981, Norman Lear adapted this article into an Emmy Award-winning television drama. The novelization of that teleplay by Todd Strasser sold over three million copies and has been printed in sixteen languages. In 2008, the German film company Rat Pack premiered a feature film of The Wave – Die Welle at the Sundance Film Festival. Die Welle has received international acclaim and distribution and has become the topic of cult discussions on You Tube and Internet blog sites.
http://en.wikipedia.org/wiki/The_Third_Wave
In 2009, the students in the original experiment produced a documentary, The Lesson Plan, about their experience. Funded by Steven Spielberg, this documentary will be available to film festivals and classrooms. It tells 'what really happened' in The Wave. This new information inspired Ron Jones and provided the basis for the musical.
Here is a trailer clip of The Wave -a Musical with our production of our songs 'School Is' and 'For the First Time'.
http://www.youtube.com/watch?v=wiNGBKRST6U
Punk Globe: I know it was hard work but you should feel very proud with the reviews of the play at The Marsh?
Kathy Peck: The Bay Times Review
http://www.sfbaytimes.com/index.php?sec=article&article_id=12381
We were thrilled with the sold out shows and extended performances at The Marsh in San Francisco of the World Premiere of The Wave. The reviews we got were terrific. We hope for a bright future and more productions and performances of The Wave musical to come.
Punk Globe: After the play left the sell out run at The Marsh. Where did it go?
Kathy Peck: Mercy High School with 40 kids in the cast. It is a much bigger production. David and I were able to add another song 'Talking In Your Sleep' as they extended the Mrs. Jones character. The Wave is composed of 15 songs. 12 of those songs in our (David and Kathy's) MonimaMusic Publishing and 3 songs by Emily Klion. Emily Klion and Stephanie Weisman of The Marsh Theater were instrumental in the development of the Wave production. The Marsh is a breeding ground for new artists and is very respected and loved by all in San Francisco.

Mercy is a full production with Cubberly High School sets, superb music direction by Fredrick Harris' and his pit orchestra, choreography by Patricia Lam, tech lighting, costumes, and wonderful stage direction by Liz McAninch. The Marsh director, Cliff Mayoette was amazing as well. And of course the amazing actors of both Marsh and Mercy who acted and sang their hearts out. We were very fortunate to have such talents to help us mold the first productions of The Wave.
Punk Globe: Have there been any other schools that have shown an interest in doing the play?
Kathy Peck: Yes. We are now working on getting a cast recording of the songs produced by David at our Lyon Music Studio.
Under the excellent musical direction of Fredrick Harris we have an orchestrated conductors score. Damon Molloy has been filming the shows with others. Light at 11B documented the play with their stunning photography. So with Ron's final script and those elements we are shopping to Musical Publishers.
Check out Light at 11 B (Joseph Garappolo and Christian Pease) great photo documentation of The Wave world premier.
http://www.light11b.com/marsh-youth-theatre/
Punk Globe: Word is that maybe there will be a production in New York City. Have you heard anything about that?
Kathy Peck: Yes. Ron is starting to talk to folks about a possible NYC production but, that is a whole other ball of wax. For now, I just take it a step at a time and am very thrilled to have a 2nd production and possibilities of more youth theaters taking on The Wave for their summer musical production.
Punk Globe: You were also involved with the Joe Dallesandro tribute at The Castro Theater. Can you tell us about that?
Kathy Peck: That was a blast! Kim and Joe are awesome and fun people. My good friend Craig Pop Artist, Sharla Cartner and my husband David Denny helped with Joe's T Shirt poster for the table at Joe's film tribute at the Castor Theater. What an amazing career. Joe is an inspiration to many.

I had the wonderful opportunity to first meet Joe and Kim Dallesandro at the Bettie Page Party at the WOW Gallery in Hollywood with you Ginger!

Kim and Joe Dallesandro (Photo by Kathy Peck)
Punk Globe: Speaking of cult icons tell us about Faroh the Thai Hairdresser that lives in Hollywood?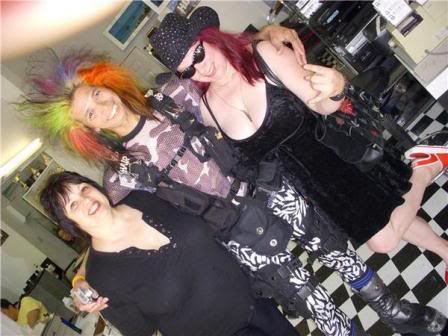 Photo by Ginger Coyote
Kathy Peck: Faroh is an amazing hairdresser in Thai town in Hollywood who cuts with many scissors in hand at the same time. I was fortunate to meet him through you Ginger. But not only that, he is a Buddhist monk, former military man, kick boxer, former Miss Thailand, champion bowler, photographer, fashionista, punk rocker and a very special enlighten being!
Punk Globe: How exciting was it to be reunited with Josie Cotton after not seeing her for years?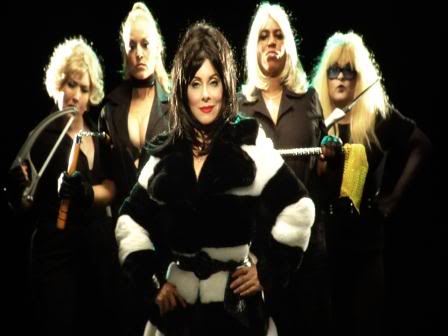 Photo Josie Cotton
Kathy Peck: It was very exciting to see Josie again at the dinner party you so graciously hosted in Hollywood. My twin sister Patty and I were high school cheerleaders together with Josie in Dallas. I don't think that Dallas was ready for Josie and our antics...they may never be the same. Josie and I dated boyfriends who were also best friends and it was a very special time in my life to have known her. Josie is a real beauty and talent and always will be. I love her very much.
Punk Globe: Tell us about what you do to relax and have fun?
Kathy Peck: Have acupuncture and therapeutic massage with Jana Axlerad! ... and going for walks at the beach or Golden Gate Park with David and our little Chihauhau Choo Choo...Check out the art galleries and friend's music show. And especially I enjoyed singing on stage with the WTD! Ginger you guys rocked the house with FNM at the Warfield Show in SF!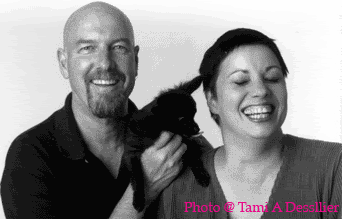 David Denny and Kathy Peck
Punk Globe: Now if any of the readers would care to make an appointment with you or even better yet decide to donate to H.E.A.R. how would they do it?
Kathy Peck: Just email
hear@hearnet.com
, call 415-409-3277 or go on line at
www.hearnet.com
. We are happy to help and see you right away with a hearing appt for musicians hearing service or help in making a donation to our non-profit foundation H.E.A.R. We have online donation and can take PayPal donation too. H.E.A.R. is a 510 (c) (3) nonprofit organization recognized by the IRS. All donations are tax deductible.
Punk Globe: Do you have any web sites or a Facebook profile you would like to give us? Kathy Peck and also H.E.A.R. under causes.
Punk Globe: What would you like Kathy Griffin to ask Jesse James if she were to interview him?
Kathy Peck: Dude! You need to think with your big head.
Punk Globe: Any exciting big adventures in store for you in 2010?
Kathy Peck: Hope to see more of my family and friends. Write more music with David and enjoy.
Punk Globe: Thanks so much for the interview. Any last words for Punk Globe readers?
Kathy Peck: Thank you! I am very proud of you Ginger and the work you all do with Punk Globe for all of these many years and how you help to keep everyone in touch with the scene and their true inspiration...music!