By: Stephanie Blood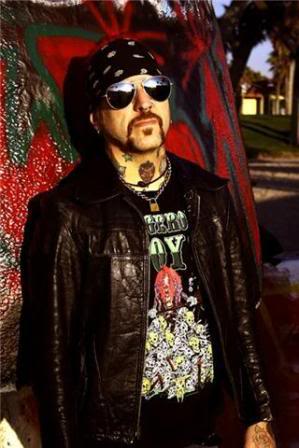 PUNK GLOBE-- OK SO WERE GOING TO DO THIS INTERVIEW IN 2 PARTS..MUSIC AND TATTOOING IS THAT COOL??
JOE TRUCK- YEP SHOOT!!
PUNK GLOBE --GIVE OUR READERS A QUICK OVERVIEW OF YOUR MUSIC CAREER AND GIVE SOME DATES ETC.
JT-OK WELL I STARTED PLAYING IN BANDS IN 1978..I'M FROM NEW YORK SO MY FIRST GIGS WERE AT MAX'S KANSAS CITY, TRAX, HURRAH AND CBGB.
JT- THE FIRST BAND WAS CALLED PRIMAL LAW WHICH MORPHED INTO SHANGHAI BEACH WE OPENED FOR NEON LEON. THE MAD , JOHNNY THUNDERS AND THE HEARTBREAKERS, DEAD BOYS AND A BUNCH OF OTHERS..WE SUCKED THO , HA HA HA HA. I HUNG OUT AT MAX'S ALOT..I EVEN LOST A GIRLFRIEND TO BILL IDOL!! HA! HA! HA! I WAS BUMMED BUT HEY..IT WAS FUCKIN BILLY IDOL!!
PUNK GLOBE .-WHAT WAS NEXT?
JT- 1983 THE FIRST GOTH BAND IN NYC -SCARECROW- WE WERE INTO SEX GANG CHILDREN,CHRISTIAN DEATH, SIOUXSIE, ETC..LASTED ABOUT 2 YEARS BUT MADE A HUGE IMPRESSION ON THE NY SCENE.
PUNK GLOBE - AFTER THAT?
JT- AFTER TOOLING AROUND WITH SOME POST PUNK STUFF,MY NEXT SERIOUS BAND WAS IN 1984 CALLED CHOP SHOP.WE WERE LIKE STOOGES,CRAMPS,BIRTHDAY PARTY..AWESOME BAND..WE TOURED WITH SCRATCH ACID, BLEW AWAY THE BUTTHOLE SURFERS @ CBGB"S AND AGAIN INFLUENCED A BUNCH OF NYC BANDS LIKE THE CHROME CRANKS ETC
PUNK GLOBE .- NEXT WAS THE BRAINEATERS YES??
JT- YEP AFTER CHOP SHOP IMPLODED..I WAS A MISFITS FREAK!!I HAD MET GLENN AND WAS JUST SUCH A FAN. AT THIS TIME NO ONE IN NEW YORK REALLY WAS A S CRAZY ABOUT THEM AS WE WERE . SO WHEN THEY BROKE UP I STARTED BRAINEATERS. AS A REAL HOMAGE TO MISFITS AND THE FANS.
PUNK GLOBE- HOW DID YOU HOOK UP WITH DAMIEN FROM SAMHAIN??
JT- WELL IT WAS PRETTY EASY REALLY..BRAINEATERS WAS IN FULL SWING AND HAD A RECORD DEAL WITH THE ANGRY SAMOANS' LABEL-PVC RECORDS .WE HAD A 7" THAT WAS SELLING LIKE CRAZY AND "NOVEMBER COMING FIRE' HAD JUST COME OUT..IT WAS AT THIS TIME THAT DANZIG KICKED DAMIEN OUT OF SAMHAIN.I HAD GLENN'S PHONE NUMBER SO I TOOK THE CHANCE AND CALLED..GOT EERIE HE GAVE ME DAMIEN'S # AND WE WERE ON!! WE PLAYED A BUNCH OF SHOWS RECORDED A FULL LENGTH.(WHICH IS ABOUT TO BE FINALLY RELEASED) AND OF COURSE BROKE UP!! HA! HA! HA! --ACTUALLY WE DIDN'T BREAK UP WE MORPHED INTO A MORE PUNK ROCK N ROLL OUTFIT.
PUNK GLOBE- ROCKET ANGEL??
JT- YEP
PUNK GLOBE --THEN YOU MOVED TO LOS ANGELES??
JT- YEP..ROCKET ANGEL HAD RUN ITS COURSE AND BECOME ABOUT AS GLAMMY AS I WAS WILLING TO GO..I SAW GUNS N ROSES IN 1987 AND WAS CONVINCED L.A WAS THE PLACE TO BE..I MOVED AND FORMED "SPADES" MY PUNK N ROLL BAND WHICH INCLUDED MITCH DEAN FROM T.S.O.L. AND TIGG FROM BANG TANGO ON DRUMS.WE PLAYED ALOT OUT HERE BUT WE WERE TOO PUNK FOR THE ROCKERS AND TOO ROCK FOR THE PUNKERS..AGAIN ILL FATED.
JT- OK..AROUND '92 I WAS BACK IN NYC..I FORMED THE SNAKECHARMERS BECAUSE I WAS A HUGE FAN OF GARAGE PUNK AND THE WHOLE CRYPT RECORDS SCENE..WE PLAYED OUR FIRST SHOW OPENING FOR EX DEVIL DOGS/CRAMPS-LOS PRIMOS!! CRYPYT LOVED US AND WANTED TO SIGN US.WE GIGGED ALOT IN NY. IT WAS THEN IN 1993 I STARTED TATTOOING.
PUNK GLOBE.- DID YOU APPRENTICE?
JT- YES..I WAS GETTING TATTOOED SINCE 1979.SO I KNEW EVERYBODY IN THE SCENE SO I ASKED MY FRIEND SEAN VASQUEZ TO TEACH ME.HE AGREED AND AFTER A SHORT APPRENTICESHIP I OPENED MY FIRST SHOP IN A DIRTY BASEMENT ON AVENUE C ON THE LOWER EAST SIDE.
PUNK GLOBE.- ALPHABET CITY??
JT- YES..YOU HAVE TO PICTURE A NEW YORK WHERE I WAS ONE OF ONLY 5 SHOPS!!! HA HAH NOW THERE ARE 5 SHOPS ON EVERY BLOCK!!!
PUNK GLOBE.- DID YOU GET ANY SHIT??
JT- YES..BUT I DEALT WITH IT.TATTOOING WAS A VERY SECRETIVE GANG BACK THEN..THE SHIT I GOT WAS WELL WORTH IT.
PUNK GLOBE.-TELL US ABOUT THE LEGALIZATION OF TATTOOING NEW YORK CITY AND YOUR ROLE IN THAT.
JT- WELL IN 1995 A FEW OF US GOT TOGETHER WITH CLAYTON PATTERSON AND WES WOOD AND REPEALED THE BAN ON TATTOOING IN NY THAT HAD BEEN GOING SINCE 1961. I HAD MY SHOP READY TO GO IN A NEW LOCATION AND SINCE I WAS AN INSIDER..I HAD MY DOORS OPEN THE DAY OF THE LEGALIZATION. MAKING ALPHABET CITY THE FIRST "LEGAL"SHOP OPEN IN NEW YORK!!
JT- YES I OPENED AN ALPHABET CITY OUT HERE..IN SAN PEDRO IN 1996. IT WENT UNDER DUE TO BAD PLANNING AND I WENT TO WORK AT VARIOUS SHOPS..I ALSO REFORMED THE SNAKECHARMERS OUT HERE.
PUNK GLOBE- GREAT SEGUE!! TELL US ABOUT THAT.
JT- HA HA HA OK..WELL I WANTED TO KEEP THE 'CHARMERS GOIN' SO I HOOKED UP WITH MY OLD DRUMMER CHRIS-(NOW IN THROW RAG) AND SEAN FROM THE CONTROLLERS AND THE GEARS(AND MORE RECENTLY U.S. BOMBS). WE GOT IT TOGETHER AND GIGGED RELENTLESSLY..PLAYING WITH EVERYONE FROM ZEKE TO NASHVILLE PUSSY TO MURDER CITY DEVILS TO ELECTRIC FRANKENSTEIN.. I WAS ALSO TATTOOING ALL THOSE BANDS AFTER THE SHOWS.
PUNK GLOBE.- WHEN DID YOU GUYS END??
JT- WE DID THE LAST MURDER CITY DEVILS TOUR WITH ZEKE AND THE HOOKERS..GOT BACK AND CALLED THAT LINE UP QUITS..BUT I EVENTUALLY MOVED BACK TO NYC AGAIN!!!AND STARTED THE BAND UP AGAIN, THERE..WE MADE A PRETTY BIG SPLASH BACK HOME BUT ENDED AFTER A FEW COOL YEARS.
JT- HA HA YES WELL HERE'S MY TAKE ON IT..IN 1993 I WAS GETTING TATTOOED ALOT BY MY FRIEND DANIEL HIGGS..THROUGH HIM AND LOVING HIS WORK I WAS DOING ONLY TRADITIONAL STYLE TATTOOING..AT THIS TIME IT WAS WAY OUT OF FAVOR WITH THE TRENDY TATTOOERS OF THE TIME, I WAS PUSHING IT ON EVERYONE I MET. I GOT IN A BUNCH OF MAGAZINES AND PEOPLE SAW MY WORK AND DAN'S WORK AND A FEW OTHERS AND THAT SPURRED ON THE TRADITIONAL TATTOO BOOM OF TODAY..PLAIN AND SIMPLE.
PUNK GLOBE- BACK TO MUSIC..NEXT BAND-CONFEDERACY OF HORSEPOWER..TELL ME ABOUT IT AND THE GUNS N ROSES CONNECTION.
JT- K. WELL I HADN'T BEEN PLAYING IN SOME YEARS, JUST TATTOOING AND MAKING A NAME FOR MYSELF, HAVING 2 DAUGHTERS..ALL THAT GOOD STUFF. I WAS MISSING MUSIC DESPERATELY!!I WANTED TO GO BACK TO MY GLAMMY-PUNK-METAL ROOTS SO I STARTED CONFEDERACY OF HORSEPOWER AS KIND OF A JOKE BAND. BUT THE SONGS GOT BETTER AND I HOOKED UP WITH SOME COOL GUYS SO IT STARTED ROLLING..WE GOT SOME INTEREST AND I APPROACHED RICKY WARWICK OF THE ALMIGHTY TO PRODUCE A RECORD. HE AGREED AND THE SESSIONS STARTED ROCKING..HE THEN APPROACHED DEL JAMES OF G N R FAME TO DO SOME GUEST VOCALS AND DIZZY REED ( G N R KEYBOARDIST ) TO SIT IN..THE ALBUM CAME TOGETHER AND GOT RAVE REVIEW IN CLASSIC ROCK MAG AND ALL OVER THE WORLD..WE HEADLINED THE WHISKEY..PLAYED ALL OVER AND AS WE WERE ABOUT TO GO ON THE ROAD WITH HANOI ROCK..THE SINGER QUIT!!! LOL!!! SOOO FUNNY..BUT HEY I'M HAPPY.THE RECORD-("VAGABOND CABARET") ROCKS AND IS GETTING RE-ISSUED THRU ROTTEN HOUSE RECORDS.
PUNK GLOBE- OK SO WHATS NEXT??
JT- WELL..NOW I'M DOING A PROJECT CALLED "MECHANIQUE"..BACK TO MY GARAGE PUNK ROOTS ..IT'S LIKE THE MUMMIES MEETS THE FALL MEETS THE BIRTHDAY PARTY!!!I LOVE IT AND WE HAVE A 7' COMING OUT ON ROTTEN HOUSE RECORDS!!!WE SHOULD BE PLAYING OUT BY DECEMBER.
PUNK GLOBE- WHERE ARE YOU TATTOOING NOW?
JT- I'M AT "ACE OF HEARTS TATTOO" 639 W. CHANNEL ST. IN SAN PEDRO,CA. AN AMAZING SHOP WITH 7 GREAT ARTISTS!!!
PUNK GLOBE- SO ANYTHING ELSE TO ADD??
Punk Globe Would like to thank Stephanie Blood for the interview with Joe Truck.....