Gets Candid With DOUG DONUT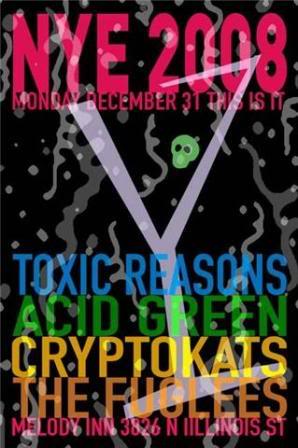 DOUGDONUT/ PUNK GLOBE: tell me about where ya came from and your upbringing... I think you hung out with my cousins?
Punk Globe: I was best buddies/roomies with your brother BobbyJo, what was it like growin' up with him? He has impeccable taste in music AND of course food!
JJ: Bob is my Hero!!! he was totally my first influence to getting into Punk Rock and he has always encouraged me throughout my career (huh). Bob is one of the funniest guys I know & he was also my inspiration to get into food service. He's a full fledged Chef, and he helped me become the Cafe owner that I am today.
Punk Globe: Tell us about the early days of the Vancouver Punk Rock scene. A scene rivaled only by the UK at the time.
JJ: Everybody was in bands in Vancouver and it wasn't cool to "get into" one of the other guys bands (unless it was DOA or Subhumans) so it spawned a scene somewhat unique to Vancouver of "Fuck Bands" ... everybody that was in a band also payed a different instrument in a "Fuck Band" with names like "Sgt. Nick Penis & His Brass Ball Battalion", "Hawaiian Spy" & "Bludgeoned Pigs" to name a few. I had the honor of playing with Al, Tony Balony & Porkface in "Bludgeoned Pigs", We even stunk up the Stage of "Hardcore 81" with Mary-Jo from "The Modernettes" playing Bass. Mary, Tony, Al & I practiced a few times before the show and Porkface came up from Seattle, like the day of the show. He didn't know any of the songs & all I could hear was Porkface! so we just kinda fell apart on stage. Mary-Jo walked off in shame while Al was busy being Al in all his glory, Drinking, rolling around on the floor, Screaming & what not. at the time it kinda sucked but looking back it was pretty fun. I've heard that there is video of the whole thing & I'd love to see it.

Mary-Jo eventually let me move in to her flat on Victoria Drive because she was aghast to find out that I was living at "The Gastown Lodge" a shitty dive right behind No.5 Orange and down the alley from the Buddha. I did my first line of coke with Buck Cherry at Mary's house!!!
Punk Globe: Any war stories about Rampage, Biscuits, Shithead, Pinhead Wimpy? Gore Manor? The Plaza?
JJ: After a show one time at the Buddha, "Sgt. Nick Penis" , "No Exit" and maybe "East Van Halen", Rampage asked me if I wanted to do some shrooms & go to a party, I think at "the hacienda" I thought, hanging out with "Randy Rampage" how cool is that eh. so next thing I know I'm tripping balls on mushrooms & it's time for me to go home (I was 15 at the time) Rampage told me Don't sweat it, just be cool & your dad won't know... well I guess the mushrooms gave me the balls to face off with my Dad and suffice to say I was given the proverbial "Boot" as it were, and I had to move into our (No Exit's) practice place of Broadway (I think it was...) Mark Hons & I dropped out of school a threw ourselves into the band... we practiced almost every day & did shows where ever & whenever we could. One night at a party at "Wank Manor" this goofy sounding guy read the "No Exit" on the back of my jacket & asked if I was in'm I told'm yup and he said he had our album, cool I said & he said he thinks his visa was still good for a couple of days & I said "visa"? he told me he was in a band called Dead Kennedy's up in town to play a couple of shows. I asked him what did he do in the band & he said "Sing" and I said are you that "Jello Biafra" guy? he nodded... he was cool.

Not long after that I got a call I think from Dave Gregg and he asked me if I had heard of "Toxic Reasons" I saw the poster for the show, (D.O.A, Dead Kennedy's & Toxic Reasons) so I said ya... he told me that they needed someone to do some shows with them up & down the west coast & would I be interested. I thought they wanted me to roadie, Cause in those days I was more known as a roadie then a drummer, but they asked me to bring my drums over to Gore street and jam with'm... I came over & they played me a couple of songs from their single "War Hero & Somebody Help Me" and we played'm then they played me a live tape from the Kenndy's show at the Commadore and we played a few of them & then they asked me If I wanted to come along to play the west coast shows then they would bring me back to Vancouver... I said fuck ya, so we played a show at the "Smilin' buddha" and then it was off to S.F. The first show was with the DK's, then we Played with Black Flag, then down to L.A to play with T.S.O.L and back to S.F. to play with Flipper. somewhere in there I asked the guys if I could stay in the band and I guess they said yes... we went back to Vancouver for one more show then we went on a tour that would last about a year & a half...
Punk Globe: You managed to evade the Vancouver tradition of the "Nick Name" ...How so?
Punk Globe: I miss a whole bunch of people that died of "misadventure" in this "port town"... Did you experience that at all? In other cities?
JJ: Hell ya, Lavinia, Mink, Al, Dimwit, John Marsh AKA Jak, and I just had a buddy, "Tuck" hang himself cause he couldn't get sober.

I had my toubles with shoot'n speed & coke taking acid, X and that long lost drug of Vancouver M.D.A. but the one that was always there for me was drinking. I got pretty much to the end of my drinking career a few years ago & it got pretty bad. My Bass player Gregg told me that he finally got to play with a guy he liked and he was gonna have to watch him die. I had a bad year, I got divorced, my dog died, I lost my job & my house caught on fire I felt pretty hard done by & sorry for myself.

With the help of Bruce Stuckey, my ex mother-in-law and my band I checked into the psych ward and started on getting sober... (I've been sober since Dec. 6, 2006)
Punk Globe: As a drummer I know why I got into it, and how rad it was to do it so young... When did you start, who were major influences and what were the first groups you played with?
JJ: My Dad got me a snare drum when I was 8, and I played in the school band from grade 4... my first real band was "No Exit" when I was 15 and then "Toxic Reasons"
Punk Globe: There's this thing I call "The Dave Grohl Bug"... Drummers like us playing guitar and singing, (and quite well I must say) What's up with that in your mind?
JJ: I always wanted to be a "Frontman" but I didn't have the balls (or the skills). Biscuits used to piss me off, not only was he a great drummer, but we worked together at Mr. Mikes on Granville and he was a better cook then me and he was a kick ass guitar player as well... wow so I guess I've done it all to try and be better then "Biscuits" (the truth comes out)
Punk Globe: What are you playing these days and have you toured & released?
JJ: I recorded a CD where I play most of all the instruments on it (I suck at leads on guitar) but I think it's kinda good. I play shows around the Midwest here & there & last summer I did a European Tour on my own, but I really do it just for a laugh these days. My delusions of grandeur have surly left me & I just play to have fun. I don't really have fun playing drums anymore so I slung a guitar on me & I shout in tune...
Punk Globe: I LOVED the Toxic's... I remember when I joined Death Sentence they were my favorite group one week, and the next I was playing the Olympic Auditorium in L.A. in front of 3000 kids... What was it like joining an established Hardcore band about to reach it's height?
JJ: Well when I joined 'm they really had only been around a year or so and they had one single out, so I consider myself one of the guys who helped establish the band...

It was great playing all over the place. When we started touring, not to many bands would play the Omaha's or Kenosha's but we played every one horse town from Calgary to Tubingen
Punk Globe : Are you a dual citizen? How was the move to Dayton?


It seemed like years but I think I only lived in Dayton for about 6 months and then we moved to S.F, after that we pretty much just toured all the time until 88 when we officially made Indianapolis our home
Punk Globe: I moved to SF to play drums, Biscuits to L.A. Lev Delany moved down (he lived in my rehearsal space, and ya frickin GENIUS on the guitar as well!) , there's a few others. What is it with Canadian drummers blowin' this gin joint for greener pastures?? Was there a drummer shortage?
JJ: Vancouver produced the Greats, Dimwit, Biscuits, Pinhead, You, Barry Taylor, Andy Graffiti, Jim Iwagama, Lev... there must be something in the water
Punk Globe: You are a bona fide restaurant owner, tell us about that?
JJ: Well when I got sober I started looking for a job & I found an ad for a cafe (that I used to manage for a local company) looking for someone... This was a Cafe in an office building contracted by the Office building to supply a nice place for the tenants to go for breakfast & lunch. They were looking for someone to take over the contract from the independent guy that was there. I had the chance to have my own place without all the mucky muck of buying equipment & paying rent. It was a pretty sweet deal! I receive a monthly subsidy from Klipsch Audio Technologies to run my cafe in their building!!! pretty cool eh? I serve breakfast & lunch monday thru friday & I've just opened two more similar situations in two other office buildings... I Have "J.J.'s Cafe @ Klipsch", "J.J.'s Cafe @ B.S.C". and "The Oasis Cafe"... I'm busy all the time now but it's what I love
Punk Globe: Where's home? Any kids? How's Bob?
JJ: I live in Indianapolis and I was re-married to my wife (after i got sober) & my 21 year old son Joshua is my right hand man at my Cafes

Bob & his daughter Emily come to visit occasionally & Bob helped me out at my Cafe while he was down.
Punk Globe: What's your plans for the near future?
JJ: I'm hoping to record another CD on my own. Recently Tufty & I played together at his Night Club here in Indy Called "Radio Radio" with his band "Bigger Than Elvis" a rockabilly cover band W/ Big Danny from "Sloppy Seconds" on Vocals & I was filling in for Mark Cutsinger from "Zero Boys" who was on tour with "The Lemon Heads" so I played drums again for the first time in years (it was kinda fun). Tufty and I talked about doing some new Toxic's shit with just Him, Bruce & I and we'll see what happens...
Punk Globe: I hear you may be visiting Vancouver soon and possibly putting together an "all star" band consisting mainly of drummers... Why hasn't my agent been notified?
JJ: Ya I had planned to come up July 10th but I made those plans when my two new Cafe's where to open last November... they didn't open until June so it's just too crazy right now for me to go. I talked to my old buddy Cam Patterson & Scott "Skitzoid" Beadle to help me get together some guys & actually Brother Bob came thru & talked to Zippy & Rampage at the Art Bergman Show so they were gonna be the band (I think Brad Kent was gonna play as well) but we had planned to do a show with "Tony Balony & The Rubes" I was bummed that I couldn't go and it wasn't gonna happen...maybe another time
Punk Globe: Favorite dish?
JJ: Steak!
Punk Globe: If I were to press "shuffle" on your music player- what would come on?
JJ: I'm a boring old fart & I mostly listen to N.P.R (national public radio) and crazy right wing talk radio...but if you were gonna put a gun to my head and ask what I liked I would have to say Social Distortion, Ramones, Generation X, Young Canadians...
Punk Globe: Any thing you wanna add here? Have at 'er, and Thanks JJ, you're a true legend and a fellow Canuck!! don't forget it!!!
JJ: thank-you my friend. You have a beautiful baby and I envy the years of being a dad that you are gonna have, it's great!

I really do miss home (Vancouver) but I get to see it time to time in movies, commercials and stuff so I get a little taste of home!!!

Take Care,

Jimmy-Joe
::: A footnote. This is uncanny, but I am playing with the INSEX brothers in a Stranglers tribute these days. Small rad scene this Vancouver

--
D O U G L A S
sevensense productions / LAZY8 Records 2009