Kevin Patey who performs under the stage name Jittery Jack hails from Boston, Massachusetts. He was a member of The Raging Teens and now performs mainly with Miss Amy Griffith, who was also a member in that same band alongside him. Besides that, he has a talented daughter, Annabelle Lord-Patey with his ex-wife, Mary Lou Lord. The two of them brought another musician into the world as Annabelle is also an artist in her own right carrying on with the charismatic lineage of her family. Presently, Kevin is working on another Jittery Jack record and various other projects and he also has plans for more touring. Here's the interview he gave to Punk Globe for its 40th anniversary.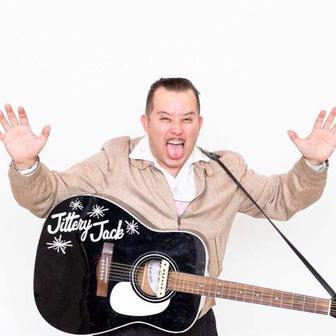 PUNK GLOBE:Thanks for doing the interview. So, who is in the current line up of your band?
Jittery Jack: Thanks Shawn. Miss Amy Griffin is a staple on guitar in the band and I've been playing with her for 21 years now since our days in the Raging Teens. Locally I use Johnny Sciascia from the Cranktones/Spurs on the bass and Judd Williams from the Amazing Royal Crowns/The Real Kids on drums. When traveling Amy and I traditionally fly in and use a rhythm section of our choosing that we know is going to be at the festival or put a line up together for the dates. It's more economical that way than flying four people plus we get the fun task of playing with lots of incredible musicians.
PUNK GLOBE: You're currently working on a new record. How is that going? Any surprises in store?
J.J.: Yes, recording is going well. Lots of new material plus experimenting with some cool covers I've always wanted to give a try. The Raging Teens had a 20th anniversary reunion last year with the original album lineup and we had so much fun that it was decided to record a couple of songs for a new 45 that will be coming out by the end of the year on Swelltune Records. I'll also be guesting on rhythm guitar on Miss Amy's long overdue solo record we're also recording this summer. A busy summer for recording for sure!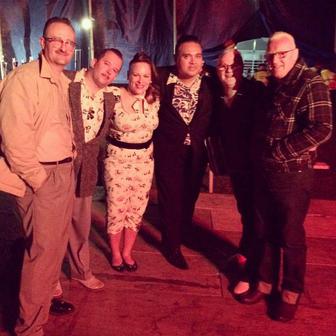 PUNK GLOBE: You've been at this for years now. You've toured the States and Europe. What differences do you see between the two places as far as audiences go?
J.J.: Is it easier to make a living playing in Europe as opposed to America? I enjoy playing anywhere there's a crowd to see me. Europe is fun as the audiences really are massive fans of the original music. When we were starting out there was as much influence from the West Coast of America with cats like Big Sandy and the Dave & Deke Combo as there was from European acts like Wildfire Willie & the Ramblers so Europe has always had a special appeal. Not to mention I was born in England and have lots of family there so any chance to cross the pond I jump at. Making a living as a musician isn't easy anywhere on this planet it seems these days so tough to really answer that question!
PUNK GLOBE: What is your favorite region to tour in America?
J.J.: I love the West Coast, all the way from SoCal to the Pacific Northwest. Especially in the winter when the weather in Boston is lousy. Texas is great too, Austin, Houston San Antonio are wonderful cities to play and hang out in.
PUNK GLOBE: What do you find is missing in the current landscape of America when you're on the road? We're losing quite a bit, culturally. Do you think it's a drag to see old America being pulverized and destroyed to where there's nothing left but corporate chains replacing our collective identity as a country?
J.J.: Whilst it's true much of the country is turning into a similar landscape of Walmart parking lots and chain stores I do feel there is a big movement to preserve what's left. It's the history of this country, (which is quite young compared to global comparisons), I live in one of the oldest parts of America on the North Shore of Massachusetts. History is preserved here pretty well but I'm hoping the Americana of the 20th century will start to be recognized and preserved as just as an important part of the History of America.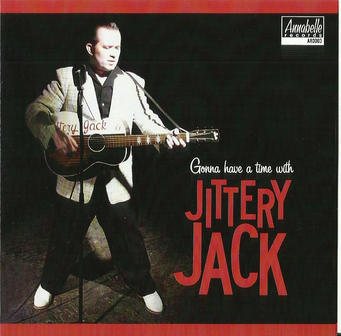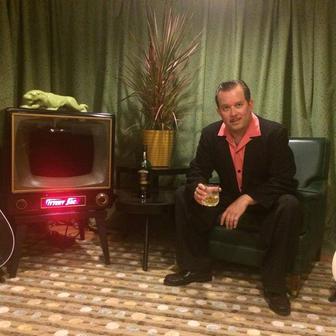 PUNK GLOBE: What artists inspired you to pick up a guitar and start singing? Any one specific show or record that ignited your decision to perform?
J.J.: As a kid I loved early Rock 'n' Roll. Buddy Holly has been a fave for as long as I can remember. I like many different styles of music but early Rock 'n' Roll is always top of the list. I remember going to see a band with my grandparents when I was a kid in England and they had a section where the singer came back to the stage as "Fred the Ted" drape jacket and brothel creepers and they banged out a set of rockin' classics. I was hooked!
PUNK GLOBE: What artists do you like that might surprise people?
J.J.: I've always like a lot of 60's mod music, 70's punk rock and certainly soul music. Sam Cooke is the greatest! Early reggae and Ska and the 2nd wave 2 tone stuff. Lately I'm going crazy for my daughter, Annabelle Lord-Patey who is an up and coming singer songwriter. It's very folk inspired but I love it!
PUNK GLOBE: Your record covers have the best graphics. Do you design them or do you work with someone else to create them?
J.J.: Beck Rustic, Head Gal in Charge of the New England Shake Up and owner of Swelltune Records is a graphic artist and does all my artwork. She's the greatest, her company is called "Good Lookin' Design Co." I recommend everyone to hire her!
PUNK GLOBE: You have a song called "I Can't Dance" is that autobiographical?
J.J.: Pretty much, when it comes to jiving I've got about 2 moves that if I don't screw up I can make it through a song. I am one hell of a bopper though!
PUNK GLOBE: You're from Boston. How is the Rockabilly scene up there? Are there good clubs there that support this kind of music? Also, what local bands do you like, support, and play with?
J.J.: Boston is in sort of a transition period. During the 90's there were many great bands, the Racketeers, the Cranktones, the Spurs etc... We don't have many young bands around but there are some cool acts popping up. Jeff Deware and the Bop Thrills, The Red Penny's, the Barley Hoppers. The Cranktones still perform quite regularly. The problem in Boston, which is the problem in many cities is that the cost of doing business is so high that many venues are closing. I ran a night club in Boston for close to a decade that closed after 43 years due to exorbitant rent increases from the new landlord. People don't seem to come out and support live music the way they have in the past, I'm not sure what the future will bring but I'm hoping for the best!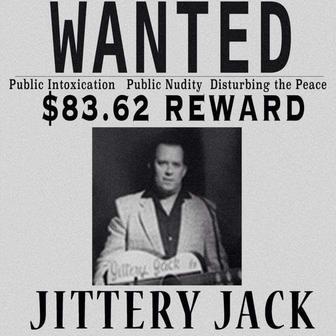 PUNK GLOBE: Do you have any plans to tour soon?
J.J.: We're going out in the Spring for some festival dates and short runs in the USA. Florida, SoCal etc... But hoping to make it back for some summer dates in Europe for 2018 as the new record will be out then.
PUNK GLOBE: What's the best way to keep up with you and buy merch if you can't make it to one of your shows?
J.J.: WWW.JITTERYJACK.COM has everything for sale but I do European shipping on a per case basis, always best to send a message. The cost of shipping from the States internationally is getting crazy so I'm trying to figure out a way to have merch already in Europe. Best way to order the older CD's if you're in Europe is through Wild Records or Rhythm Bomb records who each put out albums in the past.