Interview with Jim Verraros
by Ginger Coyote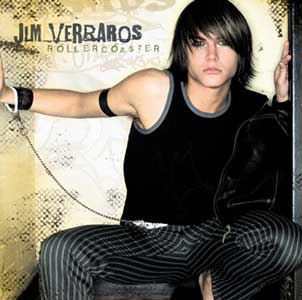 I met Jim Verraros at LA Pride and was not only impressed by his looks but his talent. After his set I ran into him talking with a bunch of his fans and we spoke. He possessed a few qualities I like in a guy- good looks, talent, sincerity and most of all a wicked sense of humor. I hope you enjoy this interview.
Punk Globe: Jim! You are from a suburb of Chicago right? Can you give the readers some background on yourself?

Jim Verraros: I am from Crystal Lake, Illinois. It's a northwest suburb about 45 minutes from downtown Chicago. I'm 22 years old, and came in 9th place on the first season of American Idol back in 2002. Since the show, we went on a 30 city tour, I did an independent film called, "Eating Out," and just released my debut album, "Rollercoaster," on April 26th, 2005. My single, "You Turn It On," is #27 on the Billboard Dance Club Play Chart.

Punk Globe: I read that both your parents are hearing impaired?

Jim Verraros: Yes, both of my parents are deaf. They weren't born deaf; both had contracted German Measles at six weeks old. And their loss of hearing was a result of high fevers. I grew up fluent in sign language and was given an enormous amount of responsibility at a very young age. It allowed me to be very close to adults, rather than children my own age.

Punk Globe: At what age did you learn Sign Language? My good friend and a writer for Punk Globe, Kathy Peck was having problems with her hearing after playing for years with her punk band The Contractions. She was able to have surgery to recover a lot of her hearing. She formed a Non Profit Organization called H.E.A.R. Hearing Education Awareness for Rockers.
Her site hhttp://www.hearnet.com She did an article for Punk Globe about hearing and it made quite an impact on the readers.

Jim Verraros: I probably used sign language around the time I spoke. They went hand in hand.

Punk Globe: You are of Greek heritage correct? My favorite contestant from this year's American Idol competition was Constantine and he was also Greek. Did you enjoy the Queen song he did for American Idol?

Jim Verraros: My father was born in Greece, so I am mostly Greek. My mother is German, Irish, French and English. I thought Constantine did a great job on this year's American Idol. Kudos to Constantine!

Punk Globe: While going to college, I read you were involved with Theater. Did you have a band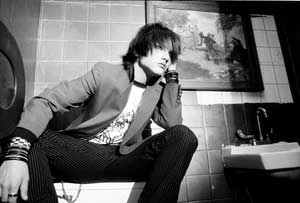 while attending College?

Jim Verraros: I did not have any band whatsoever while I was in college. Although looking back, I wish I had! It would've been great practice for me.

Punk Globe: You auditioned for the very first American Idol. How old were you then? Did you audition in Chicago? How long was it before you were told you would be going to LA?

Jim Verraros: I was 19 at the time of auditioning for the first season, in Chicago. I had to go through one audition for the producers before I sang for the judges.

Punk Globe: I would like to congratulate you on getting into the Top 10 finalists. I can only imagine how much stress that you were feeling. Who did you bond with during the competition?

Jim Verraros: I bonded mostly with EJay, who came in 10th place. But I loved everyone equally. Since we were all from the first season, we didn't know what to expect from the show, so we all enjoyed every minute of it.

Punk Globe: After Kelly Clarkson won that year, the Top 10 American Idol Finalist all went out on a large tour. How many Cities did you play?

Jim Verraros We did a 30 city tour in 40 days. It was one of the most amazing experiences of my life. I was able to interact with the crowd in ways I couldn't on the show. The crowd definitely saw a different side of us rather than what just the cameras showed. The crowd was really responsive, and had a great time.

Punk Globe: Any show or shows that really stuck out as special?

Jim Verraros: For me personally, it was definitely performing at the All State Arena in Chicago. Since it was my hometown, people seemed to really support me, and seeing the posters that were made for me was just such an overwhelming feeling. I definitely gave it my all, especially for Chicago.

Punk Globe: I understand that you were keeping a journal on your Website that Fox asked you to close down? Tell us about that.

Jim Verraros: I was keeping a Live journal while attending college...I was very open about my sexuality on it, but Fox had found it and asked me to remove it. They asked all of the contestants who had their own websites to remove them, so I don't think it had anything to do with my sexuality. At least, I hope it didn't.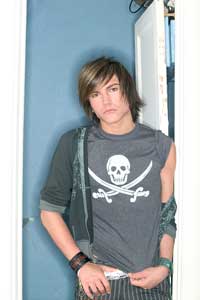 Punk Globe: There is an Actor Matthew Metzger on the ABC Soap "One Life To Live" that also was on American Idol. Was he on the same year as you? Robin Strasser who portrays Dorian Lord on OLTL has a hotline number that was pretty forthright about her feelings about the politics at the show that got her in hot water with ABC. She did not have to shut it down but was told to "tone down" her messages. However when the show did not renew her contract. When a new Producer came to helm, co-star Erika Slezak (Vikki) came to bat to get Robin back on the show.

Jim Verraros: Matthew was on the second or third season, I believe.

Punk Globe: You also have done a Movie Called "Eating Out". Tell us about the Movie?

Jim Verraros: Eating Out is a college comedy, similar to that of American Pie. It's about a guy who has to play gay to get the girl he wants. I play Kyle, who is a gay musician who lusts after Marc, played by Desperate Housewives' Ryan Carnes. He's the guy who isn't so attractive, kind of nerdy, but vulnerable.

Punk Globe: Where are you currently living?
Jim Verraros: I currently reside in Crystal Lake with my sister and parents. It's nice to be here and not have to constantly question other people's motives. There's a kind of comfort here that I don't find in Los Angeles.

Punk Globe: I read something regarding your co-star being the gardener on "Desperate Housewives." Jesse Metcalfe, who plays hunky John, (who has sex with Gabrielle on Desperate Housewives) is my neighbor and really a sweetheart.
Jim Verraros: Yeah, Ryan Carnes who played the gay gardener was my co-star in Eating Out. Very sweet, very down to earth. It's so awesome to do a film with people and see where they end up afterwards.

Punk Globe: What label is your CD "Rollercoaster" on? You worked with Producer Gabe Lopez. It seemed to be so right for you. Please tell the readers about your working relationship with him.
Jim Verraros: I am signed to Koch Records, home to The Cardigans, Beth Hart, Boyz II Men, and Carole King. Gabe is an amazing producer, and is very much a true musician. He believed in me from the start when no one else did, and took me towards a path, musically of George Michael...or something similar to what he does. After working together for a little over a year, we shopped the entire record, and Koch Records picked it up, and truly believes in the project. I knew that they were the label for me to go with. Gabe is also a singer/songwriter and you can find his tunes at http://www.gabelopez.com.

Punk Globe: Tell us how you came up with the title for the CD?
Jim Verraros: "Rollercoaster" is just a one-word description that encompasses my life before Idol, after Idol, and present-time. It's been a time of ups and downs, twists and turns...very unstable. It also describes the album as well. There are high points, low points...and I felt as though "Rollercoaster," was the word to truly define my life and music.

Punk Globe: You have a Woman named Angela who was also on American Idol singing on your CD right?
Jim Verraros: Yes, Angela Peel co-wrote and sings backup on a few of the album's tracks. She was in the top thirty of the first season. She is also from Chicago, and her talent is unreal. I had to have her on this record. (http://www.angelapeel.com)

Punk Globe: How is it doing on the charts? Your reviews have been very favorable.
Jim Verraros: Well, since there isn't top 40 radio play, or a video to help the promotion, it's doing okay. Right now, I've really leaned on my gay fan base, and word of mouth. The gay press has been so incredibly supportive, so they've really carried me. Hopefully in the near future things will pick up for me. My fans are definitely digging the record, which makes me feel really great.

Punk Globe: I know that you have been compared to a younger version of George Michael After seeing you perform at Pride I would agree.
Jim Verraros: I've been a huge fan of George Michael for years. I think he's an incredible artist and would love to achieve just HALF of what he has in his career. I think the comparison is an amazing one, so thank you for that. I hope to work with him on future collaborations.

Punk Globe: I have also heard comparisons to Justin Timberlake.
Jim Verraros: I think Justin Timberlake is amazing, too. His transition from boyband-er to solo artist happened so smoothly. And the music he's doing now just fits. He has an edge about him that I truly love. I'm curious to see what he does next.

Punk Globe: Any other influences?
Jim Verraros: I think there's a few Prince elements on the record, too. I'm influenced by so many people that it's hard to do a record that's so one-sided. I love all types, even Punk Rock...who knows. Maybe on my second record I'll go Punk. ;-)

Punk Globe: Did you enjoy your performance at LA Pride this year? You had the crowd eating out of your hand. I was so impressed how much attention you gave to all your fans who approached you after the show. That says a lot about a performer.
Jim Verraros: I'm so critical of my performances that I always think I can do better. The crowd was amazing, and so much more supportive than I'd ever thought they'd be. I am so grateful for them supporting me that I'd take all night signing whatever they wanted me to. I think a lot of artists forget that fans are the ones who are putting money into YOUR pockets. They're the ones spending their hard earned money on YOU because they love you. To me, that's amazing, and will always do anything I can for a fan. It's weird because I don't even think of them as fans, just friends who are there for you.

Punk Globe: Have you listened to the White Trash Debutantes CD I gave you? Any favorite songs? I read you enjoy Latin /Salsa Music. Did you enjoy our version of Livin' La Vida Loca? I love my Love Hog Ricky..We also were in an Independent Film called "Tweek City." The film used "Heartbreaker" and " Whipping Boy."
Jim Verraros: I haven't listened to it yet, but trust me...I'm more than curious to find out what it's all about. I
love all types of music, so I'm sure I love your album just as much as anything else.

Punk Globe: Do you enjoy Punk Rock? Who are your favorites?
Jim Verraros: I love Punk rock. I love The Ramones, Fugazi, L7, Courtney Love, of course. Some people think Punk Rock is all about bad singing and screaming...but if you pay attention to lyrics, a lot of it is filled with passion and honesty. You can't create better music than that.

Punk Globe: I know I mentioned this when I met you, I saw your American Idol co- finalist on MTV's "Surreal Life". Did you get to see it? She had issues with Brigitte Nielson and Flavor Flav. If you were invited to live at the Surreal House whom would you like to live with?
Jim Verraros: Yeah, I did watch Ryan on The Surreal Life. It was pretty funny. She was so paranoid about being this pop singer. But to move on from the past, you have to embrace the past too. I think everyone forgets where they come from sometimes. If I were invited to do the Surreal Life, I'd like to live with all hot Abercrombie Male Models. That and George Michael. That would be a house I'd never want to leave. lol...
Punk Globe: Oh, I would pick Johnny Depp, Bebe Buell, Anna Nicole Smith, Courtney Love, Kirstie Alley, Jesse Metcalfe, Lois Dolan, Ricky Martin and Efren Ramirez (Pedro from "Napoleon Dynamite'). I thought that for about 90% of the show Ryan was really anal and just could not loosen up and have fun. I was reading Ryan Starr's Website and she has some interesting thoughts about music. I read growing up she admired Janis Joplin and Pat Benetar but she feels there are now no real Women Rockers. Her goal is to fill that void. Has she been under a rock and not heard of myself, Courtney Love, L7, Bebe Buell, Debbie Harry, Brody Dalle from the Distillers and all the other RAWKING Women.... I like her thoughts about ROCK not being a boy's only arena. However, there are some strong Women working who have so much clit they don't need no balls!

Punk Globe: I noticed you have a My Space site. Please give the readers your My Space address and also the URL for your Website.

Jim Verraros: I do have a myspace site. I actually have two. My regular one is: http://www.myspace.com/jim_verraros and my music myspace site is:
http://www.myspace.com/jimverraros.
My website is http://www.jimverraros.com, and yes I do actually read my own fan mail and respond. That's really important to me, so I make an effort to respond back to anyone that writes me.

Punk Globe: Any plans for a summer tour?
Jim Verraros: We'll see. I'm doing a lot of gay prides right now, so hopefully a club tour will be happening this summer too. If you guys hear I'm performing, come out and see me!

Punk Globe: What are the plans for the future? Any Movies, Recording Projects?
Jim Verraros: I really loved doing "Eating Out," so I'd love to do some more independent films. I hope scripts come my way...and of course a second record will happen as well. I think people will just have to stay tuned to see what happens. This industry is so crazy that you never know what'll happen. I could get one phone call tomorrow that may change my life, or not. All I know is that I'm really excited to see what may be in the cards for me.
I would like to thank Jim for taking time out of his busy schedule to do this interview for Punk Globe... We all wish you continued success......