Former LEAVING TRAINS Bassist
Gets Real With Ginger Coyote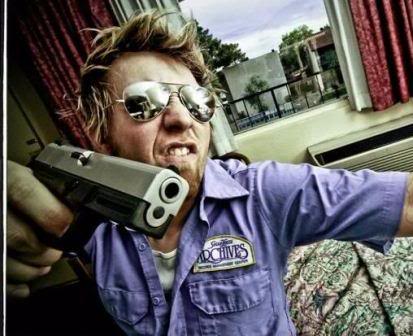 Playlist
Crazy Love Nuts
Audio Sound VII



I met Jimmy years ago in San Francisco and we have not been in touch until recently... I decided to ask him a few questions about what he is up to and let him give you some of his thoughts about his life and career. I hope you enjoy this interview..
Jimmy Green: I can't remember. No shit.
Punk Globe: You spent a great deal of time playing with Falling James and the Leaving Trains. Tell us about that ?
J.G.: Falling James is one of the most misunderstood ladies in the world today. She is a fucking amazing song writer and performer. I was a big fan of hers back when I was just a wee runt in high school and when I got the chance to be blessed with a spot in the band, I nearly had a heart attack. I had the most amazing five years with the Leaving Trains. We were banned in most clubs both here and the entire continent of Europe was closed for entry by the Leaving Trains so touring was hard but we played where we were still welcomed and had a lot of fun. Falling James is still one of my favorite artist of all time. She's just that good. I love his voice and his message is anything but sleepy. Those were the good old days.
Punk Globe: Who else have you played with ?
J.G.: Well I spent a year with the Gears and that was such a great band and they are still going as strong as ever. Kidd Spike is another big hero of mine. The time I spent with them is a treasured memory. Truly one of LA' s coolest bands to come from the 1970's.. I also spent some time with Blag from the Dwarves in a band called Penetration Moon in SF we put out a single on Sympathy For The Record Industry in 1990. I also spent some time producing "Blood Guts and Pussy" for the Dwarves. Blag said he wanted it to sound like the needle was broke when you played the record. So I got to twisting knobs and pissing off the engineer by nearly smoking his mixing console. When I ran the guitars so hot that we could smell the tubes roasting inside. That is a truly bad ass record and its sound is unbelievable. I played with a few other bands that just fell apart from drugs and booze. I can't remember them now. Oh on was a little known project called the Tenderloin Scabs. We never made it into the studio.
Punk Globe: Where have you been since the last time I saw you in San Francisco ?
J.G.: Well where haven't I been? I spent some time in NYC and Hollywood and I went through my first trip in rehab back in 2000. Drugs nearly killed me and I had to get clean. I spent the next eight years off the radar with my family. I made a bad choice in 2008 and as a result I have been in rehab for the last six months. Its the only real way to treat this disease and I am fighting for my life again.
Punk Globe: I want to wish you much luck with keep clean Jimmy... Do you have any fun stories about Courtney Love ?
J.G.: She was married to Falling James before Kurt. Well I can tell you that a lot has been said about Courtney but I have never met her so I'm not qualified to answer that question. As for Kurt, well a lot has been said about him too. He was a sweet and kind soul who died tragically and too young and out of respect for Courtney and Francis Bean I will leave it at that. We all miss him and will never forget his beautiful songs. We have all taken a big hit in the heart when we lost him.
J.G.: As I mentioned, right now I am not with a label. I have been missing from the LA music scene for about 13 years. I get emails from time to time asking if my page is a tribute page. There are a lot of rumors that I am dead. I am currently alive and hoping to stay this way as long as possible. I have had over five million profile views in the last twelve months on my space. I am really excited about having that much traffic. I don't know how or why but maybe its cross traffic from having the wonderful blessing of having Iris Berry as my top friend. She is a super star that the underground will soon not be big enough to contain. She is also my best friend and has been a huge inspiration and guiding light as I made my way out of the dark and back to sobriety. A true angel.
Punk Globe: Iris is a true Icon and I also her also... So tell us about your friendship with Iris?
J.G.: We have been close friends for many years. We did start a huge gossip fest on Facebook implying we were engaged... But we are both really busy with our careers and our families so we decided to stick to those goals and we are still very close friends indeed. Just lots of creativity and growth has come from us hanging out and that's pricless. So we are not really getting hitched. If we were , I would be the luckiest guy alive because she is just an amazing woman in every way. Her writing is amazing too. We did record a song for a project that we were doing and its one of my favorites. It won't be on the Amestoy Hotel even though we did record it there. Iris said the Hotel was the most haunted building she had ever been in and was happy to leave. The place is a trip.
Punk Globe: Where in the world did you get the name Pinky Slim ?
J.G.: Well its from a tampon commercial in the 80's and my friend Chris Goodsell brought it to my attention in 1989 and it was published on the Penetration Moon 7 inch. That Blag and I produced. I always loved it and I wanted to see if Pinky Slim as an artist could get a response from the music world without the benefit of my name or the name recognition of The Leaving Trains. To my pleasant surprise Pinky Slim seems to be standing on his own two feet. It was only in the last few months that I admitted it was just me. Now we shall see if someone decides they want to make a place on their record label for Pinky. Until then its gonna be free to listen to on I http://www.facebook.com/l/677c3hkSlgsovJnjWlZ9XaqoA2w;like.com and next month coming to Itunes, Rhapsody and Napster for downloads.
Punk Globe: if you had a message for Punk Globe readers. What would it be ?
J.G.: Well my best advice to the whole world would be two vital pieces of information. If you love you art, no matter what it is. Don't wait for permission to be all about it. Just do it so that you love what it says. That is the purest form of expression because if love it your spirit will be captured and will touch the right people as you intended. Second and very important. Drugs are the bitter end and will destroy everything you love including you. Don't waste your time dying. There is a whole filthy world waiting for you to leave you mark on it and dying from drugs will only leave a mark on a headstone. Thanks so much Ginger for giving me the opportunity to be answer questions and be part of your great publication. You are one of my hero's too for being real and fabulous and never ending commitment to keeping underground music alive !
Punk Globe would like to thank Jimmy Green for the very real and informative interview... We want to wish him much luck in his quest for happiness and sobriety...