THE INDEPENDENTS

ETERNAL BOND
(Suki Records)

by Thomas Vangen Lund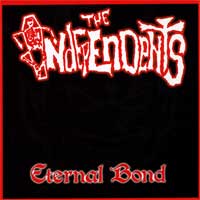 2005 was the year that I discovered The Independents, I discovered them when reading about Joey Ramone, the lead singer of The Ramones from 1974 – 1996, I found out that he used to be their manager, «this has got to be a great band» I thought to myself and man was I right! A friend of mine went to one of their shows in Florida one night in Oct. 2006, she then bought me a copy of "Eternal Bond" and shipped it to me and I've been a loyal fan ever since.

It's been brought to my attention that this album is slightly darker than their previous ones, heavier or more serious if you want to call it that, and no, that does not mean it is any more boring! The album seems perfectly done, from production to performance to even the artwork, it progresses perfectly for my taste, it starts with "Quarter to Three," a relatively fast ska-like song, played in the known Independents style and ends with a slower song "White Feathers," a more unexplored side of the Independents (which is just as good, might I mention), a great way to end the album. The "Baby Doll" demo is also a nice bonus addition, though the final studio version (also featured on the album) is the version I have listened to the most.

If you have never heard about The Independents before, this is a great album to start with like I did,
this is the very album that made me this big of a fan in the first place.
Track listing:
Quarter to Three

Eternal Bond

Hideaway

Alone

Vampirella

Bleeding in the Streets

The Next Kiss (Is the Last Goodbye)

Waste of Flesh

Baby Doll

Lullabye

True

Alive

White Feathers

Baby Doll (original demo version)
Performers
Evil Presly: Vocals
Willy B: Guitars, backing vocals
Additional musicians;
Jason Spaugh: Drums
Kyle Thrash: Bass
Steve Prosser: Keyboards (Lullaby)
It is also worth mentioning that this album is dedicated to the memory of Jeff Hyman (Joey Ramone) and Gordon Harper.