"http://www.w3.org/TR/xhtml1/DTD/xhtml1-transitional.dtd">
Review By: Timm Carney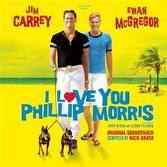 I have never been a fan of Jim Carrey. I just don't find his mugging to be all that funny and usually find his movies annoying and tend to avoid them. That has now all changed. "I Love You Phillip Morris" has made me have to rethink my opinion of Jim Carrey. In this film he proves himself as a true actor. I was able suspend belief for the length of the movie and never was aware that I was watching Jim Carrey. I was watching Steven Russell!
The story revolves around Jim Carrey's character Stephen Russell a con man that is in and out of jail all because he is in love. The object of his affection is Phillip Morris played by Ewan McGregor. Stephen Russell starts off life as an adopted boy who becomes a cop and marries a good Christian woman. They have a good and "normal" Christian life, belong to a church have a child and a clothed missionary position sex life. Stephen being a cop finds out who his birth mother is and is soundly rejected by her thus making him decide to change his life. He and his family pack up and move to Florida where he starts up a new life but reveals he is actually a homosexual living a lie. A car accident then prods him to decide to come out as a gay man and move to South Beach in Miami. He finds that his new boyfriend and lifestyle are very expensive and he turns to a life of scams and crimes to pay his bills. Eventually he is caught and sent to prison where he meets the love of his life fellow inmate Phillip Morris. Using his ability as a con man he is able to not only free himself but Phillip form prison. They then go off to Texas to start their new life together. Stephen passes himself off as lawyer and represents Phillip's land lady played by Annie Golden. He then passes himself off as a corporate CFO. All along he commits these crimes because he loves Phillip Morris. Needless to say he ends up back in prison along with the duped Phillip.
Stephen Russell is not an honest man but he is a good man and he does all of this for love. The relationship between him and Phillip Morris is ultimately and good and healthy loving relationship something not usually seen in main stream American films. This too may be the films downfall as it has been given only a limited American release although it was a hit in Europe and won several European film awards. The portrayals of Stephen Russell and Phillip Morris by Jim Carrey and Ewan McGregor are refreshing and honest. They are gay men and not deviants or insane, granted Stephen is a criminal but that isn't because he is gay.
If you have the opportunity to see this movie, do it! You too could become a fan of it and Jim Carrey as well.