by Ginger Coyote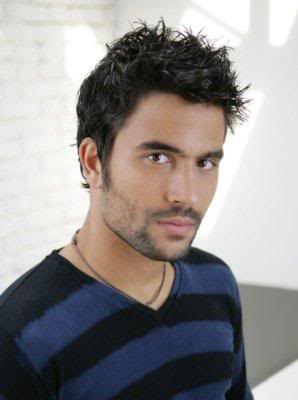 You may remember Ignacio Serricchio when he heated up the screens of the ABC hit show "General Hospital" when he appeared as Diego Alcazar the son of Mobster Lorenzo Alcazar. Besides his work on "General Hospital" he has also appeared on the sitcom "Rodney', " House MD", "Ghost Whisperer", Tyler Perry's "House Of Payne", "Wild Fire", "Cold Play" , the new CW Teen Hit "Privileges" and the fabulous KATHY GRIFFIN'S "MY LIFE ON THE D LIST" ... He has starred in such feature films as "States Of Grace" and "Keith" which starred former "AMC" alumni Actor/Singer Jesse McCartney. I hope you enjoy our interview.
Punk Globe: Thanks so much for taking the time to do this interview. You portrayed Diego Alcazar on "General Hospital" how long were you with the show and how did you hear about the part?
Ignacio: I had been on the show about 2 1/2 years. I left but then returned. My agent at the time heard about the role and sent me out on an audition.
Punk Globe: You were the Port Charles Stalker on GH. What were your thoughts on being the stalker?
Ignacio: No, not really worried. I was not really sure if they were redeeming Diego or not. I n the end he met his maker.
Punk Globe: Do you enjoy day or night time television better?
Ignacio: They are so completely different and that is what I like about it all. I love them both - the work on the sitcoms and my work on "General Hospital" it's all great !!!! Just completely different.
Punk Globe: You were born in Argentina right?
Ignacio: Yes, I was born in Argentina but I moved to Mexico when I was 11 years old.
Punk Globe: So you left Argentina at a early age. I imagine you missed phenomena of The Ramones in Argentina then.
Ignacio: Since I did not speak any English when I was young I basically listened to Spanish music. But, I do know The Ramones were very popular through out all South America. They were just a bit before my time. (Ignacio was born in 1982)
Punk Globe; Your former Co -Star Alicia Leigh Willis from General Hospital has said The Ramones are her all time favorite band.
Ignacio: They were a great band that is for sure!
Punk Globe: How old were you when you decided to be come an actor?
Punk Globe: I read that you had met Meryl Steep in a Bed and Beyond and that sealed the deal with your desire to be an actor.
Ignacio: She just seemed so happy and at ease. She did not seem to be worried about people bothering her. She seemed so peaceful and that made me realize that I could also pursue this career and be able to be myself.
Ignacio: No,I wanted to come up and say hello to her but the main reason that I wanted to get next to her was to find out just how tall Clint Eastwood really was. I must have looked pretty sketchy to her. I walked up to her sideways- getting a view of myself standing next to her and trying to remember how much taller Clint Eastwood was opposite her. . She must have thought "What the heck is this kid doing?" And then I said hello, so I would not freak her out.
Punk Globe: How tall are you?
Ignacio: I am 5 ft 11 inches almost 6 feet and I know Clint is taller than me. I think he may be like 6 ft 2 inches.
Punk Globe: I had heard that you were in a production of "Freak" that John Leguizamo made popular. John is such talent.
Ignacio: I appeared in the regional premiere of "Freak" in college. I agree John is very talented.
Punk Globe: Tell us about the feature film "States Of Grace" that you appear in and what kind of character did you play in that movie?
Ignacio: It was my first acting work that I got when I first moved to L.A. two years ago. The character I play- Lozano- is a reformed gang member. He was really into being a gang banger- but he suddenly decides to get out of that kind of lifestyle and become a missionary.
Ignacio: I decided to drive because I have done big trips like that before and I camped all the way to LA. I enjoyed the whole trip and getting to explore the country But, I think my favorite thing was getting to camp by The Grand Canyon. That was really exciting and I also really liked the scenery in Utah.
Punk Globe: How long did it take you to get settled when you got to Hollywood? Was it hard getting a Manager?
Ignacio: As soon as I got to LA- I got a job for a couple of months to get money for head shots, got an agent then I got the movie.

I then decided to finish up school. I got a summer job at Johnny Rockets. I then got booked to do General Hospital and have been there since.
Punk Globe: You have had very good fortune with your career here in LA!
Ignacio: Yes I have been very fortunate. I feel very blessed.
Punk Globe: You have worked with some really talented actors at "General Hospital." Actors like Tony Geary (Luke0 , Jane Elliot (Tracey) and Maurice Bernard (Sonny). Do you ever get pointers from them?
Ignacio: No I usually just go in and do my thing but when I have any questions I usually asked Rick Hearst or Ted King. They were very helpful for my work now. Daytime have some of the best actors on them.
Ignacio: Probably Rick and Ted King. I am was also close with Adrianne Leon. We would hang out alot together. I got along well with the entire cast. But I have moved on and no longer see the old gang any more except on special occasions.
Punk Globe: Tell us about your Rock Band?
Ignacio: We are called Three And A Half Feet Under. I had met these older gentleman from Valencia CA and they had always wanted to form a band. I am open to doing everything in life. We liked the same kind of music. So we formed a Classic Rock Cover Band. We don't play the shows for money- It is just for fun. We are all busy with our other careers- so when we can play we will play. We do covers by ACDC, The Smithereens, Led Zeppelin, Bad Company, CCR, Beatles and even a Monkee's cover.
Punk Globe: Three And A Half Feet Under - That is an interesting name. how did you all come up with that.
Ignacio: Because they are over 40 so I feel like they are half way there and I;m younger so I'm just a half a foot into the grave.
Punk Globe: Do you play any old punk songs?
Ignacio: Like I said I like bands like The Ramones and Green Day. I really like that song "Boulevard Of Broken Dreams" by Green Day. I am not a fan of the new school punk sound on MTV. My band Three And A Half Feet does not play any punk songs yet.
Punk Globe; Do you play any instruments?
Ignacio: I play harmonica and play percussion a bit. When our drummer is late for rehearsal I sometimes play the drums with the band.
Punk Globe: I read you were into Dance?
Ignacio: I am into dancing. I go out every Wednesday to a Latin Club -Salsa dancing. In fact I love to dance.
Ignacio: I am a self taught dancer and if a show like that asked me to participate I would have to think about it alot. I do not think I would enjoy being told what to do. I know when I go to a Latin Club you see people who are trained and it seems like they are counting out the steps in their mind. I myself just let loose and go with the feeling. I think going with the flow of things is so much better.
Punk Globe: Did you enjoy Kelly Monaco's dancing on the show?
Ignacio: I only saw the show a couple of times. But I thought she was great!
Punk Globe: You also do stand-up comedy. What comics do you like?
Ignacio: I am the host at a comedy club every Thursday in Beverly Hills. I have worked wit Chris Rock and Bobby Lee. I am a big fan of George Carlin. I enjoy Comics who do not use constant vulgarity. Bill Maher is good. I also like Kathy Griffin she is very funny. Tracey Ullman is very very funny. She sings, dances and acts She is awesome! (Editors Note: Ignacio appeared on Kathy Griffin's fabulous "My Life On The D List" )
Punk Globe: Who are your favorite actors
Ignacio: I like John Travolta alot he is an excellent actor. I also enjoy Kiefer Sutherland's work.
Punk Globe: Any favorite TV Shows?
Ignacio: I watch "Monk" every week. I don't watch "Lost" or "Desperate Housewife's or any of the Reality Shows. Tonight I am going to a club in Marina Del Ray to sing Mariachi. I have so little spare time so I do not watch that much TV.
Ignacio: I would say I am in command of the English and Spanish languages. I speak French and since I am Latin and Italian so I can also speak Italian. I like to think I have the best of both worlds being Latin and Italian . I hope you have a great Birthday on October 18 - Ginger. You only turn 21 once.
Oh you Charmer Ignacio- Flattery will get you everywhere.. It is obvious there is not much that Ignacio does not do. He has a Production Company and may be producing a play in the near future. Please check Punk Globe for any future updates on that.

Punk Globe would like to thank Ignacio Serricchio for the great interview and wish him continued success with his career.
back to home page