Hurricanes, Floods, Tornado's , Fires and Earthquakes dominated in September.....Hurricane Maria made landfall in Puerto Rico as a Category 4 hurricane after pummeling the Virgin Islands.This is the most intense hurricane landfall in Puerto Rico since before the Great Depression. Maria's minimum central pressure was the lowest for any Atlantic hurricane since Dean in August 2007...... The tangerine terrorist has had his mind on insulting STEPH CURRY and the NFL with his one track mind... So he has not mentioned any of the recent disasters in days..Hurricane Irma's death toll in the Florida Keys has risen to 14, according to the Monroe County Medical Examiner.With roads and airports wrecked and waters near the shoreline littered with dangerous debris, rescuers and emergency officials struggled to reach the Middle and Lower Keys by land, sea or air... Residents who stayed found themselves with no means of communication in the state of Florida...... Poor VERA RAMONE KING was asking people to pray for her on social media... Hurricane Harvey plowed through Houston, Texas causing major destruction, floods and havoc. With over 60 confirmed deaths... In other regions, environmental concerns lingered. In the week after Harvey hit, more than 1 million pounds of dangerous air pollutants have been released from oil refineries and chemical plants on the Texas Gulf coast, according to public regulatory filings that were pulled together by the Center for Biological Diversity.Safe drinking water remains a concern for thousands across Southeast Texas. The EPA said that more than 160 drinking water systems have been placed under boil-water notices as of Saturday, and 50 have been shut down. Officials also warned returning residents to be cautious of mold and other environmental threats that might lurk in their homes after Harvey's waters recede. The U.S. Centers for Disease Control and Prevention has distributed 15,000 booklets urging people to be vigilant about mold..... A magnitude 6.2 aftershock that shook Mexico was blamed for five deaths, spreading fear among anxious residents reeling from a string of natural disasters and interrupting the search for survivors from a bigger tremor earlier this week.The Popocatepetl volcano south of Mexico City sent a column of ash into the sky, capping an intense period of seismic activity including two powerful tremors in September that has killed more than 400 people and caused damage of up to $8 billion. Mexico's capital was shattered by a magnitude 7.1 quake that flattened dozens of buildings and killed at least 307 people. The government's response to the disaster is under close scrutiny ahead of a presidential election next year. Although the latest quake was not as destructive, fear is running high among the population. Terrified residents ran into the streets, where they crouched and prayed as earthquake sirens went off. Two women died of heart attacks as the ground shook, the city government said. Tents were set up in different parts of the city where psychologists offered mental health support to survivors and rescuers traumatized by the natural disasters. Acts of solidarity came from all corners of Mexican society. And tangerine terrorist thinks climate change is a hoax.....He was also busy trying to bury news stories about his new immigration ban and that several of his cabinet were using personal emails for government business including jared kushner and ivanka trump.... When Hillary was doing it all we heard was "lock her up".... Now not a word from the loud blithering old fool...
THE GLOBAL CITIZENS FESTIVAL was a huge success on NBC.... STEVIE WONDER, THE KILLERS, GREEN DAY, THE LUMINEERS, THE CHAINSMOKERS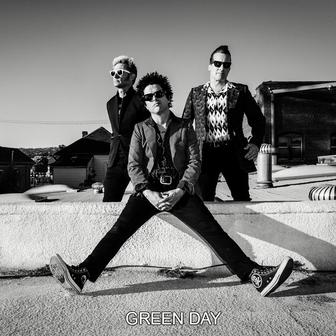 and more will be played a crowd of some 60,000 Global Citizens in New York City's Central Park on Sept. 23.And the best part — those Global Citizens will be there because they took action as part of Global Citizen's campaign to end poverty and fight inequalities by 2030. PHARRELL WILLIAMS, BIG SEAN and ALESSIA CARA also performed. The musical artists stood together with Global Citizens to call on leaders in the US and around the world to uphold their responsibility to end poverty, tackle climate change, and fight inequalities by 2030..... . For what seems to be the 10th time yet another repeal and replace Obamacare. What kind of country lets a bunch of senators in a back room somewhere decide that your health care access should be determined by your ATM balance? That's what's happening right now with the Graham-Cassidy health care bill. Under Graham-Cassidy, an individual with metastatic cancer could see their premiums increase by $142,650. Diabetes? $5,600. Want to tackle the opioid crisis? Gets a lot tougher if an individual suffering from drug dependence sees their premiums go up by $20,450. Cassidy claimed he was doing it for JIMMY KIMMEL'S son they spoke about on KIMMEL'S show and he made all these promises.. He lied JIMMY KIMMEL has asked him to not attach his name with the bill....This is not a game. Lives are at stake. This endangers the most vulnerable among us – more than 12 million Californians are covered by Medicaid and CHIP alone.. No No No!! It appears at press time the ill will fail as RAND PAUL and JOHN MCCAIN have both said they intend to vote no... SUSAN COLLINS also voted No making it almost dead..... Unless the Republikkkans come up with something last minute... SUSAN SURFTONE has been busy recording a new CD, making a killer video and looking for a condo in Los Angeles.... She is planning a October showcase of her video....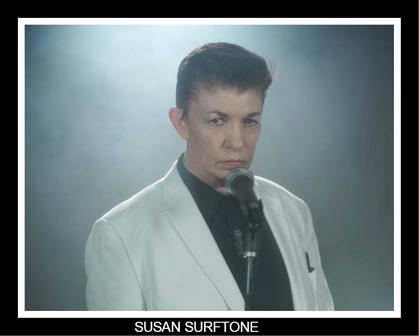 BEBE BUELL along with THE DEAD DEADS played a kick ass show at The Mercury Lounge in Nashville, Tennessee in October...The Fabulous KATHY GRIFFIN was being harassed by a neighbor Jeffrey Mezger who is the CEO of KB Home Designs...He was caught on caner and audio a profanity laced tirade against KATHY and her boyfriend RICK BICK which included sexist and homophobic slurs at KATHY.....KB Home's board of directors pledged to cut chief executive Mezger's bonus — and warned that he could be fired for another misstep...... KATHY has filed for a restraining order in the courts....SPAGHETTY TOWN RECORDS are really excited to work with Brazil's Merda on their first vinyl release in the US. "DESCARGE ADRENERGICA is a 25 minutes of Brazilian hardcore punk, sung in Portuguese, of course.....THE SWEET THINGS from New York City S are heading back out on tour with The Liza Colby Sound. Here are the dates..... The tour starts on GINGER COYOTE's Birthday 10/18 Philadelphia, PA - Kung Fu Necktie 10/19 Pittsburgh, PA - Spirit 10/20 Mansfield, OH - La Luna 10/21 Columbus, OH - The Tree Bar 10/22 Detroit, MI - PJ's Lager House 10/23 Chicago, IL - Emporium Arcade Bar 10/24 Newport, KY - Southgate House Revival 10/25 Nashville, TN - The Cobra 10/26 Atlanta, GA - The Star Bar 10/27 Wilmington, NC - Reggie's 10/28 Richmond, VA - Wonderland 10/29 Washington, DC - Slash and Run...... Pop singer AARON CARTER was on THE DOCTORS when he got the news he was HIV free..... But he still continues with his struggles.... The Australian band, THE GO SET, was touring the USA! Promoting their new album, "One Fine Day." JUSTIN KEENAN and the guys put on a killer show.... Hope you were able to catch them...DIRTY MAGIC have a new release out..... Check out this show AGENT ORANGE and JFA on Saturday Nov. 4th at 7PM at The Underground in Santa Ana, CA . This event is all ages ... Check out the documentary about the best band to ever come out of the Texas, THE JUDY'S. They were a Pearland, Texas-based punk and new wave band from the late 1970s and early 1980s. In their heyday, the band was composed of DAVID B. BEAN (songwriter, vocals, guitars, keyboards), DANE CESSAC (drums, vocals) and JEFF WALTON (bass, vocals).
Be sure to order the new ERIK CORE Cd that you can find an ad for on the index page of PUNK GLOBE......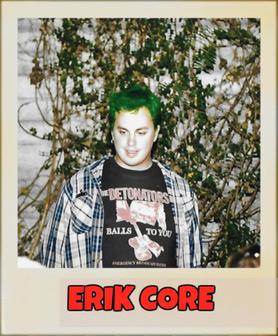 Also read the killer Interview that GINGER COYOTE did with him also in this issue..... REPTILIANS FROM ANDROMEDA have a new video out BURNING INSIDE check it out here Reptilians From Andromeda - Burning Inside on You Tube
DUTCH MICHAELS was so excited to see a life long friend ROSEMARY REYES whom he had not seen for ages since the Masque days in Hollywood.... PUNK GLOBE is happy to let you know that STP have kept you in suspense long enough, this is at STP Headquarters If you liked the look and sound of both LEGENDS and POPPYCOCK on Vinyl, this one will again not disappoint from at STP Records, They have added a new effect for this release and as usual the mock ups don't do it justice as those who have it on order will find out very soon. If you don't have it on order, don't delay, www.stprecords.co.uk..... The lead singer of THE CHAINSMOKERS is Hawt !!!! Saw him perform at THE GLOBAL CITIZEN FESTIVAL
SIREN CALL from Austria recently performed in North Hollywood at THE SKINNY ..... Word on the street, is that the show ruled.... THE NEW NORMAL is at war against the world in the shadow of the sword blood thirsty sickos fit for a psycho ward running down civilians setting off nail bombs maiming and murdering all without a qualm it's just THE NEW NORMAL you'll get used to it maybe you'll be fine or maybe you'll get hit just keep on pretending that none of it is real when the blade is raised and you're finally forced to kneel. Self-fulfilling prophecies it's eye-for-an-eye grief turns into rage how can you wonder why mercenaries fighting for corporate interests for multinational conglomerates.. The lithium the heroin and the oil must flow the blood and Tears run as the kill list grows murdered from above in a blinding flash corpses left burning in the aftermath wedding party's funeral mourner's they're all blown apart when innocents are slaughtered along with the targets self-fulfilling prophecies it's eye-for-an-eye grief turns into rage how can you wonder why cameras robots and drones trapped in a surveillance zone categorized it all gets worse our freedoms are in reverse... Check it out here https://apocalypsetribe.bandcamp.com/album/the-new-normal ... Hope you had a blast at the DEADBOLT Pre Halloween show at DIEGOS in Santa Ana, CA..... . Who's ready for MDC - Millions Of Dead Cops (aka Millions of Deceived Citizens, Multi Death Corp, etc...) and THE ELECTED OFFICIALS 2017 USA "Corporate Scam Charade" Midwest & East Coast tour? Coming your way soon! MDC has a new album out. THE RAMONA'S UK have a new release out..... Look for an interview with them in PUNK GLOBE soon....RYAN MURPHY and the cast of FEUD: JOAN AND BETTE was robbed at this years EMMY's ..... My take is that voters just could not figure out who was better SUSAN or JESSICA....
Kansas City based artist/producer RIC GORDON calls his new EP, "Standing Here", the best recording of his career. A strong statement for an artist who has released 16 albums and EP's under various monikers and produced another 26 for other artists. On "Standing Here", RIC delivers a superlative work of indie/folkrock and alt-country, that will stand as one of the best singer/songwriter records of the year. The EP features five *A* tracks with no filler, including the first two singles, "I Will Always Be Here" and "When We Kiss." Change.org
Trending petition LADYSHARK are made up of Sarah 'Scarer' Vardy (lyrics, vocals, guitar, mandolin, keys), Megan 'Raygun' Dillard (vocals, bass) and Renee Lambert (drums). Our main influences are SLEATER- KINNEY, YEAH YEAH YEAH'S, IGGY POP, THE RAINCOATS, X RAY SPECS, DAVID BOWIE and PATTI SMITH... The band is getting ready to release our first, brand new single off our forthcoming album 'Lovesick'. Lovesick is about being in love in various stages and situations. Whether love's making you sick versus driving you wild. Or maybe you're thinking about having kids or what it might mean to have kids. Sometimes you're just struggling to make ends meet. There's some self-reflection and identification with being an outsider who doesn't live up to all society's expectations. But that's Ok! I had to go through a massive growth curve following a long-term relationship coming to an end. I found love again and had to try and get rid of all the negative baggage I'd accumulated from the last relationship. I had to learn to love myself and be myself again without living under someone else's shadow.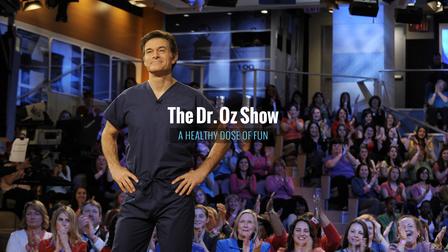 Here is the wonderful DR. Oz'S take on Medical Marijuana... As a doctor, one of my primary responsibilities is to alleviate pain, and I'm always on the lookout for new and more effective treatments. For years, we've used opiates to treat pain and today we are in the throes of an addiction epidemic. Each day the opioid crisis sends over 1000 people to the emergency room and takes 91 lives. Doctors need new pain medications that don't have the ability to kill like opioids do. I believe medical cannabis could do just that and I'm calling on the federal government to fund the research we need to prove it. Outdated beliefs and policies have prevented our country from funding medical cannabis research but the National Academies of Sciences, Engineering, and Medicine has reviewed other scientific research and found evidence that patients treated with cannabis or cannabinoids were more likely to experience a significant reduction in pain symptoms. Yet the government still says cannabis has no proven medical value. About twenty years ago, my colleagues and I were sold a bill of goods on a new strategy to treat people suffering from chronic pain. Opioids were the answer, and we were led to believe that not only were they effective, but that they couldn't be addictive. Unfortunately, it took a national emergency to realize that the quadrupling of opioid prescriptions that resulted from these teachings was actually a problem. Not only are opioids in fact highly addictive, according to the CDC, there is actually little evidence that they are even effective at relieving chronic pain. I was duped. It's hard to admit it, but I have to face the facts. To make sure it never happens again, I'm asking you to sign this petition. The National Institutes of Health (NIH), which funds much of our nation's medical research, allots only $111 million dollars to cannabis research. This sounds like a large number, but it represents a mere 0.3 percent of NIH's total spending on research and is only 0.1 percent of the cost of the opioid epidemic. This is a drop in the bucket for something that experts believe could have the potential to help in our fight against the number one killer of adults under 50. Studies already suggest that states with medical cannabis laws have a 25 percent lower mean annual opioid overdose mortality rate compared with states without medical cannabis laws. Almost half of opioid deaths are due to the overdose of prescription drugs. While heroin is responsible for much of the other half, research suggests that 4 out of 5 heroin users started with prescription drugs. I have traveled around the country and met countless families who needlessly lost their sons and daughters, husbands and wives to addiction. In addition to the obvious emotional costs of this epidemic, the financial burden is exorbitant. The opioid crisis costs our economy over $78 billion per year...... This past month was a busy one for REVEREND KATHY COOPER LEDESMA a homeless woman RAQUEL PHILLIPS was missing and she was searching for her. After the first of the month, RAQUEL, migrates back to the Methodist Church, this month no one had seen her.. She contacted me for help and I was able to give her a couple leads. One was that she had been picked up by an ambulance in the early morning hours which proved to be right.. Upon making a call REV. KATHY was able to find out that RAQUEL had been admitted to a psychiatric hospital where she was getting her meds and is awaiting a permanent spot in a nursing home... RAQUEL'S back story would make a great film..., NIKKI PALOMINO is so excited that DAZED the film will become an Education film for Teens In Recovery in the future thanks to inspiration from groups like http://www.alightofhopescv.org/, http://musiciansagainstviolence.org/ and
http://covenanthousecalifornia.org/index-pg.php
MELINDA TYLER and MIKE SPENT are both so happy to see BARBARA (JAMIE) COCORAN from SHARK TANK on this season's DANCING WITH THE STARS........ Sadly she was the first celebrity to be eliminated......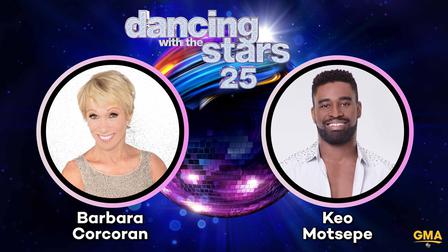 ED TURNER who directed and produced "TICKET TO WRITE broke his foot by a freak accident...Very similar to MS. LIGAYA who fractured her ankle while filming THE GINGER COYOTE ROCK DOCUMENTARY while in Hollywood.... Putting into physical therapy for weeks in Vancouver.... JON GRIES and GINGER COYOTE had a fun nightrecently at The Arclight theater it was fun running into ANNA JOY SPINGER and JESSIE MICHAELS although we did not get to really speak..... It was amazing to see how many fans that JON has. He was giving out autograph and taking photos with people.. They recognized him from his work on MARTIN. THE PRETENDER, GET SHORTY, NAPOLEON DYNAMITE, LOST, REAL GENIUS and JACKPOT....
PAULEY PERRETTE was going to join us but was busy filming NCIS..... Which is still going strong after how many seasons?? Also sadly missed were WINTER ROSEBUDD, RIC COLLINS and LIZ MCGRATH... Hey RIC what is up with Teenage Kicks????
BILL MAHER said something funny and so true.. The tangerine terrorist was happy to find supporters in the south as he had ran out all his suckers in New York.. trump tweets 24/7 because he is from New York City... He enjoys that kind of excitement... Being in Wahington DC with paul ryan, jeff sessions, mike pence is boring him... And they wonder why he aligned himself with NANCY PELOSI and CHUCK SCHUMER... It is because he really likes them not the people who he made all these campaign promises to. Those suckers all have just enrolled into trump university........ Sadness in September Audio Engineer SETH FIRKINS who worked with JAY Z died.... ERIC EYCKE lead singer of CORROSION OF CONFORMITY left us at 62.... http://www.blabbermouth.net/news/former-corrosion-of-conformity-vocalist-eric-eycke-dies/ Dee Jay RICK SHAW said farewell...AMMON THARP of THE RONDELS passed...Former football player turned actor BERNIE CASEY died.... Legendary Boxer JAKE LAMOTTA said goodbye to the world at 95 years young....
ALLMAN BROTHERS producer JOHNNY SANDLIN passed from cancer ... Singer MARK SELBY left us because of cancer...KATE GUINZBURG who produced One Fine Day and Dangerous Minds also left us via cancer.....Producer GEORGE ENGLUND died from a fatal fall... GRANT HART drummer for HUSKER DO passed away from liver cancer....Character Actor FRANK VINCENT who you may know from THE SOPRANO'S passed away from complications during heart surgery...JESSI ZASU from THE DARLIN'S passed away from cancer... LITTLE BARRIE drummer VIRGIL HOWE passed away... MARK LAMURA who played SUSAN LUCCI'S character ERICA KANE'S brother MARK DALTON on ALL MY CHILDREN died from lung cancer at 68 years old...
Rapper DA REAL GEE MONEY was shot to death...Actor MIKE HODGE left us... Country Star TROY GENTRY perished in a helicopter crash... SHILOH star BLAKE HERON died from a suspected overdose.... Artist GEORGE ESCALANTE brother of VANDALS bass player JOE ESCALANTE passed away unexpectedly... RICK STEVENS singer of TOWER OF POWER died of liver cancer.... WALTER BECK of STEELY DAN passed.... DAVE HLBEK guitar player for MOLLY HATCHET died of heart failure... PUNK GLOBE extends much sympathy to the fans, friends and families of all the fore-mentioned people who left us....
Be sure to check out our sponsors links that have banners on the index page:
ERIK CORE
Dazed and Still Dazed
http://www.amazon.com/Still-Dazed-Through-Grunge-Rockers-ebook/dp/B00YHOVS4W/ref=sr_1_1?ie=UTF8&qid=1445645361&sr=8-1&keywords=Still+Dazed+Nikki+Palomino
MY SON THE BUM
http://www.mysonthebum.com/fr_home.cfm
TICKET TO WRITE
http://www.tickettowritethemovie.com/
H.E.A.R.
THE LAST GENTLEMEN SMUGGLER
https://www.facebook.com/groups/1100845919933061/
DC - JAM RECORDS
http://www.dcjamrecords.com/home.cfm
MUSIC LIFE RADIO
http://www.musicliferadio.com/
THE FLOYDIAN DEVICE is responsible for the killer cover of PUNK GLOBE this month and MATT COLEMAN did all the coding and page layouts.... This month we are celebrating GINGER COYOTE, SHARLA CARTNER, CYNDI FORD and TIMM CARNEY'S Birthdays.... SHAWN STEVENSON does a terrific interview with HENRY ROLLINS....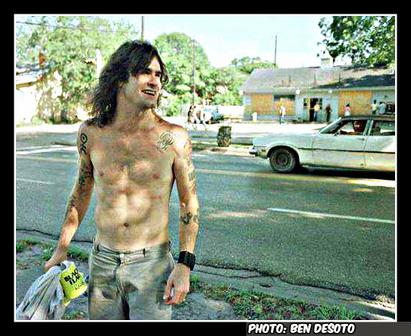 GINGER COYOTE interviews "The Original" MS. SHARON NEEDLES who played with BETTY BLOWTORCH and HELL'S BELLES... She also interviews the Bay Are's own ERIK CORE!!!! Not to mention a review of SLAUGHTER AND THE DOGS.....While CRIS DELAFE does a spotlight on Latin Bands this month is ACIDEZ from Mexico who are totally rad...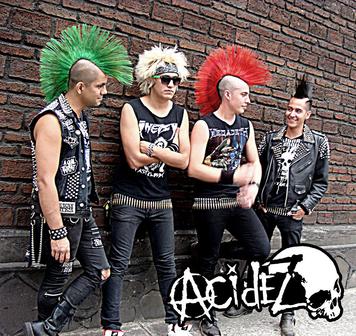 Check out the photo spread of PHIL CAMPBELL AND THE BASTARD SONS who have a new release out that you all must order......... MIKE SPENT interviews the beautiful musician and artist LIZ MCCRATH....CYNDI FORD interviews HANK WILLIAMS 3....PUNKRPRINCESS has been busy interviewing RUSS LIPPIT and SARAH CHAVEZ.....JAIME PINA tells all about The Master Of Horror while reviewing THE SIDE EYES,A FISH CALLED WANDA, CHILDREN OF THE CORN, THE BIG GUNDOWN and DEADLY SWEET...... JIMI LALUMIA reviews the new LOU REED book..... LOUISE SWIFT reviews SPUNK VOLCANO AND THE ERUPTIONS... ASTROSLUT is back.... AARON K reviews IN STEREO while ELOA AD reviews BIG CHEESE..... NIKKI PALOMINO has also been busy with an endeared tribute to her late friend WENDY PALOMINO... She also does updates of DAZED and STILL DAZED, The film DAZED and her new baby THE GENTLEMAN SMUGGLER.... WINTER ROSEBUDD is PUNK OF THE MONTH.... SAMANTHA BYRNE LEYTE tells us all about the career of late MELODY PATTERSON..... We also have art from JUAN MATTHEW DE LA TOUR.... Please do remember you are reading this all in HOT GOSSIP............ HAPPY BIRTHDAY'S late and early to: GINGER COYOTE, SHARLA CARTNER, ZAC EFRON, CHERRY VANILLA, OWEN JENKINS, WARHOL BOY, JOY BEHAR, MARY POWERS, CYNDI FORD, PAULI GRAY, TOM REARDON, TIMM CARNEY, VANESSA BRISCOE HAY, PHYLLIS STEIN, MIKE FRANKO, SHANNE SKRATCH, MARYANN PRICE, CHARLEY HAGEN, CANDY DELMAR, MICHAEL RYS, RODDY NOVOTNY, PATRICK MARSH, JOHN LENNON (r.i.p.), STASH KLOOSSOWSKI DEROLA, IKE LUBINECKI (r.i.p.), SABLY MEYER, MARILYN VANCE, THOMAS IRVINE (r.i.p.), HOLLY WOODLAWN (r.i.p.) , KIM DALLESANDRO, JAMES STARK, BOB CLIC, SARAH KNAPP, ROSE ROYCE, BOB GRUEN, PATRICK O' NEIL, DANIELLE LOPEZ, LUCA CRILLO, DAMON VOTOUR, ROCCO KATASTROPHE, KELLY RIPA, OLGA GERRARD, VANESSA MARCIL, LORI KEMP, SEAN LENNON,DANNY WEEDSMOKE, JUSTIN HAYWARD, DENNIS KUCINICH, PAT CAIN, MONTE MELNICK, C.J. RAMONE, RHODES INGERTON, VICTORIA SEEKER, MARILYN JOYCE MCINTOSH (r.i.p.), JOHN MELLENCAMP, RUTH OLSON, ROBERT COLEMAN, RICHARD COLEMAN, ANNETTE FLOWERS, DAVID LEE ROTH, ANDY MEYERS, MARK LARSEN, DAVE SCHRAFF, JOHNNY SORROWS,
JASON MERCIER, VINCE CURLEY, MIESTORM PIERRE SERPENT, NICK WILLIAMS, KRIS SLATER, CASEY ROYER, DEANNE FRANKLIN, CHANTAL LONERGAN, KRISS KIMBALL, ELMO KIRKWOOD, KEITH STRICKLAND, LEGEDS ARE BORN IN OCTOBER)CATHERINE CARTMILL, DUSTIN NIPPER, JAY CRAWFORD, FAITH ROTHMEYER, VINCENT SPANO, MAY PANG, RON TURNER, MURRAY BOWLES, STELLA KXLU, SUSAN MILLER, MARK JACOBS, SHANNON CAMPBELL, DANIEL ASH, BILL HEATH, ROBBIE CODDINGTON, JONATHAN PONEMAN, GRACE SLICK, AARON CUTCHIN, MIA ARAGON, DOUG DONUT, WINONA RIDER, MICHAEL HELLER, MELANIE MAYRON, CHIP KINMAN, CRAIG MUZIO, RAFAEL VIGILANTES, DAVID VELASQUEZ, BOB GELDOF, SALLY DISASTER, KEVIN DAVIES, CHRIS YOUNG, NELSON SLATER, SUZIE MCNEIL, JENNY DAYTON, SCOTT CLIFTON, LIBBY PATTERSON, JORGE CEVERA, PAMELA INGRAM, KIRK BERHHARDT, TANYA TUCKER, GREG DOUGLAS,LARRY LIVERMORE, VINCE VAN PATTEN, PAM DAWBER, ERIN MORAN, SUSAN SARANDON, TIM ROBBINS, CARLY SCHROEDER, JEREMY JACKSON, DOUG MELCHER, NICK DIAS, WARREN TOKUDA, MATT BACOS, LUCA COMENCHI, DARLA TEAGARDEN, ERIC ROSS, JOEY BAKER, BRAIN CARPENTER, SEAN LYONS, MICKEY SAMPSON, JACK GEYHOUND, RICH DEEM, PADDY REYNOLDS, DAN HUMES, MAURA KENNEDY, KATE JACKSON, JACLYN SMITH, DAN ROTHBARD, GWEN SWORE, STEVE DALLMAN, KRIS LITTLE, E.K. SMITH, LISAFUR LLOYD, HEIDI PETTY, ANGUS OBLONG, JONNIE ROCKIT, COREY ST. JAMES, KRIS BEALE, CHRIS KNAB, SCOTT HOLDERBY, ERIKA RAY, LUKE SWEELS, LISA WRIGHT, RENATO DIONISIC, BILLY VECTOR, LYNDSEY SMITH, SARAH BREEMER, LISA FETTE, RACHEL THOELE, FINOLA HUGHES, JUDE CAMMEL, MIKE VARNEY, STEPHANIE MORRIS, TERRY QUINN, RODNEY KLEIN, KIM JONES, DICK VAIN, JOAQUIN PHOENIX, SALLY PIKE, BEN JIMMICK, ALLISON WRIGHT, BRAD CHANDLER, JAMES WILLIAMSON, RICHARRD LLOYD, JEFF JARD, LORI WEINER, MIKE CARR, JAMES DOLAN, THAIN RASSMUSSEN, MEG ORMOND, SUE COYNE, GINA LOCKWOOD, SCRUMBLY KOLDEWYN, MICHAEL ROE, ANDREW CLARK, JON FLEMMING, MARK EVANS, CHRIS DUDA, MICHAEL XAVIER, ALEX JOHNSON, JOEY DAMMIT and anyone else who we may have forgotten on this list... We will end this column with these sage words of advice... YOU HAD BETTER BE CAREFUL ABOUT JUST WHOSE TOE'S YOU STEP ON TODAY. AS THEY JUST MAY BE ATTACHED TO THE ASS YOU WILL BE KISSING TOMORROW !!!!