Summer is here and the heat is on.......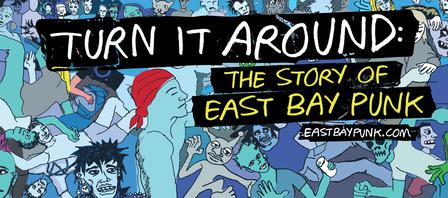 On May 24th, 2017 there was a private screening of the film TURN IT AROUND: THE STORY OF EAST BAY PUNK especially for the cast and crew... It happened at Grand Lake Theater in Oakland, CA Sadly I was unable to attend due to PUNK ROCK BOWLING.... I would like to thank GREEN DAY. KAMALA, CORBETT REDFORD. MARI TANAKA DUGAN and the crew involved with filming, for including me in this film... It was an honor...... PAULEY PERRETTE was watching the news recently and she saw a story about a young handicapped boy getting his electric wheel chair stolen . She saw how distressed his family was because of the theft.... The wheel chair was a necessity for the child but also very expensive to replace... She wanted to help, so she contacted the her friend PAT HARVEY who anchors the local CBS news and explained how the story had touched her. So the PAT helped her make contact with the boy's family and she explained how PAULEY wanted to purchase a new wheel chair for the young lad...The receiving family were in shock and elated by PAULEY'S generosity.... They felt they were doomed. The news story brought tears of joy to all who saw it on the news..... PAULEY was their Guardian Angel... This is the second time that this had happened. She had seen a similar story about a young handicapped girl getting her electric wheel chair stolen from her by a street gang. The young girl and her family were sobbing out of control in distress... PAULEY came forth buying the young girl a new better equipped wheel chair.... Miracles do happen.... People in Georgia, get out and vote for JON OSSOFF for Congress... With that horrible insane president in office we need all the liberals we can get in control... We also need to take back a seat in congress in the state of Montana with ROBBIE QUIST.. So Vote for him!!! MELISSA MCCARTHY returned to host SATURDAY NIGHT LIVE for her 5th time and she did not disappoint... She appeared in a great sketch as SPICEY (sean spicer) with ALEC BALDWIN as( donald trump) that brought down the house....AIDY BRYANT joined in as sarah huckabee sanders to add to the fun......
We were all hoping that ROSIE O DONNELL would pop in as steve bannon to make it a real party!! Sadly it did not happen.. LESLIE JONES said she asked LORNE MICAHAELS why he didn't bring ROSIE in after she tweeted her eagerness to play the role, and MICHAELS replied, "When you're playing a character, you can't play it from hate. You have to play it from funny, because when you play it from hate, it looks like you're just being mean."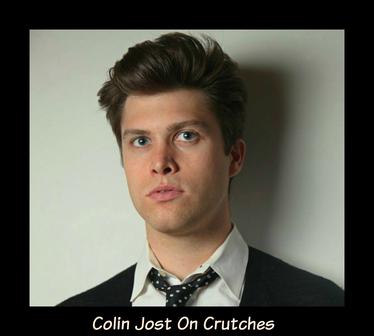 MICHAEL CHE as LESTER HOLT ruled interviewing Cheeto Man for NBC ... MICHAEL CHE and COLIN JOST doing the WEEKEND NEWS were hilarious.. And the end of the show STEVE MARTIN joined MELISSA and ALEC as they are the three people who are part of the 5 Club as the only 5 time hosts of SNL.... I noticed that my sweet COLIN JOST was walking on crutches.... I was so sorry to hear about the passing of CECILIA KUHN best known for playing drums with the San Francisco based band FRIGHTWIG......She was a true warrior on stage .... For the past few years she had been living the quiet life in Downeville, California with her husband CARL BUTZ... Then letting her hair go loose and playing shows with FRIGHTWIG.... I know her passing deeply saddened all, including BOBBY CASTRO, REBECCA SEVRIN, MIA SIMMONS and SUSAN MILLER....Also PUNK GLOBE was saddened by the passing of GLEN O' BRIEN who was fixture in the New York City music scene.. In his early years he was a regular at ANDY WARHOL'S Factory writing for INTERVIEW MAGAZINE, He also hosted a Dance Party on television... He edited MADONNA'S book Sex... He was a man with many talents..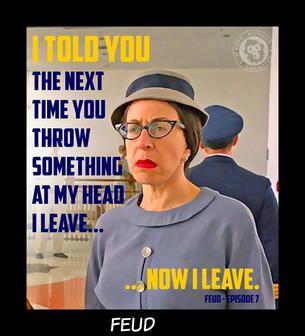 FEUD: BETTE AND JOAN was huge hit for FX and the acting from the entire cast was superb.. FEUD was created by RYAN MURPHY. SUSAN SARANDON portrayed BETTE DAVIS and JESSICA LANGE was JOAN CRAWFORD it centers around the making of Whatever Happened To Baby Jane and after... HOPE DAVIS excels as HEDDA HOPPER, JACKIE HOFFMAN kills as MAMACITA who was CRAWFORD'S longtime maid and friend... ALFRED MOLINA played ROBERT ALDRICH who wrote and directed Whatever Happened To Baby Jane while STANLEY TUCCI is spot on as JACK WARNER the head of Warner Brothers Studio's.. KATHY BATES as JOAN BLONDELL, ALISON WRIGHT as PAULINE JAMESON, DOMINIC BURGESS as VICTOR BRUNO, CATHERINE ZETA JONES as OLIVIA DEHAVILLAND , SARAH PAULSON as GERALDINE PAGE were a few of the A List actors involved in the project....This eight hour episode story had people reciting lines waiting for more... Come Emmy time is when the real FEUD may evolve as everyone deserves a nomination...... It is for on on Amazon... MELINDA and LES TYLER bought it and are playing it over and over marveling over the superb writing and acting... FX has renewed the series for a 10-episode second season, to be titled CHARLES and DIANA, which will focus on the relationship between CHARLES , Prince of Wales and DIANA, Princess of Wales...donald trump's firing of FBI Director JAMES COMEY along with threats of taping their meeting is "much more serious" than Watergate and could arguably be enough to see him impeached now, says the historian who predicted the Republican's shock election win. ALLAN LICTMAN,a professor of history at American University, who came to national prominence after continuing his streak of predicting the outcome of every presidential election since 1984 last November. He also has written a book on Trump called The Case for Impeachment. It is no surprise then that he sees the events as adding further fuel to the case for an investigation CHERRY VANILLA was invited to speak at DUKE UNIVERSITY in North Carolina. In the video below CHERRY talks about meeting DEAN MARTIN, DAVID BOWIE, ANDY WARHOL, JAYNE COUNTY, THE COPA and more. I went to a party at THE COPA with MICHAEL MUSTO... Here is a video of CHERRY in action at Duke Unniversity
.....
Thanks JIMI LALUMIA for letting me to know about the video.........MIKE PALM, founder of AGENT ORANGE, one of favorite favorite punk skate rock band. He recently posted this on his Facebook page. "Well, it turns out my wrist isn't broken, It's annihilated​. I am scheduled for surgery tomorrow. Unobtanium plate/screws. Rejected from the system, I'm on my own. Wish me luck, and this time make it the good kind." MIKE has been rejected by his insurance company - and is on his own for his medical bills - he has no income or any way to make money while he's off the road. Here is the Go Fund Me address for MIKE https://www.gofundme.com/mike-palm-agent-orange-founder So happy that PUTIN and his hackers did not sway the vote EMMANUEL MACRON is elected French president with 65.1% of the vote....... MACRON at 39 is the youngest president ever in France.... Three years ago, JOHN OLIVER called on his TV show's audience to contact the FCC and demand that they enact net neutrality. The 20-minute segment went viral and got millions of people who weren't even aware of the issue speaking out. JOHN OLIVER did it again—and within minutes, the FCC website crashed from the massive outpouring of grassroots pressure. The goal is to stop Trump's FCC chairman, Ajit Pai, from gutting net neutrality..........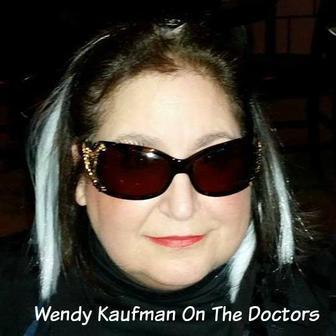 It was great seeing WENDY KAUFMAN on THE DOCTORS... It was a very serious episode about weight loss but WENDY made it fun and all the Doctors fell in love with her.... THE SWEET THINGS from New York City came to the west coast and kicked major ass at THE REDWOOD...... TEDDY SPAGHETTY is so cool. He owns the label that THE SWEET THINGS are on SPAGHETTY TOWN RECORDS... The Film "DAZED" won "The Best Experimental Film" Award! With The L.A. FILM AWARDS... Congratulations NIKKI PALOMINO!!!!! Major Congratulations to the Director, Cast and Crew who brought this film to life!!! They Rock!!! They all such an inspiration and incandescent in your efforts!!! Bravo!There was a screening on May 21st, 207 for the Los Angeles Movie Awards at the Complex Theater on Santa Monica Blvd.......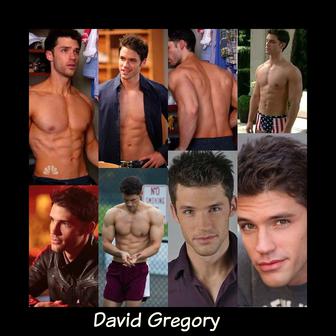 JOHN WESLEY SHIPP returned to POWDER BURNS: An Original Western Audio Drama on Friday, May 26 which available on itunes and www.PowderBurnsWest.com. FLORENCIA LOZANO and DAVID GREGORY also star.......... Sadly I was not able to hear it because I was at PUNK ROCK BOWLING in Las Vegas... Having a kick ass time.... DAVID GREGORY'S Lifetime movie "GIVE ME MY BABY" also starring BROOKE HOGAN and KELLY SULLIVAN aired on May 13th the day before Mother's Day....It was hard finding the LMN station on the Spectrum line up but I finally succeeded... DAVID was filming this movie last summer when were hanging out and he was doing the play ADAM BOMB(S) in a theater in Hollywood..... Lots Of FUN!!! DAVID loved it when I sang the theme song to ONE LIFE TO LIVE the soap he starred in... While drinking shots of Jim Beam.... I am happy to see that DAVID (who is on hiatus with THE GOOD FIGHT) and ILENE KIRSTEN who was ROXY on ONE LIFE TO LIVE are doing a project together in NY... THE WEIRDO'S will play June 2nd at THE ECHO in Los Angeles, California....So far, 2017 has been both challenging and inspiring. We've seen some of the worst ideas put into policy, but we've also seen an unprecedented movement to fight for our values and a brighter tomorrow. Last week, the media obsessed about Frump's 100th day in office, endlessly debating what he did and didn't do. So this weekend, we wanted to take a minute to celebrate what you've done and the amazing movement we're building together.#RefugeesWelcome and #NoMuslimBan WIN WITHOUT WAR activists stood strong in their support of refugees and more than 100,000 of you signed petitions and emailed members of Congress to oppose the immoral Muslim Ban. Many of you took to the streets to stand up for inclusion and compassion towards vulnerable people trying to escape wars and oppression. We know that it will be necessary to remain vigilant on these issues and you can be sure that the WIN WITHOUT WAR team will do our best to keep all informed on the latest developments. British band 4 PAST MIDNIGHT have a new CD and Vinyl Battle Scars & Broken Hearts out in June/ July........ A new documentary to look for THE STORY OF PUNK ROCK IN NEW ORLEANS don't know who is in it.. I would assume THE RED ROCKERS, THE SLUTS will be in it.... BURIED IN THE MIX: Tales from the latter days of early SF punks" is slated for its first public screening. The special sneak preview event will occur on closing night of the 16th SF Docfest, Thursday June 15, 7:00pm at the Roxie Theater. This documentary features band performances and interviews from the early days of the MABUHAY GARDENS through the Punk Rock Sewing Circle concerts in 2013, 2015 and more. Please join director TIMOTHY CRANDLE cinematographer NOA AMBROSE, sound recording engineer RYAN STEWART, and members of the production team, as well as subjects of the film for the screening and short Q and A to follow. Coordinators are planning special live performances at the Roxie before the screening. A post-screening event will be held a short walk from the Roxie Theater so plan to come early and stay late.. ROYSTON LANGSTON (SPACEHOG) is starting the new year in a great way. He is making a new record. If you want to you can check it out and get involved at:- http://www.pledgemusic.com/projects/leeds Celebrating the 40th ANNIVERSARY of THE WHITE RIOT TOUR. Kicking off at GUILDFORD CIVIC HALL on 1st May 1977.To mark the release of their debut album, the group embarked on the White Riot Tour, giving many fans up and down the country their very first chance to see a 'punk' band. Guildford Civic Hall was the first stop and featured fresh but totally CLASH-ready new drummer TOPPER HEADON recently unveiled at a Roundhouse gig. The performance set a standard for most of the tour: a blistering tour-de-force of rabble-rousing anthems; words that struck at the heart of state-sponsored oppression.The opening night was a grand leap from the small club run that the band were used to, exemplified by STRUMMER beginning the gig with an endearing but totally superfluous "for those who don't know we're THE CLASH". Opening with London's Burning, then 1977 and I'm So Bored with the USA, kicking it up a notch with Pressure Drop. With the crowd going nuts and bellowing out requests, JOE suggests Police and Thieves "is for all you reggae fans", skanking through the number with enthusiasm, then Capital Radio with JOE referring to the selling out of the NME flexi-disc; "you're supposed to get this for nothing, although I haven't got one , JOHN PEEL has".Then Remote Control, White Riot "the song that ain't No.1" which ends the set.The encore is a belter: Janie Jones, Garageland and 1977. For the record press, this was a gig that announced THE CLASH genuinely as the Front Line. A powerful four-man unit using integrity to power their punch.It was difficult to imagine what could stop them forging ahead to be the most crucial British band of the era........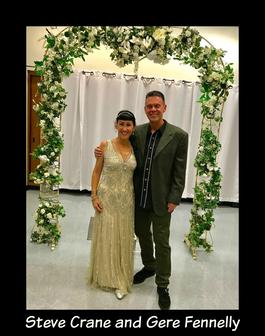 Congratulations to GERE FENELLY (WHITE TRASH DEBUTANTES, RED KROSS) and STEVE CRANE on their wedding.... They will be holding a party in August to celebrate the occasion.. Soap Legend JANE ELLIOT has decided to retire from acting.... Her last day as TRACEY QUARTERMAINE was May 4th on GENERAL HOSPITAL.... I guess that she has a place in Oregon and was living a pretty care free lifestyle letting her hair go natural and enjoying a garden that you planted from seed...... Perhaps she will bump into MIKE and YVONNE FRANKO in Oregon.....AUGUST FIELDS is an independent four piece indie pop rock band based in Christchurch, New Zealand. They released a new Ep out May 25th , with two singles already released and another on the way. THE PLASMATICS,formed by lead singer WENDIE O. WILLIAMS and manager ROD SWENSON in 1977, were at the forefront of the first wave of American punk, getting their start at the legendary CBGB with their first gig in July of 1978. Their taboo-busting stage show gained them a huge cult following through the early 80s, featuring the shock antics of Williams, who was prone to wearing little more than electrical tape over her nipples and short school-girl skirts, while chainsawing guitars in half and blowing up cop cars onstage. ROD SWENSON, the PLASMATICS manager, shot all of the band's conceptual videos and many of their live shows. Much of that show footage has never been released and was thought, for a time, to be lost. During a recent move of PLASMATICS / WENDIE O. WILLIAMS archive material, a cache of unlabeled boxes was found, containing footage of the early shows shot by SWENSON. Though much of the material had degraded over time, a restoration and salvage job saved many of these historic performances. A DVD release has been prepared and contains sixteen songs recorded at various venues between 1978 and 1981. DANGEROUS MINDS has obtained a clip from this footage, which is the earliest known PLASMATICS live video. It was recorded at CBGB on July 26, 1978. In the clip, we see a very stripped down, early version of the group. Neither guitarist RICHIE STOTTS nor WENDY has their signature mohawks yet, Wendy's actually wearing a shirt, and they haven't at this time started blowing up cars on stage. The stylized visual punk "look" of the band isn't here in this early footage, but the band is raging and Wendy is a bouncing ball of energy. Not only is this a fascinating glimpse of the band getting their start, but the song, "Want You (Baby), kicks all kinds of ass too. Now for some facts in history !!! JAIME PINA reviews it in this issue of PUNK GLOBE... RIC GORDON from RUSSIAN WHITE RECORDS contacted PUNK GLOBE letting us know that the label into a new home last month and they are excited to say we found a box of 50 original vinyl copies of my 1979 debut EP, Just Can't Get Enough, on the label shelves. So, we're re-releasing it, remastered in digital & CD format, plus making the 50 original vinyl copies available as well.You can stream the album on Bandcamp.. MATTHEW COLEMAN had a killer Birthday and wants everyone on FACEBOOK that he appreciates all the well wishes..... Author JACK DEADMEN was happy to catch up with CHRISTOPHER DENNY "THE HOLLYWOOD SUPERMAN" after reading his interview in PUNK GLOBE... is On May 5th saw the worldwide CD and digital release of four stunning live albums recorded by legendary JOY DIVISION/ NEW ORDER bass player PETER HOOK AND THE LIGHT, via Westworld Recordings. All four albums are to be released as strictly limited edition color deluxe vinyl versions for Record Store Day 2017, April 22nd as well on the Let Them Eat Vinyl label. Each title features PETER HOOK AND THE LIGHT performing a classic JOY DIVISION or NEW ORDER album in its entirety and in sequence, supplemented by songs that were not on those albums: singles, demos and other rarities..... SWANS have announced a remastered reissue of their ninth studio album, The Great Annihilator, that came out on April 28 on Young God Records / Mute (outside N America) plus further dates for their spring tour of Europe and the U.K. THE FLOYDIAN DEVICE and MS. LIGAYA had a fun weekend in Seattle recently...BITTER GROUNDS have a brand new video.... Check it out
Here is MICHAEL MUSTO'S brilliant analysis of STEPHEN COLBERT being investigated by the FCC.. STEPHEN COLBERT wasn't making fun of gays, he was making fun of trump and putin. And his joke deftly shamed two huge homophobes. As for the trump supporters who say his remark was vulgar...And you voted for "grab them by the pussy" trump????? This is going to be hard for you people to understand, but trump is a vulgar, corrupt buffoon and COLBERT was satirizing that. Got it? The fact that this joke is being investigated by the FCC, while trump's ties to Russia aren't treated with the requisite urgency is one of the most hilarious (yet sad) developments in our nation today. trump can strive to ban Muslims, deny health care, praise dictators, and undo LGBT rights and Putin can lock up and kill gays and terrorize women, but if a comic makes a joke that they're having sex, that needs to be investigated!!!! Finally, former acting attorney general SALLY YATES got the chance to tell the story tangerine terrorist desperately wanted to keep secret. She testified that she warned the White House that Michael Flynn had lied about his contacts with by Russia. What did Trump do? Nothing. The RepubliKKKans fought tooth and nail to keep her from testifying at all. They want the unprecedented hacking of our election and the compromise of our government by Russia to remain a secret..... JAMES COMEY is willing to speak to Congress following his sudden unexpected dismissal as head of the FBI by Cheeto Man , but he wants the testimony to be public, according to a new report. COMEY declined an invitation to speak to the Senate Intelligence Committee in a closed door session. However, The New York Times reports that COMEY is willing to speak if it's a public hearing. For all to watch.... After Cheeto threatened to expose tapes of their dinner meeting.... More Comey news Fired FBI Director JAMES COMEY wrote an internal memo saying President donald frump asked him to shut down an investigation into former National Security Adviser Michael Flynn, multiple sources with firsthand knowledge of the memo told NBC News on Tuesday. The memo was part of a paper trail COMEY built documenting what he believed to be frump's campaign to derail the FBI's investigation of alleged Russian ties to his presidential campaign, according to a source close to COMEY and a former federal law enforcement official. The source close to COMEY said the memo included a line in which COMEY quoted frump as having said, "I hope you can see your way clear to letting this go, to letting Flynn go." Investigative reporter JANET STREET-PORTER fronted a half-hour feature on the Sex Pistols and co. called "Punk' for local TV program The London Weekend Show . First broadcast on November 28th, 1976, "Punk" contained some of the very first if not the first television interviews with JOHNNY ROTTEN, STEVE JONES, GLEN MATLOCK, PAUL COOK, SIOUXSIE, STEVEN SEVERIN, JOE STRUMMER, MICK JONES, PAUL SIMONON ......The original ALICE COOPER band reunited on stage in Nashville with DENNIS DUNAWAY, MICHAEL BRUCE and NEAL SMITH doing I'M 18 and MILLION DOLLAR BABIES... Don't think BEBE BUELL attended the show.... But here is a video of the ALICE COOPER show.
However, BEBE BUELL and JIMMY WALLS did go see RED KROSS when they recently played Nashville at Third Man Records where they ran into THERESA KEREAKES who wanted to show support to her old pals... MOLLY BODE and her family had a great great time in Cuba and yes she did ask about a statue of WILLIAM LEVY and where it was located.....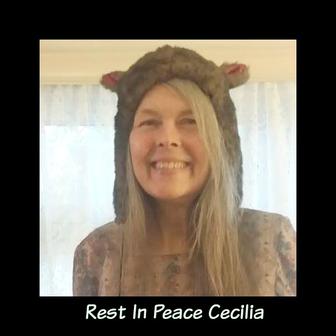 May had much sadness with the passing of FIGHTWIG Drummer CECILIA KUHN... Actor POWERS BOOTHE who won an Emmy for his portrayal of JIM JONES passed away at 68.... PRODUCER and CEO at Paramount Studio's BRAD GREY left earth at the age of 59 years old from Cancer... KEITH MITCHELL who was the drummer for MAZZY STAR also left us....Another drummer JOHN COPELY also passed from Leukemia...Wrestler WAYNE VAN DYKE suffered a fatal heart attack...TV Producer DOUGLAS NETTER left us at 95 years young...MICHAEL PARKS best known for Along Came Bronson, Kill Bill and Twin Peaks said goodbye...BOB OWENS an American writer died of a self inflicted gun shot...Football player ROD MONROE left us at 40....Former PINK FLOYD drummer CLIVE BROOKS passed at 67....MARIO MAGLIERI who owned The Whiskey A Go Go, Rainbow Bar and Grill and Roxy died at age 93 years old.... Rugby player LUKE HOLE left us at age 29.... Bassist KEVIN GARCIA suffered a fatal stroke on stage with his band GRANDADDY and Sex Offender Tony Alamo who OPRAH WINFREY exposed has passed away... CHRIS CORNELL, the very handsome and talented lead vocalist of the Seattle based band Soundgarden (52) died in Detroit, of an an apparent suicide........ Scandal-plagued ROGER AILES died from a fall... Award winning and internationally acclaimed photographer STANLEY GREEN passed away in Paris from his battle with cancer.... In his early day in San Francisco, STANLEY was a fixture at The Mabuhay Gardens and many other punk venues... He contributed many photo's to PUNK GLOBE... He took the iconic photo of GINGER COYOTE wearing her infamous Fuck Off tee-shirt that has appeared in numerous photo exhibits and publications ... STANLEY a was a stellar human being and an excellent photographer who will be missed by many............ Former BITE drummer JEFF ECKER passed away in New York... He was a way cool guy who played with many east coast bands... PUNK GLOBE extends sympathy to the friends, fans and families of the fore mentioned...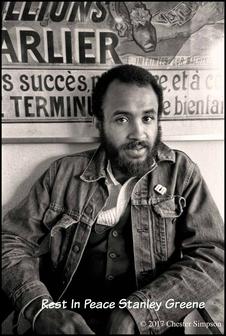 Everyone who is reading HOT GOSSIP in PUNK GLOBE MAGAZINE should be sure to check out our sponsors links that have banners on the index page:
THE LAST GENTLEMEN SMUGGLER https://www.facebook.com/groups/1100845919933061/
DC - JAM RECORDS - http://www.dcjamrecords.com/home.cfm
MUSIC LIFE RADIO - http://www.musicliferadio.com/
DAZED THE FILM https://www.facebook.com/Dazed-The-Film-898991600172454/?fref=ts
WHAT EVER 68 RADIO http://whatever68radio.com/
Dazed and Still Dazed The Books http://www.amazon.com/Still-Dazed-Through-Grunge-Rockers-ebook/dp/ B00YHOVS4W/ref=sr_1_1?ie=UTF8&qid=1445645361&sr=8-1&keywords=Still+Dazed +Nikki+Palomino
MY SON THE BUM - http://www.mysonthebum.com/fr_home.cfm
TICKET TO WRITE http://www.tickettowritethemovie.com/
H.E.A.R. - http://www.hearnet.com/
PUNK GLOBE'S June cover was designed by THE FLOYDIAN DEVICE and all the coding and layout was done by MATTHEW COLEMAN.... This month is filled with action. SHAWN STEVENSON gets the latest updates from former OPERATION IVY vocalist JESSE MICHAELS...... GINGER COYOTE speaks with KAY STANTON the bass player for THE PYLON REENACTMENT SOCIETY and CASPER & THE COOKIES..... She also gets the all the details about the early London punk scene from Author JOHN INGHAM. While reviewing the Max's Kansas City Cd, KEVIN K'S Cd, Phoenix Arizona's best punk band THE FATHER FIGURES, New York City's own THE SWEET THINGS and the killer book THE SPIRIT OF 76 by JOHN INGHAM... JAIME PINA does some killer reviews of THE ASSASSIN, BRAIN DAMAGE, The PLASMATICS Live and HOUSE: TWO STORIES....CRIS DELAFE'S spotlight on Latin Bands is with LUIS SALINAS drummer of qbo...... LISA PUNKRPRINCESS is back with LET'S TALK PUNK interviewing 390...... JIMI LALUMIA is back with reviews of THE ZIGGY STARDUST DIARIES and CHERRY VANILLA and BLONDIE'S new release POLLINATOR... JOOLS GREEN reviews THE GOOD, THE BAD THE ZUGLY.... DAZED an STILL DAZED are a must reads for all... ASTROSLUT is back.... SADIE DUARTE interviews choreographer/actor ALEXIS PARDO from Spain.... JAMES CARLSON reviews SATANARCHIST, THE DIRTY NIL, EMPEROR X and TIRED MINDS... C.R. raves about CHROME....A.L. gives us the 411 on THE ROAMERS... Check out the Winner for Best Experimental Film from THE LOS ANGELES FILM AWARDS .. DAZED THE FILM..... We have two PUNK OF THE MONTH Awards with STEPHEN COLBERT and ANGELIQUE CASSIDY BORST.... REST IN PEACE CECILIA FRIGHTWIG..... Read the latest updates on THE LAST GENTLEMAN SMUGGLER.... KEVIN SMITH gets the lowdown from London's own THE SECOND SON'S....Please do remember that you are reading all this in HOT GOSSIP.....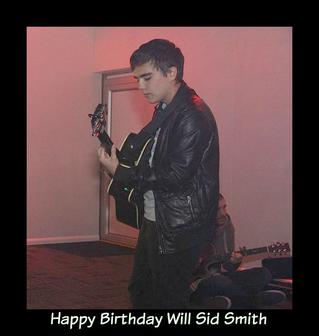 HAPPY BIRTHDAY'S late and early to: MELINDA TYLER, JAMIE OLIVER, WILL SID SMITH, KATHY PECK, DEBBIE HARRY, BEBE BUELL, LIV TYLER, JONATHAN GRIES, LOUIS PEREZ III, ERIC BORST, MOLLY BODE, STORM LARGE, YVONNE FRANKO, DAVE WENGER, KIM WELSH, RICK "STICKS" DESANTIS, MISS GUY, MONTGOMERY CALDERWOOD, OEDIPUS, TIM CARROLL, IRIS COLEMAN, JORDAN TUTTLE, SPIKE / ERNESTO, TONY KROLL, LEO GUITTERREZ, JEREMY CRAWFORD, BARBARA ANN BAKER, DUANE PETERS, CYNDI LAUPER, LYN TODD RUDE (R.I.P.,) RUBY COLEMAN (R.I.P.), ANGIE GRIFFIN, RON WOOD, FAYETTE HAUSER, COLIN QUNN, IAN BUCHANAN, DEENA DAVENPORT, QUEENIE TAYLOR, LIZ DERRINGER, JELLO BIAFRA, PETE MILLS, LORRAINE BELCHER CHAMBERLAIN, PAUL ZAHL, ROB ZABRECKY, LANNING GOLD, CORY MOORE, VIDA DEVILLE, DWIGHT TWILLEY, ANDREA EVANS, JOOLEY HEAPS, DEE DEE WILKINSON, LORA PAGANI, DAVE GURSOM, GLENN MEADMORE, LISA DERRICK, LEE VILENSKI, JEANIE LAMBORGHINI, PETER MOODY, JAMES BRANDON, MAD MARK RUDE (R.I.P.), THOM BONE, TIM TOONOOKA, CHUCK PROPHET, GARLAND JEFFERIES, DE- BORAH, MURRAY LANGSTON, THE MIDNIGHT BOMBERS, TAMBRE BRYANT, PETER BELSITO, AYUMI NAKANISHI, NOEL ASHMAN, SCOTT CAMPBELL, LEIGH MCCLOSKEY, JULIETTE LEWIS, SHARRI SAFFIOTI, LANE HARTWELL, MYSTIE CHAMBERLAIN, BOBBY LONDON, LINDA VESTAL (R.I.P.), EDEN GALINDO, BRUCE KALBERG (R.I.P.) FUDGIE FROTTAGE, BRENTLEY GORE, CANDY CLARK, JESSICA SIMPSON, TERRI NUNN, NATE SCOTT, ED COLVER, MOJO EL DIABLO, LISA LUSH, ZEB KUNST, TRESCA BETLING, MICHAEL LIBERTY RAINBOW, CHRISTOPHER TRACY, SMITTY SMITH, CINDY LEONARD STUMPO, DEAN CAVANAGH, BARRY MELTON, RYAN ALBERTS, CINDY BENNETT, JENNY SHIMIZU, TIM MURPHY,AMY MCCUBIN, K.C. LEE, ARTURO VIGANO, BILL TELFER, JORDAN LANE, CINDY LEE BERRYHILL, JOHN ENOS, DAVE PAIVA, EARL SMITH, DEE DEE KEEL, GLENN DANZIG, SCOTT TRENT, NEEL BOYETT, BOB STEARS, PETER ALEXANDERIN, MARK FOX, FREDDY OLIVIA, ANDREA KINMAN, JOHNNY TRASH, RAVEN OH, PAT BRIGGS, GORDON HOLMES, SANTA IRA, KEVIN REED, BILL DAVIS, RUBY RUIN, ANJE KOEPKE, HUGH BROWN, TRACEY WATERS, MARTIN SHEEHAN, CRAIG GRUBER, MARCO CANDIAN, JENNIE KELLER, ART FEIN, ALEX CARLIN, BRENT BRUGEOIS, MIKE DIAMOND, PAT DAVID, KEVIN COLLINS, JEFF SHORE, BEN HENRY, MATT SCHOCH, CONSTANTINO EPOSITO, PAUL REITZ, KEVIN AVERY, BRAD EVANS, GEORGE SEMINARA, IAN TOMELE, PELE ALEXANDRIA, CONFETTI RHODES, MARTIN MAYNICK, ELIZABETH RUSSELL, EMILY MACALISO, GARY BENSON, BILL GREEN, ROBERT ROBERGE, ANTON ALARCON, PETER WEDEL, DIANE KELLY, CHERIE SMITH, MOONAH LI, JAMES WARE, AYN FIEND, V.K. SEVEN, BAMBI NONYMOUS, TOMMY GUNZZ, PUNK ROCK PICNIC, JASON PETERS, JACEK OSTOYA, BOB CONRAD, FERNANDO DJ PHERRO, MARK SCHWARTZ, MARC ZERMATI,MELINDA ADAMS, NIKKI LEE, MARTHA PACKARD, MEL CASTRO, JUSTIN BRACKEN, EMILY VALENTINE, GINA HALL, WAYNE DAVID, JAD FAIR, KRIS HADLOCK, MIGUEL MARTIN, MARK RIVERS, CRAIG LAMBERT, MIGUEL GOMEZ, RICHARD BACHUS, CHIS WILCOX, JENNIFER JONES, EDDIE FINGERHUT, LENORA CLAIRE, SIMON PHILLIPS, ANDREW EASTMAN, BOBBY GROSSMAN,KRISTOFER KINSELLA,MARLENE CANTER, JEREMY LOWE, CHUCK NEGRON, KEITH OBERST, THEO XG, BILL BONFAY, TONY CONRAD, JOHN DORN, ERIC SANDOVAL, KELLY SANDERS, SANDRA BERNHARD, FLEUR WINTER, BARRY HERMAN, KEITH BARROWS, MATT ETHERIDGE, EJ PROWL, SCOTT SEVERIN, RYAN FOWLER, BUD THOMAS, RICH SIHILLING, BEVERLY YUEN THOMPSON, WILL NORTHERNER, MARK HUISMAN, ELIZABETH RUSSELL, SCOTT COVERT and anyone else who we may have forgotten on this list... We will end this column with these sage words of advice... YOU HAD BETTER BE CAREFUL ABOUT JUST WHOSE TOE'S YOU STEP ON TODAY. AS THEY JUST MAY BE ATTACHED TO THE ASS YOU WILL BE KISSING TOMORROW !!!!