Hospital Food are a three-piece Punk Rock 'n' Roll band from the wilds of West Yorkshire, England. Formed back in 2009 they've been touring the punk circuit regularly ever since playing in, not only the UK but, Italy and Germany too. They have supported many bands including Slaughter and the Dogs and the Anti-Nowhere League. They played the Introducing Stage at Rebellion Punk festival in 2016 progressing to the Arena Stage this year (2017). Hospital Food launch their third album Oblivion on 11th November with an album launch show at Beerhouses - The Old Turk, Dewsbury, West Yorkshire.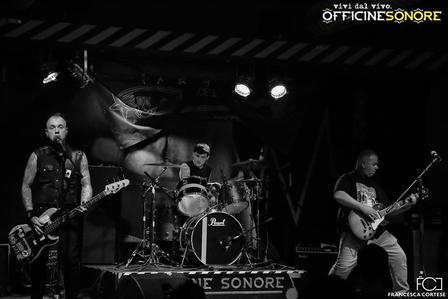 Hospital Food, as I recall from a ten day stint a few years ago is not always appealing, although there is a varied menu and it's up to you to make the right choices. There's certainly a lot of choice on this track menu with fourteen songs to whet your appetite. Opening with 'D.I.Y Punk Band' a song which is, no doubt, autobiographical for many bands today. A fast song with a pummelling beat, catchy refrain and intricate riffs. The lead vocals on this album are shared between Nathan and Ben, with Ben doing the lion's share and yes on this one it's Ben, after you've listened a few times you should be able to tell the difference between the two.
'Bully Boy' reminiscent of label mates The Kingcrows' 'One Of The Boys', 'Benefit Street' with a nod towards the Anti-Nowhere League, say 'The Last Cowboys'. 'We Want Anarchy' superfast with a real feel good vibe. 'Weekenders' has a heavy bass start. 'Punk Rock Heart' a Motorhead fast song with those autobiographical lyrics again 'I've got Punk Rock in my heart. I've got Punk Rock in my Soul.' 'You're Dead' had me thinking of American heavy metal band October 31. 'Thick Rick' brings us back to the UK for something akin to The Clash meets Tenpole Tudor, (Swords Of) A Thousand Men Fought The Law? 'Intimidating Man' take us across the pond (and back again) think of a faster 'Hell In New York' by Manchester's Slaughter and the Dogs.
'Goodbye Harry Patch' with Nathan on lead vocals reminded me of The Jam's 'Eton Rifles' in places. 'Small Man In A Big World' with a Stranglers flavour. 'I've Got a Gun' a Motorhead fast one think GBH meets The Exploited. For 'World Of The Walking Dead' I thought of October 31 again, a good Halloween song! Then we finish with 'Oblivion' the title track which reminded me of the similarly titled 'Oblivious' by Cumbrian metal band Die No More.
I enjoyed this latest offering from the West Yorskhire based three piece with it's varied and interesting menu. Punk with a bit of metal and mod thrown in to add flavour! It should leave you hungry for a little more Hospital Food but leave room for dessert as I hope there's a follow up! Oblivion should appeal to fans of Anti-Nowhere League, October 31, Motorhead and The Kingcrows.
Track List: -
D.I.Y. Punk Band
Bully Boy
Benefit Street
We Want Anarchy
The Weekenders
Punk Rock Heart
You're Dead
Thick Rick
Intimidating Man
Goodbye Harry Patch
Small Man in a Big World
I've Got a Gun
World of the Walking Dead
Oblivion
Band Members: -
Ben Savage - Bass and Vocals
Nathan Seaton - Guitar and Vocals
Dom Smith - Drums
Links:
Website: https://myspace.com/hospitalfooduk
Facebook: https://www.facebook.com/hospital.food.uk/
Album Launch Event on Facebook
https://www.facebook.com/events/345628235875344/