"http://www.w3.org/TR/xhtml1/DTD/xhtml1-transitional.dtd">
Review of
"Screams from the Cellar"
By : Pamela Torres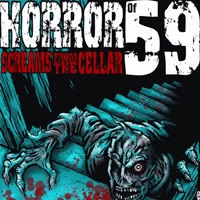 "The morgue ends the street. Nights are filled with hacksaw screams. On brains and blood they feed. All they want is your corpse to bleed!"
Last April Fool's Day I had a golden opportunity to hear the rancid and raucous sounds of Horror of 59, a little-known 4-piece punk act from Cleveland, Ohio. The members were vocalist Bob "Noxious" Ignizio, grim guitarist Tommy Horror, body bag drummer Brent Bastard, and babe bassist Sugar Wildman. Clearly influenced by the pioneering sounds of The Misfits and The Damned, 59's rock formula was simple: just play some raw and fast chugging riffs and sing a whole bunch of songs about old school monster movies. That's it!
Originally let out of its cage in 2006 by Sonic Swirl Records, the band's debut album, "Screams from the Cellar," is a cadaverous collection of 2-minute garage rock anthems that serve a pall bearer buffet of blood rare brains and organs to ghouls and walking corpses of all ages. Tracks like "Black Hearse Cadillac," "Lugosi's Grave," and "Human Remains from Outer Space" present some slick and heavy tombstone metal from six feet under. "Dead End Adventure" and "Demented" are a pair of axe-swinging, knife-wielding love bites that men can listen to while stalking their significant others. "Helltown" briefly tells the tale about a cursed village. "Moonville Spooks" focuses on a haunted ghost tunnel while the lightning bolt that's titled "Frankenstein Returns" pays homage to the classic 1931 Universal film (IT'S ALIVE!!). As for the rest of the CD, it's a nonstop feeding frenzy of 3-chord mosh pit exercises with festering blue zombies on an endless gut-munching rampage! Why not pass the salt and pepper and chew on your neighbor's legs to the loud choruses of "Graveyard Beyond the Woods," "Casket Road," and "Creatures from the Morgue?"
Although Horror of 59 sadly disbanded just a couple of years ago, its unadulterated and uncompromising brand of punkabilly is still something worth screaming about. Not to mention it's a hell of alot of fun! Anyway, kiddies, be sure to hunt this album down as well as the group's sophomore effort, "The Golden Age of Sin!"