"http://www.w3.org/TR/xhtml1/DTD/xhtml1-transitional.dtd">
Kicking It With the Twits
Review By :Rebecca G. Wilson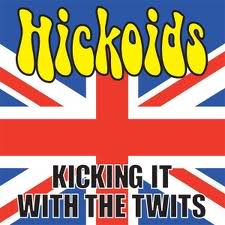 Lester Bangs, said something like the musicians are not your friends so I was determined to dislike this album but not only do I like it, some of the tunes are farking great. If I were to tweet a 140 word review of Kicking It With the Twits I would call it a heavy yet quirky album of glammy British invasion covers with an extra twist of psychedelic twang. Davy Jones' whining guitar is absolutely distinctive, whacked out, country hardcore but sometimes Jeff Smith sings too well for his own good. I miss the screechy rawness of old Hickoids classics like Punk Rock Voodoo man. At his best, which is fantastic, he sounds like a mix between Mick Jagger and Richard Hell, at his worst, the wedding singer. But hey, he does a mean Ian Hunter.
On radio, I've heard Have You Seen Your Mother Baby, Standing in the Shadow the rolling hammond organ works on it. The steely big Freebird-ish guitar on Bennie and the Jets is beautiful. I kinda wish the opening track was my fave, a cover of Neat Neat Neat by the Damned. My other fave tune is Brontosaurus which showcases luscious distortions pervading the guitar and vocals. Gudby T'Jane has a rockin' feel like Slade, T. Rex or Wizzard. Needles in the Camel's eye, sounds too much like Eno sped up, but then again, it is a cover of a Brian Eno song. Jeff Smith has a voice that is at its best when it's reaching. I'd love to see the Hickoids produced by Kim Fowley and see how far and where he would push them.
But overall this album is excellently innovative and tasty and I will be listening to it on replay for quite some time. The boys offer up more insane versions of the originals with the musicianship and innovation to back it up. I don't know who writes the liner notes or press releases for Saustex products but I sure wish he'd sign his name and write a novel one day.