I have known of this awesome food truck since they started however I hadn't had a chance to enjoy the food I had heard so much about until the Whatever68 Fest and I loved it as I had heard through the Punk Rock scene they are amazing at what they do bringing us yummy food and an affordable price and they are FUN too. If you see them around your area be sure to try them and pass the word around and if you are having a festival or event get in touch have them serve food for your event I guarantee it will be a big hit and they are already booked for the 2018 Whatever68 Fest!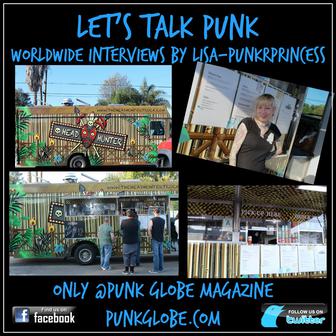 Punk Globe: Hi Thanks for taking the time to chat with us,I heard you started as a Hot Dog stand at a local CA venue can you tell us about this?
Head Hunter: Thank you for taking a interest and giving me the opportunity to tell "The Head Hunter Truck" concept and story of history to our common readers. That are involved in the local as well as a global punk music scene and venue network. The way my food truck began was shortly after I moved to California. "Nekro Franc" from the Nekromantix gave me the idea and start The Head Hunter Truck . It was Gearbox that had a hot dog cart called "Gear-dogs" Serving Long beach bars. My truck gets to serve at one of those same bars called Alex's. Thats just so happens to be where we now serve touring and local bands
Punk Globe: What first inspired you to bring food to local shows (I love this)
Head Hunter: I am from the east coast where my local punk music influence began at a young age. It became my life and still is. Becoming friends with GG and Merrill Alin, Larvae, "Lenny Mental", Five Balls Of Power, Al Barr (Dropkick Murphys) and Todd Radict ect. Helped me get involved. I was booking shows at various venue's in N.Y. like CBGB's. I currently help support bands with their merchandise. Distributed by (Rebel Sound). On a regular calendar schedule the Head Hunter Truck has been serving food to a staggering number of local and touring bands.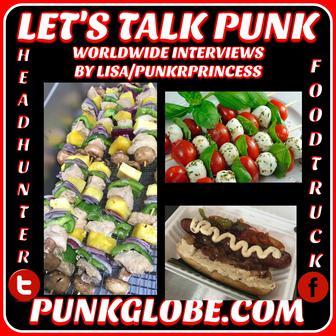 Punk Globe: How far will you travel make great munchies for us?
Head Hunter: The farthest I would have to say maybe San Diego Ca. Which was very awesome btw at the "Whatever68 celebration festival". Let me know about your upcoming big events so we can bring the good's.
Punk Globe: Tell us some of the shows you have catered.
Head Hunter: The Head Hunter truck just had it's first year anniversary in May/2017. Catering at shows now is mostly at Alex's bar since Aug/2016.
One of my favorite times serving food to bands was for Agnostic Front. Getting to step off the truck and cut a mohawk for "Vinnie Stigma" was a total blast!
Here is a quick short list of other bands we got to serve and give thanks too:
Cro Mags, The Brains, Legendary Shack Shakers, Alice Donut,Sham 69, Johny Two Bags, Throw Rag, The Freeze,The Creepshow,BDSM,Three bad Jacks,The Generators,Agnostic Front and much more...
Punk Globe: Do you have a memorable food moment?
Head Hunter: One I enjoy teasing Gearbox about. Is the time he was standing less than 2 ft. away and I couldn't get his attention so I could hand him a can of potato's. The word potato now holds a new meaning.
Punk Globe: How do you pick your staff? I hear you have some amazing local musicians.
Head Hunter: (Friends) My prior and current employed are all preforming artist. Mikie from "BAD ASS" who I would like to give thanks to for all his efforts. Mike Monster as well That created "The Spooky" who was also the bass player in "Battalion Of Saints" with Gearbox. The original drummer for "Total Chaos" and who is now my spacial someone and partner/chef.
Punk Globe: How do you do your marketing?
Head Hunter: Finding a good location to serve at is key. Organized food truck events & rally's that are promoted have been successful for us. Facebook of course, checking in on my personal page "Kenny Kendra" and also "The Head Hunter Truck" Facebook page. Twitter is a work in progress.
Punk Globe: If you could pick any event to cater what would it be?
Head Hunter: It would be a big music festival with all my favorite bands playing and all my favorite friends would be there too.
Punk Globe: Whats your most popular item?
Head Hunter: Menu items that are gaining the trucks popularity quickly are the exotic meat sausage entrees. The most popular item by demand is probably the our "sliders" and the deluxe fries. "Lava fries" and "Hurricane fries". Everyone loves french fries. So we stepped it up a notch by adding toppings and a signature garlic based aioli. The "Lava Sauce" is a spicy Mango Habanero and the "Hurricane Sauce" is a oregano and lime.
Punk Globe: Who does the menu?
Head Hunter:I did for the most part. The truck theme concept is basically a "Tiki"style menu. Contributions from each crew member have been additions along the way.
Punk Globe: You have some interesting items who discovers these treats?
Head Hunter: I didn't want to be just another average or basic kind of food truck. We have a selection of real exotic meats. Using my own resources I purchase them all from a licensed supplier. We have created all the signature sauces to taste accommodating to each item including each toppings added . Kangaroo, Camel, Alligator, Rattle Snake, and Bison are the exotic items that make us easily remembered for having on our menu
I have set our food standards at being a gourmet truck. Its hard to say which item is good when asked. My answer is usually"It's all good"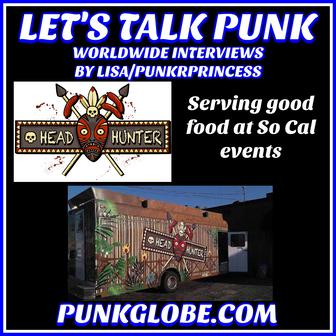 Punk Globe: Any shout outs?
Head Hunter: Nekro Franc & The Nekromantix - Violet Venegas - Alex Hernandez and all the staff at Alex's bar in the LBC - Mike Monster - Grim - Ken & L.A. Weekly - Mikie and Helen Farber + Bad Ass - Kelly Rye - Troll - Jeremy @ Dark Art Emporium - Todd Radict @ Rebel Sound music - And a special thanks to Lisa Monday Gomez and to all the bands and venue's we have had the opportunity to cater too.
Punk Globe: How can the readers find you?
Head Hunter: Theheadhuntertruck@yahoo.com we are on Face book and Google
Punk Globe: Thanks for the interview,for coming down to the Whatever68 Fest for always being supportive of me and the whole music scene you ROCK!
Head Hunter: Thank you and Cheers