By Danielle Bardazzi YorK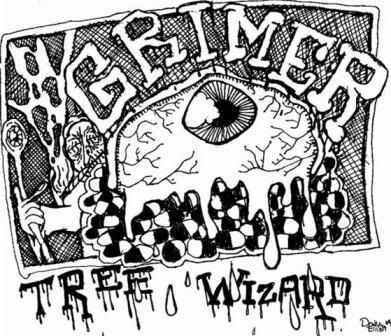 Grimer was started by three Berkeley high school students during the late spring and summer of 2009. The band members are Drake Elliot (bass and lead vocals), Gabe Simmons (drums) and Nick Logan (guitar). With songs that range from various different musical styles, Grimer considers itself "an all encompassing musical project." When asked how and why they formed, they answer that they were tired of playing with themselves and wanted to play with others. It is rumored that they have been working with Vile Kross Records to produce their first CD which will include such titles as Solace in Slaughter, Psychoated, Tree Wizard and Why are you here?

They all skateboarded over to my house one day after band practice and I was able to get this interview:
Punk Globe: You all basically just started performing publicly. Where was your first gig?
Grimer: We opened for a bunch of bands at 924 Gilman in Berkeley. It was a benefit to fight Prop 8.
Grimer: Who ever will book us.
Punk Globe: Who do you consider to be your strongest musical influences?
Grimer: Primus, Black Sabbath, Sleep, Black Flag, the Stooges, Flipper, Attack.
Punk Globe: Are there any live shows you've been to that have left an impression on you?
Grimer: Yes. Lamb of God and Suicidal Tendencies at the San Jose Event Center . Iggy Pop and the Stooges. Seeing the White Trash Debutantes and the Avengers at the Dirk Dirksen Memorial and meeting Ginger Coyote.
Punk Globe: Who primarily writes your songs?
Punk Globe: Can you give our readers any web addresses so they can check out your music?
Punk Globe: Guys, thanks for the interview. Do you have any special words for our readers?
Grimer: Sons and daughters, lock up your moms. We're coming for them all.