As for factual stuff; Goldblade were formed in 1996 when ex-Membranes frontman, journalist, and some time TV pundit John Robb met up with a like minded musician in a local gym. They were joined by ex-Membrane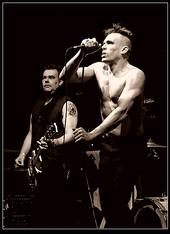 Keith Curtis on Bass, and ex-Hounddog drummer Rob Haynes. The initial line up set about shaking up the then stagnent live music scene. Signed by Ultimate Records, they released a couple of low key singles before 'Strictly Hardcore' hit the UK national charts in March 1997. 'Hardcore' was taken from the album 'Hometurf', and the Blade set about a relentless, and still continuing tour schedule. A follow up single 'Hairstyle' was released which was made Single of The Week on BBC Radio 1, the band were invited, and appeared on Saturday morning TV; A second album 'Drop The Bomb' was also released before the bands label collapsed scuppering any chance of capitalising on their initial success. A couple of line up changes took place, with Pete GEORGEUS and Johny Skullknuckles being brought in on dual lead guitar.
The band signed to a small Scottish indie, who released a ltd edition single 'AC/DC' as a taster for the follow up album 'Do You Believe In The Power Of Rock 'N' Roll', but once more fate took an unhealthy interset in the Blades activities, as this second label went bankrupt, thereby making 'Do You Believe..' virtually unobtainable.
However none of this dented the Blades passion for the live spectacle, as they toured the UK, America and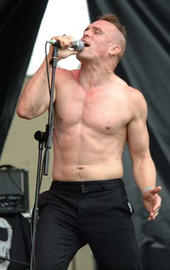 Russia, being invited to appear at festivals and the like the world over. At one of these festivals; Wasted, the Blade were seen by the label bosses of Captain Oi! Records. In a break with there usual style of putting out re-issues, they signed Goldblade on the spot. 'Rebel Songs' was released in 2005 to enourmas critical acclaim, and basically has not stopped selling since, becoming the bands biggest release. In addition Goldblade have been signed to SOS Records in the USA, with distribution by Sony, which is helping them gain exposure in the States. 'Rebel Songs' has just been picked up by German label KB-Records, and we are currently negotiating with a number of labels for a Japanese release.
2006 saw Goldblade release their first live DVD 'Testify' (Cherry Red Records) filmed in Blackpool during Christmas 2005, it ideally demonstrated the experience that is Goldblade live, the eneregy, the chaos, the entire audience on stage!!
Goldblade then toured with Stiff Little Fingers, The Misfits and The Damned, in addition to performing all over the UK for their own headline sets.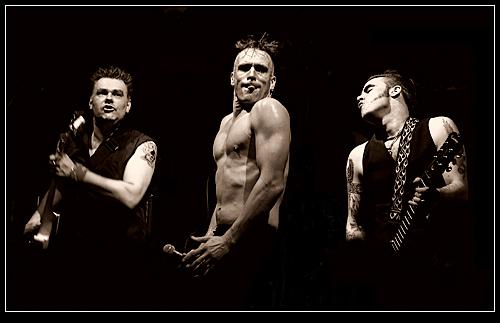 Due to the unavailability of the three early albums Captain Oi! took the decision to issue a compilation CD 'Strictly Hardcore' and bundled on a couple of tracks from 'Rebel Songs' - This release has been very well recieved, though its caused the Blade to be in the enviable position of being forced to make all their albums available as digital downloads in an effort to meet demand!
As the year comes to a close they are writing new material, a few of the songs already making it to the live set, in preperation for a new album in 2007. The album will be supported with a single release and a full UK headline tour, plus a tour of America. Dates are already booked in Holland,Germany, Austria and Switzerland, so things are certainly not slowing down for Goldblade, quite the opposite as they are tipped to break through to a much larger audience in the coming 12 months..
-------------------------------------------------------------------------------------------------------------------------------------