One thing I remember from going to shows as a kid was if the band had good energy, The Circle Jerks had it to spare, especially that of their high jumping guitarist Greg Hetson. I was so impressed I let him sleep in my closet one time so he could get away from the noise of a party and get some rest. The project also involves Greg's friend Rodcore (Year of the Dragon) vocals, Lucky Lehrer (another Circle Jerk alumni) on drums and Earl Liberty (Circle Jerks alumni club) on bass. The general idea being to get some friends/musicians together to put together some old school hard core tracks. Having not been released yet I have not a clue what this supergroup is going to sound like, the recording will be released sometime this month from DC Jam Records, so keep a close watch on their website at dcjamrecords.com, or their facebook page DC-Jam Records. I am sure it will be worth the wait for big fans of Circle Jerks, Bad Religion, Saccharine Trust and One Square Mile. I live in awe and jealousy of Punk Rock Karaoke, I want to sing something (in key) at some point with them and it's a brilliant idea as well. Greg was kind enough to take some time out of his schedule to answer a few questions to this new project. So, I will stop rambling about my karaoke dreams and get to the interview.
Why are you starting a new band when you still play live and record with other bands? This is not so much a band; it's more of a fun project. My buddy Rodcore initiated it and it just all kind of worked out and me and the guys had fun doing it. Talking old times in the studio and hanging out! A couple of us are heavily involved in our regular gigs, like myself with Punk Rock Karaoke and Earl with his new band One Square Mile.
PUNK GLOBE: The name #GOALS, does its stand for something like an anagram, or is it more about just having them?
GH: More about having them. We all need to stay motivated in life!
PUNK GLOBE: Is touring still something you enjoy doing? When you put something out do you need to go out and play to sell it or is it more of something you do for the fans?
GH: Yes, it is the most fulfilling thing to do for me.
PUNK GLOBE: I have heard the question " what advice do you have for new bands?" Answered "Don't," meaning it's just not worth the hassle. Do you think it's still worth it?
GH: Yes, it is worth it. Stay humble and pimp the hell out of all shows!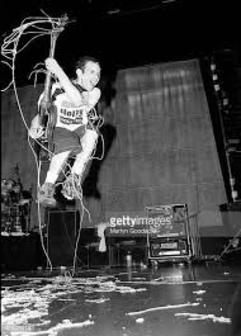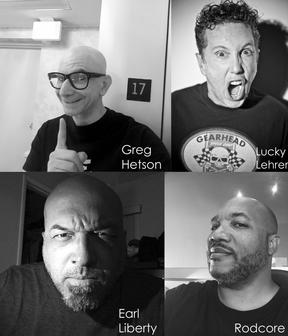 PUNK GLOBE: I read about but haven't heard anything from #GOALS yet. What do you think about the music you are making?
GH: Old tyme punk!
PUNK GLOBE: Is there going to be something about the country's current state of affairs in these songs?
GH: Rodcore is the lyricist, but I know his focus was more on talking about the state of where many are in their personal lives and trying to find joy in the world. He chose not to get heavy on the politics because music is the one thing that brings everybody from all walks of life together and collectively that was one of our...goals!
There is talk of a tour in 2018. Just here in North America or overseas as well?
GH: Right now, we've got quite a few gigs already booked for our individual projects that we've got to take care of before we can even think of hitting the road. As things go along, we'll see how it looks for the future!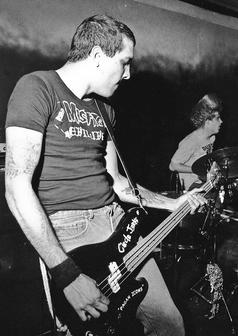 PUNK GLOBE: How does the whole idea about forming a new band/project and who you wanted to play with begin?
GH: Well, again, it's not really band so much as a project, sort of a one-time thing. I had some downtime and wanted to do something in studio so I could get my studio's name out there a little more, which I'll do now by shouting out HETSON SOUND STUDIO for all of your recording needs! Anyway, Rodcore was with another band called Year of the Dragon, which had some guys from Fishbone in it, and had left that band a few years ago and was kind of looking for something musically to do. He asked me about working with him and recording at my studio, the idea came up about reaching out to Earl and Lucky and surprisingly both said yes. We had no big expectations of anything happening from it. The idea really was to have some fun and keep it loose, but if people love it and enjoy what we did, all the better!
PUNK GLOBE: If for some reason you couldn't play anymore, what would you do?
GH: Produce bands.
Punk Globe wishes to thank Greg and everyone involved with #GOALS for their input. Remember to keep your eye on the DC Jam website at dcjamrecords.com for what could be a lovely holiday present for that special someone in your life!
We wish a Happy Holiday season to all of the members of the band as well as the staff of DC Jam Records!