Live Show Review
By Michael Rys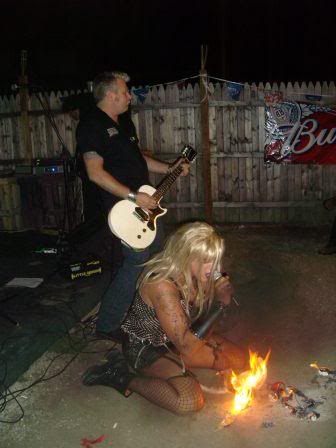 A cool crisp September night in Toledo,the kind of night you start thinking about Halloween.Glitter Trash ( Detroit Mi) Caustic Attitude ( Detroit Mi ) and Yeti Machete( Toledo Oh) filled out a night bill that would have been prime for Halloween.
Yeti Machete from Toledo Ohio, made up of Rob Morrison on guitar & vox, Steve Boerst on drums, Skot Woodbury pounding the bass, and Erik Sebetto on guitar & vox play a bratty snot nosed punk that blends influences like swamp water( mix of Coke,Mountian Dew, Sprite, Dr Pepper and Orange soda) from Black Flag, NOFX, Misfits and Minor Threat. Its not perfectionist punk, its sloppy ,and they way they play it, it wouldn't sound right if it wasn't that way. The band presents a unique stage show adorning the stage with various plastic Santa Claus figures painted like zombies and in various states of abused decomposition. Yeti Machete at points during the show kick, or otherwise launch these Santa's into the audience and encourage the audience to participate in what I can only call Santacide. I don't know how it normally goes over( I do know its got them banned from at least one Toledo venue) but this crowd did not need any encouraging. I wittiness all sort of unspeakable acts being committed on poor old Kris Kringle not the least of which was one plastic jolly man getting launched about 25ft in the air straight up vertical before it came down in a graceful arc right onto the singers head. Know what ? The kid didn't miss a note, surprising cause he could not have seen it. By the way the band played their asses off, turning in a set alot show openers cant seem to muster.
Caustic Attitude from Detroit Michigan played next and their style is a late 80's hardcore with an emphasis on axe slinging and plenty of changes.The cats making up the band are Smokin' Johnny G on guitar, SD Beefcake on drums , Hatt on vocals, and Vosscano on bass. The set was pretty much no -nonsense from start to finish. The bands songs deal with plenty of serious subject matter like illegal immigration, police brutality, big brother prying eyes but they are not with out humor either. The songs Donut Boy, Respect, and Drinking Song were my favorites on the night. This band occasionally ventures out of state for short tours you want to catch them if you can.
Closing out the night also from Detroit was Glitter Trash.The name really does describe the group well. You have a group of musicians all from different musical back grounds forming a roots down punk band in the 77 style of the Dead Boys. Lead by the over the top looks and vocals of Jenna Talia who up until about two years ago never even had a band. Brian Milne on the guitar ( Treatment Bound, Halfmoon Highway) Sinderella on bass( vet member of various bands and will being appearing alongside Sigourney Weaver,Richard Lewis,and Alicia Silverstone in the movie Vamps) and new drummer Wally all fill out a line up that doesn't take a back seat to an aggressive vocalist either. Sounds like it could be chaotic right? Well it is,but that chaos is controlled to an extent, at least by the band, Jenna well, she cant be contained when turned loose on the stage mic in hand.The band plowed through songs like I Need Sex, Adult Superstore, a Dead Boys cover, and a blistering rendition of the old Stones song Respectable .My favorites of the night were Wake Up, Beauty Queen and Wreckage. Seeing this band outside were one could be a little more free with the onstage antics is the best. Glitter Trash not only entertains an audience but they confront them.Jenna is on the ground, up the fence, in peoples faces and vocalising over flaming refuse , you will stand up and take notice. Like the band or not Glitter Trash is making a name for themselves rather quickly playing sold out shows in Chicago, Denver and Utah, if your lucky enough to catch them live you won't be able to ignore them that's for sure. Something tells me the 6'4 Jenna Talia just wont let you!
Top notch punk rock played with passion,spit, and fun.Just like it should.Too bad more Toledo punks didn't crawl out form under their rocks for this one. Those who did won't soon forget it.