The Viper Room birthed a new (to us) act in Southern California: Detroit's Glitter Trash, regulars to the UKs Rebellion Festival.
Glitter Trash (LA) is fronted by Jenna Talia.
Veterano guitar player Loren Molinare of the Dogs slings his SG. On drums is Becky Wreck...Talk about heavy hitting drums; Chuch Rauda on bass. So talk about talent and musical strength! I was excited to see them.
They opened the show like a buzzsaw. Jenna strutted her stuff and Loren wailed away as Becky and Chuch held it all together. The songs were catchy Detroit dominant tunes - reminded me of 1977 Stiv and all the motorcity rockers that came before.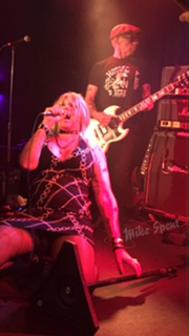 You will be hearing more about this band!
The gigs line up was Glitter Trash then Crazy Squeeze followed by Sli-Fi head lining the gig was the Super Bees not bad for a Thursday night in WeHo
None of these bands disappointed and it was an apropos debut for Glitter Trash