OF CALAMITY JANE
BY: OZGUR COKYUCE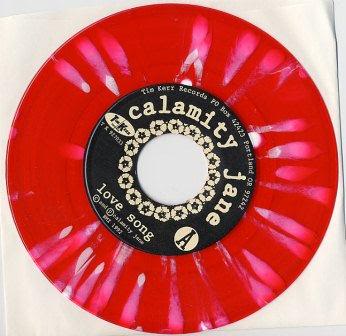 Calamity Jane is back!! Last month Punk Globe has managed to make this rare interview with Gilly Ann Hanner, the vocalist and the founding member of the Portland punk-rock band Calamity Jane.After nearly 18 years, the band has reunited and we wanted to celebrate it with her by talking about the memories, future plans as well as having a detailed look to her musical past…
PUNK GLOBE : Thank you so much once again for accepting this interview. How has 2010 started for you? Calamity Jane has reunited and will be doing some gigs this summer right?
GILLY ANN HANNER : 2010 IS PROMISING TO BE CHALLENGING AND REWARDING.THERE IS NEW ENERGY AROUND MUSIC IN MY LIFE, AND THAT IS GREAT.CALAMITY JANE IS PLANNING TO PLAY THIS SUMMER IN LATE JULY AT A FREE ALL AGES OUTDOOR GIG AND THEN POSSIBLY THE MFNW MUSIC FESTIVAL THIS FALL.
PUNK GLOBE : Let's go back and start from the early days. Your first band was called Bad Trip in 1985. Was it always your thought or dream to be in a band? What made you decide to start a band and make music?
GILLY ANN HANNER : I FIRST WANTED TO BE A VISUAL ARTIST AND BALLERINA WHEN I WAS REALLY SMALL. I PLAYED THE FLUTE IN SCHOOL BAND AND ASPIRED TO BE A CLASSICAL MUSICIAN. IN HIGH SCHOOL I HEARD THE POLICE 'S REGATTA DE BLANC ALBUM AND IT REALLY GRABBED ME. I STARTED TO LISTEN TO MY DAD'S HUGE RECORD COLLECTION OF EVERYTHING FROM JIMI HENDRIX TO THE CARS AND RUSH. I TALKED ABOUT HAVING AN ALL FEMALE BAND BEFORE I COULD EVEN PLAY GUITAR, AND I WAS MET WITH SOME RIDICULE BUT WAS UNDAUNTED.MY GRANDPARENTS WERE PROFESSIONAL MUSICIANS- BIG BAND ERA AND MY GRANDPA HAD A RADIO SHOW IN LOS ANGELES FOR A WHILE (BEFORE I WAS BORN) SO I HAD IT IN MY BLOOD. I BOUGHT A $70 GUITAR FROM A JUNK SHOP WHEN I WAS 16 AND TOOK SOME GUITAR LESSONS, THEN IMMEDIATELY FORMED A BAND, EVEN THOUGH MOST OF US DIDN'T KNOW HOW TO PLAY YET(BAD TRIP)AND THERE WAS NOBODY TO SING, SO I SANG A BIT AND REALIZED I LIKED IT. I MAJORED IN MUSIC MY FIRST YEAR AT COLLEGE AND MADE SUCH A FOOL OF MYSELF AT MASTER CLASS THE FIRST TERM THAT I NO LONGER WAS SCARED TO GET UP IN FRONT OF ANYONE AND SING. I FOUND OUT THAT I REALLY WANTED THE FREEDOM FROM STRUCTURE AND THE ENERGY OF ROCK MUSIC, AND CHANGED MY FOCUS FROM CLASSICAL TO ROCK. WHEN I MOVED TO OLYMPIA TO ATTEND THE EVERGREEN STATE COLLEGE, I STARTED PLAYING MY GUITAR WHENEVER I COULD. I ANSWERED AN AD FOR EUGENE CHADBOURNE'S EXPERIMENTAL GUITAR ORCHESTRA, I TOOK AN EXPERIMENTAL MUSIC WORKSHOP AND SOME ELECTRONIC MUSIC CLASSES, AND THEN STARTED RECORDING MY OWN BAND IN THE MUSIC STUDIOS AT SCHOOL.
PUNK GLOBE : After Bad Trip you continued with Sister Skelter in 1988,playing your 21st birthday with Nirvana (Kurt sang Scratch Acid with you) and then came the Calamity Jane formation plus your solo recordings around 1991 and a basement Project called Little Miss Hell. Are there any recordings (studio jams/rehearsal recordings) of Bad Trip, Sister Skelter and Little Miss Hell or were they mainly live performances?
GILLY ANN HANNER : THERE IS A TAPE SOMEWHERE OF BAD TRIP AND ALSO SISTER SKELTER- BOOM BOX CONDENSER MIC PRACTICE TAPES. NOT GREAT QUALITY.BETTER LIVE, OF COURSE.TOO BAD NOBODY FILMED AS MUCH IN THOSE DAYS.
PUNK GLOBE : Please tell us a bit about the Calamity Jane formation.Were there any other names thought of naming the band? Are there any songs of Calamity Jane that haven't seen the light of the day yet and maybe released or re-recorded again in the near future?
GILLY ANN HANNER : WE FORMED IN OLYMPIA, WA AROUND 1988 - SLIM MOON WAS INSTRUMENTAL IN HOOKING ME UP WITH LISA KOENIG(DRUMS) AND RONNA ERA(BASS). WE PLAYED MAYBE 2 SHOWS TOGETHER UNDER VARIOUS NAMES(SOMETIMES WHY AND CATBOX WERE ONES I REMEMBER) BEFORE RONNA LEFT TO FORM TREEHOUSE. I RECRUITED MY SISTER MEGAN TO PLAY BASS, AND WE SETTLED ON THE NAME CALAMITY JANE FROM A LONG SILLY LIST- IT WAS THE ONLY ONE WE ALL AGREED ON. WE FOUND OUT LATER WHO CALAMITY JANE REALLY WAS, AND IT SEEMED EVEN MORE APPROPRIATE. OUR FIRST SHOW WAS WITH 'SCRAWL' IN OLYMPIA AND THEN WE PLAYED ON CALVIN JOHNSON'S RADIO SHOW ON KAOS. SOON AFTER THAT, WE RECORDED A CASSETTE WITH PAT MALEY AT YOYO STUDIOS WHERE I WAS INTERNING. TWO OF THOSE SONGS WERE RELEASED AS A SINGLE. WE ENDED UP PLAYING IN PORTLAND ALOT AND LIKED IT SO MUCH THAT WE MOVED THE BAND HERE IN EARLY '89. WHILE TOURING THE U.S. EXTENSIVELY, WE RECORDED A SINGLE IN CHICAGO WITH BRAD WOOD AT IDFUL STUDIOS. WE ENDED UP RECORDING OUR ALBUM WITH HIM AT RECIPROCAL IN SEATTLE. BY THIS TIME LISA HAD MOVED BACK TO OLYMPIA AND WAS IN ANOTHER BAND. IN 1991 I HAD TO COME UP WITH ANOTHER LINEUP FOR CALAMITY JANE WHEN MEGAN MOVED TO NEW MEXICO: I RECRUITED MARCI MARTINEZ TO TAKE OVER ON DRUMS, AND JOANNA BOLME ON BASS. WHEN MEGAN HEARD SOMEONE ELSE PLAYING HER BASS LINES, SHE MOVED BACK TO PORTLAND AND WE KEPT JOANNA ON 2ND GUITAR TO FILL OUT OUR LIVE SOUND. THIS WAS THE FINAL LINE-UP- THE ONE THAT PLAYED IN BUENOS AIRES WITH NIRVANA, AND TOURED THE U.S. IN 1992. THIS IS THE BAND WHO WILL BE PLAYING SHOWS THIS SUMMER/FALL. THIS LINE-UP RECORDED A BATCH OF SONGS THAT HAVE NOT BEEN RELEASED (YET) WHEN WE WENT INTO THE STUDIO FOR OUR SINGLE LOVE SONG/BELIEVE IN 1992. WE HAVE NO LABEL CURRENTLY, BUT AN EP IS POSSIBLE...
PUNK GLOBE : Let's continue with Calamity Jane.The band's last show was at Buenos Aires Argentina with Nirvana in October 1992, where you were booed by the audience (and many other disgusting & disrespectful things),you left the stage and Calamity Jane disbanded.Was the thing happened in Argentina the only reason for disbanding in those days? I mean in another gig in another country you could get the best feedbacks ever by the audience….God knows,how much you were missed as Calamity Jane in the last 18 years.What made the band decide to reform again and do some shows?
GILLY ANN HANNER : THE 1992 TOUR THAT CONCLUDED IN THAT FINAL SHOW IN BUENOS AIRES WAS INCREDIBLY STRESSFUL AND THERE WERE VARIOUS DISAPPOINTMENTS THAT CULMINATED IN OUR BREAK-UP. IT WAS A TIME WHEN THE STAGE WAS SET BY NIRVANA'S HUGE SUCCESS AND THE FIRST INKLINGS OF THE RIOT GRRL MOVEMENT AS WELL AS BANDS LIKE BABES IN TOYLAND AND L7- WE FELL SOMEWHERE OUTSIDE OF THE BOUNDARIES OF ALL OF THAT, YET WERE SWEPT UP IN IT. WE ALL BELIEVED WE WERE ABOUT TO BECOME ROCK STARS- AND WERE TREATED AS SUCH FOR A SHORT TIME. IT WAS DEVASTATING TO BE TREATED SO WELL ONE DAY- WE HAD CHAUFFERS DRIVING US AROUND BUENOS AIRES, AND HEARD OUR SONGS ON THE RADIO THERE- AND THEN GET BASICALLY BOOED OFF THE STAGE IN A SHOWER OF SPIT AND DIRT THE NEXT. I WAS INCREDIBLY STUBBORN ABOUT WHAT WE WERE DOING, AND REFUSED TO GET PROPER MANAGEMENT TO ASSIST US INTO THE WORLD OF ARENA ROCK. WE DID IT ALL BY OURSELVES AND ULTIMATELY IT WAS JUST TOO MUCH TO HANDLE WITHOUT IMPLODING. WHEN WE GOT TOGETHER THIS FALL AFTER 17+ YEARS, IT WAS A HEALING MOMENT TO ENTER A ROOM AND PLAY THAT MUSIC WITH EACH OTHER AGAIN. ALL AWESOME RESPECTED MUSICIANS AND AMAZING WOMEN. OUR MAIN MOTIVATION BEYOND THAT TO PLAY AGAIN WAS THAT WE WANT OUR CHILDREN TO SEE THEIR MOTHERS PLAYING MUSIC AND BEING ARTISTS. IT IS EMPOWERING TO SEE YOUR MAMA ROCK. MY DAUGHTER IS VERY EXCITED TO INTRODUCE THE BAND WHEN WE PLAY.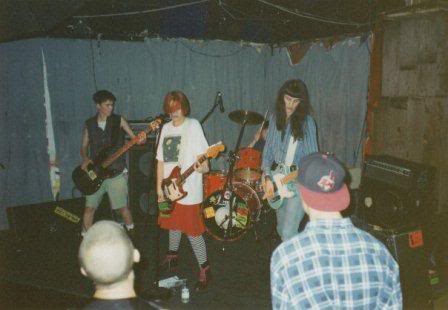 PUNK GLOBE : Which bands were your favourites in those days and when you were a teen? What are you listening to nowadays?Are there any new or unknown bands that you like and recommend us to check out?
GILLY ANN HANNER : BANDS BACK IN THE DAY; WHEN I WAS IN HIGH SCHOOL: THE POLICE,X,DEVO,LETS ACTIVE, CAMPERVANBEETHOVEN, B-52S. COLLEGE: SCRATCH ACID,UMEN,NAKEDRAYGUN,BAD BRAINS,PIXIES,SLITS,VOMIT LAUNCH, LUNACHICKS,BABES IN TOYLAND,SCRAWL,SONIC YOUTH,BREEDERS IN PORTLAND: HELLCOWS,DIRTYBIRD,SONIC YOUTH,PJ HARVEY,SNAKEPIT. NOW: QUASI,SPOON,EXPLODE INTO COLORS,HUNGRY GHOST,GORILLAZ, BLUR, GOOD THE BAD&THE QUEEN, SUBMARINES, RADIOHEAD, PATTI SMITH, JOAN JETT, RUNAWAYS,SONIC YOUTH, BLONDE REDHEAD... & PLENTY OF OTHERS I AM FORGETTING, OF COURSE.
PUNK GLOBE : Moving to your post Calamity Jane projects : Starpower(91-94), Toadvine(94), Merkin(95-96), Sweet Pea,Subrosa,Consolidated (all around 96), Semisweet (96-97), Darth Vader's Daughter(97-98),No.2(98-99) and Braille Stars (98-02)….Which one was the most interesting,funny or maybe challenging for you? Can you also tell us what happened in the Gilly Ann Hanner world between 2002 and 2010 (after Braille Stars Project)?
GILLY ANN HANNER : I HAD MY DAUGHTER IN 2003 AND HAVE BEEN ENJOYING BEING A MOTHER TO HER SO MUCH, THAT I HAD LITTLE DESIRE TO PLAY MUSIC OUTSIDE OF MY HOME(WITH THE EXCEPTION OF ONE BRAILLE STARS SHOW IN 2004) I ALSO AM A HAIRSTYLIST AND I OPENED MY OWN SALON IN 2005, THAT I STILL RUN TODAY. MY DAUGHTER AND I LIVE WITH MY BOYFRIEND(WHO IS AN ARTIST) AND HIS SON, WHO IS THE SAME AGE AS MY DAUGHTER, SO THAT IS A LOT OF FUN. I THINK THE MOST REWARDING AND INTERESTING PROJECT/BAND I HAVE PARTICIPATED IN WAS BRAILLE STARS… IT WAS SUCH A DIFFERENT PROCESS THAN ANY OTHER BAND I HAVE BEEN IN- WE STARTED OUT IMPROVISING AND OUR FIRST SHOWS WERE JUST THAT- NO SINGING, NO SONG STRUCTURE. IT WAS VERY ORGANIC AND THERE WAS NOT THE STRESS OF SONGWRITING AND TRYING TO FIT INTO ANY STYLE. THE RECORD WAS A LONG-TERM PROJECT AND WE RE-DID ANYTHING WE WEREN'T IN LOVE WITH, AND ADDED PLENTY OF COOL EMBELLISHMENTS AND TRACKS TO MAKE THINGS SOUND MAGICAL. IT WAS JUST ME AND THE DRUMMER/MUTI-INSTRUMENTALIST STEF DARENSBOURG AND WE WERE ABLE TO MAKE THE RECORD PRETTY MUCH EXACTLY HOW WE WANTED IT( WITH THE HELP OF LARRY CRANE AND OUR FRIEND DAN ECCLES). OF COURSE NONE OF THAT WOULD HAVE BEEN POSSIBLE IF I HADN'T FIRST LEARNED THE ROPES FROM ALL THE OTHER BANDMATES I PLAYED WITH PREVIOUSLY.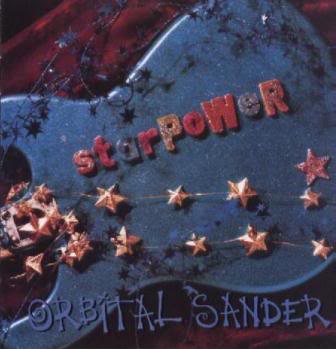 PUNK GLOBE : Nowadays economic crisis, global warming all over the world is a bigger threat more than ever and this rancid-money centered system in the world continues to create bigger problems everyday. As a member of one of the important bands in rock history, what are your opinions? When we think about today,doesn't the world need the existence of real rock bands more than ever? For telling the youth what's going on, giving them the spirit to not only getting angry but to question everything (which made punk-rock as important as any other movements.) What do you think?
GILLY ANN HANNER : I THINK ART/MUSIC IS THE ONLY ANSWER.IT IS THE CREATIVE ASPECT OF EVERYTHING THAT KEEPS US GOING AS A CULTURE AND THE DESTRUCTION ALL AROUND IS SOMETHING TO COMMENT ON.I PERSONALLY CANNOT LISTEN TO THE MAINSTREAM NEWS WITHOUT BECOMING QUITE DEPRESSED AND DESPONDENT, SO I DO TRY AND AVOID IT. I THINK MUSIC HAS BECOME SO ACCESSIBLE THAT IT IS HARD TO TELL IF IT IS ABLE TO MAKE AS MUCH OF A SOCIAL STATEMENT AS IT ONCE DID.THE NEWER GENERATION HAS ACCESS TO THINGS THAT MINE DID NOT, AND I MAY JUST BE OLDER, BUT THINGS SEEM TO HAPPEN SO MUCH FASTER NOW- WITH THE INTERNET, TEXTING, AND NEVER BEING OUT OF TOUCHING DISTANCE OF MEDIA, IT IS HARD TO SIFT THROUGH ALL THE LAYERS.I THINK REAL ROCK BANDS ARE VERY IMPORTANT: WHEN YOU GO TO HEAR A BAND LIVE,IT IS IMMEDIATE AND IT IS ONLY HAPPENING AT THAT TIME AND PLACE.YOU HAVE TO ACTUALLY GET OUT OF YOUR HOUSE AND BE THERE TO EXPERIENCE IT.
PUNK GLOBE : Which bands or names have the most influence on the sound of Calamity Jane and the music of Gilly Ann Hanner generally?
GILLY ANN HANNER : WELL, I TRIED TO SOUND LIKE THE BANDS I LIKED AND DIDN'T WORRY THAT I WOULD BE CALLED ON IT BECAUSE BY THE TIME I PLAYED WHAT I THOUGHT SOUNDED LIKE THE UMEN OR X OR NAKED RAYGUN OR GAS HUFFER, IT CAME OUT SOUNDING TOTALLY DIFFERENT.IT IS STILL THAT WAY NOW, I AM INFLUENCED BY SONIC YOUTH, PJ HARVEY, BLONDE REDHEAD, BONNY PRINCE BILLY, AND OTHERS BUT YOU PROBABLY WON'T PICK IT OUT BECAUSE I PUT IT THROUGH MY OWN FILTER(BRAIN) AND IT COMES OUT SOUNDING LIKE ME.
PUNK GLOBE : After the summer shows of Calamity Jane this year, what surprises can we expect from Calamity Jane and from you? New bands,a new Calamity Jane album or other collaborations?
GILLY ANN HANNER : I DON'T KNOW WHAT WILL HAPPEN AFTER THE SHOWS WE ARE PLANNING. JOANNA IS IN 2 BANDS THAT ARE QUITE ACTIVE CURRENTLY: QUASI AND STEPHEN MALKMUS&THE JICKS. MEGAN LIVES ABOUT 5 HOURS FROM PORTLAND WITH HER KIDS, AND MARCI IS DOING SOCIAL WORK AND PLAYING IN A BAND IN PORTLAND CALLED FORSORCERORS. I AM RUNNING MY SALON AND RAISING MY DAUGHTER. I WOULD LIKE TO FORM A NEW BAND, SO THAT MAY HAPPEN, IT IS A MATTER OF MAKING TIME. PORTLAND IS A GREAT PLACE FOR MUSICIANS.YOU CAN'T THROW A STICK WITHOUT HITTING ONE.
PUNK GLOBE : You were friends of two of the most important singers/songwriters of the music history and especially the last 2 decades.(E.Smith & K.Cobain) Which songs of them are your favourites?When you look back today, we would also be so happy to learn, if you have any interesting and funny memories about them that you shared together.
GILLY ANN HANNER : WELL, BOTH OF THEM SHARED THIS VERY SHY QUIET INTROVERTED EXTERIOR, AND UNDERNEATH THEY WERE EACH GOOFBALLS IN THEIR OWN RIGHT.I FELT MY OWN SHYNESS KEPT US FROM BECOMING CLOSER FRIENDS BUT I RESPECTED THEIR WORKS SO MUCH AND FEEL LUCKY TO HAVE PLAYED MUSIC ALONGSIDE BOTH OF THEM. KURT PLAYED AT MY BIRTHDAY PARTY AND THAT IS THE FIRST TIME I SAW NIRVANA. IT WAS EARTHSHAKING, I IMMEDIATELY FELT THE PULL OF THEIR MUSIC, LIKE NOTHING I'D EXPERIENCED, YET SO FAMILIAR, AND IT MADE YOU WANNA MOVE AND JUMP UP AND DOWN. MY BAND(SISTER SKELTOR) PLAYED TOO, AND MY BOYFRIEND/BASSIST CHRIS QUINN SUGGESTED WE LEARN SCRATCH ACID'S "GREATEST GIFT" BECAUSE KURT AGREED TO SING IT WITH US. IT WAS VERY MESSY AND LOUD AND AWESOME. OUR FRONT PLATE GLASS WINDOW WAS BROKEN BY SLAM DANCERS SLAMMING THROUGH IT WHEN THEY PLAYED. IT IS HARD TO CHOOSE A FAVORITE, BUT I THINK MY NIRVANA SONG IS "ANEURYSM"- IT IS SO GREAT HOW IT CRAMS THESE DISPARATE PARTS TOGETHER AND USES THAT GUITAR PART FROM THE BREEDERS SONG. THE LINE "LOVE YOU SO MUCH IT MAKES ME SICK" IS BRILLIANT. ELLIOTT USED TO EAT AT THE RESTAURANT I WORKED AT, AND HE WAS VERY SHY. I LOVED HEATMISER AND WAS SURPRISED WHEN ELLIOT GAVE ME A COPY OF 'ROMAN CANDLE' AT HOW QUIETLY GORGEOUS IT SOUNDED. NOBODY WAS GOING IN THAT DIRECTION AT THE TIME. IT WAS LIKE A WHISPER OF THINGS TO COME. WE PLAYED SOME SHOWS TOGETHER DOING THE SOLO THING, AND IT WAS APPARENT THAT HE WAS REALLY AMAZING. LATER, WHEN I WAS TOURING WITH NO.2 AND ELLIOT, I DISCOVERED HOW HILARIOUS ELLIOT WAS .HE AND NEIL GUST(NO 2/HEATMISER) WERE LIKE A COMEDY TEAM. I LAUGHED SO MUCH ON THAT TOUR THAT MY CHEEKS HURT MOST OF THE TIME. IT IS REALLY HARD TO CHOOSE A FAVORITE. HIS SONGS ARE INCREDIBLY CRAFTED, EACH PART SO WELL THOUGHT-OUT AND POLISHED TO THIS THING OF PERFECTION,THE LYRICS POETIC AND PROFANE AT THE SAME TIME. I CAN NARROW IT DOWN TO "SON OF SAM" AND "NEEDLE IN THE HAY".
PUNK GLOBE : Last question…. When you were a kid growing up, who did you imitate when you stood in front of the mirror??
GILLY ANN HANNER : HMMM...FIRST THE BEATLES, THEN STING FROM THE POLICE,THEN EXENE FROM X,I THINK NOW I IMITATE MYSELF WHEN I WAS IN CALAMITY JANE WHEN I STAND IN FRONT OF THE MIRROR. I AM KIND OF A DORK.
PUNK GLOBE : Any last words for Punk Globe Readers?
GILLY ANN HANNER : IT IS NEVER TOO LATE TO MAKE SOME AWESOME MUSIC. I SAW SONIC YOUTH LAST SUMMER AND THEY WERE TOTALLY ROCKIN' AND BETTER THAN EVER- AND I HAVE SEEN THEM MANY TIMES OVER THE YEARS. A FEW MONTHS AGO I SAW PATTI SMITH READ AND PERFORM AND SHE INSPIRED ME TO KEEP MAKING MUSIC AND ART AT ANY AGE. HER NEW BOOK 'JUST KIDS' IS GREAT. WE NEED TO REMEMBER WHO WE ARE AS ARTISTS AND TO KEEP IT UP!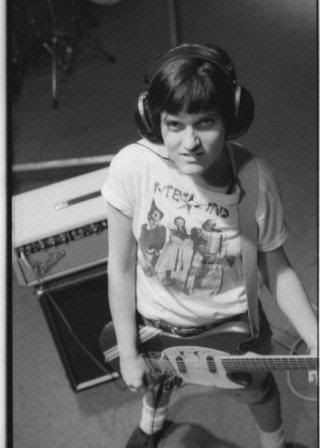 ** Punk Globe would like to thank Gilly Ann Hanner for this great interview**

(PUNK GLOBE – JUNE 2010)