BENEFIT CONCERT
By: Gerry Jenn Wilson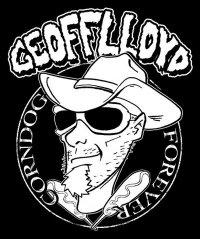 "VIVA LA CORNDOG!!!"...."LONG LIVE LISAFURR!" Geoff "CORNDOG" Lloyd Memorial... Feb.7th 2010 @ The Astoria Hotel, VANCOUVER, B.C.
When the going gets rough, the Vancouver music scene gets ROCK SOLID!...Free Cigarettes For Drunk Minors, The Strugglers, Mr. Plow, The Deadcats, The Cadaver Dogs, Death Sentence, MONDO Burlesque, & the EAST VAMPS joined forces to pay tribute to our dear friend GEOFF "CORNDOG" LLOYD ...(R.I.P.) You may have known Geoff from his days playing bass in The Matthew Good Band. Or perhaps you hawked your guitar when you were short on the hooch or rent & got to know him that way at the AAA Pawn Shop on Main St here in Vancouver!!!!!...I had the pleasure of meeting Geoff "CORNDOG" Lloyd when he married my bass player in JP5.."the lovely LISAFURR" back in the early 2000's!!!
Corndog's happy bride LISAFURR & I formed the EAST VAMPS in the pre Olympic summer of 2009 with my 19 year Old. niece Nadja "BOOM BOOM" Feutlinske on the drum kit! 2 months into the EAST VAMPS we decided to record with ADAM PAYNE @ FACEPLANT, & THE HOUSE OF PAYNE STUDIOS!...We asked MISTRESS JEN to join in on the recording & fell in love with her talent on the keys!!!!....Mistress Jen plays with The Torture Devices, THE MANGLERS..(Vancouver's Only STRANGLER'S Tribute!), & PARALELL LINES (Vancougrr's Only BLONDIE Tribute), as well as the EAST VAMPS!!!..
In early December, 2009, LISAFURR found out that her Mom in Ontario was diagnosed with cancer, & that it wasn't looking good....Without hesitating, The Slickjack R&R couple of COOL packed up their gear & moved to Ottawa.... Unfortunately for Lisafurr & Geoff... their luck went "SOUTH" from that point on!!!!
Friends, family & fans gathered to pay their respects. There were memorial "GEOFF LLOYD~CORNDOG FOREVER" T-SHIRTS & PINS available...(artwork by MIKE "O"), 8X10's, as well as CORNDOG'S being served...(The best that I've ever tasted by the way!)...There was also a 50/50 draw & an Entertaining Raffle including artwork donated by I, BRAINEATER aka JIM CUMMINS, SKATEBOARDS BY R.C. COLA, & C.D.'s from EAST VAMPS, DUVALLSTAR, DEATH SENTENCE, etc...almost ALL of the proceeds, ($2000 +),went to help LISAFURR & the LLOYD FAMILY. A special thanks to all of the bands on the bill that donated their gear, time, blood, sweat, & tears on stage to show that THE VANCOUVER MUSIC SCENE IS A REASON FOR LIVING!!!!!!........."VIVA LA CORNDOG!"...."LONG LIVE LISAFURR!!!!".....WELCOME HOME "EAST VAMP SISTER!"...