I had the pleasure of interviewing Genny Schorr aka Genny Body who was one of the first punk girl guitarists from the mid-seventies. She was a founding member of mostly all-girl band Backstage Pass with Marina (Del Rey) Muhlfriedel, Joanna (Spock) Dean and Holly Beth Vincent (of Holly and Italians). They helped build the original L.A. Punk Scene in 1977 and it has been said they were a bridge between glam and punk. They were instrumental in helping start the punk venue, The Masque and played clubs in Los Angeles and at The Mabuhay Gardens in San Francisco with bands like The Mumps, The Screamers and Devo. This past November was the 40th Anniversary of when Backstage Pass opened for Elvis Costello at The Whisky.
Joey Ramone Genny and Arturo Vega
by Jenny Lens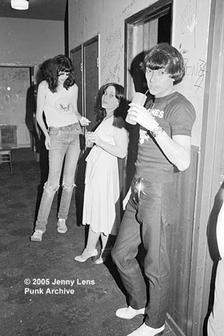 Punk Globe: How did you get into music and playing guitar?
Genny: I first got into music when my babysitter Jill turned me onto Elvis Presley! She helped me put together a scrapbook which I still have. A life changing experience was when she gave us the map to his mansion in Bel Air and my Dad took me to meet him. He came out and said, "Howdy Folks"! I think it was his "white panties" phase. I must have been around 6. Then I saw The Beatles on Ed Sullivan and that changed everything!
I also had this amazing babysitter Cookie who had long blond hair and used to play in a Folk Duo and ride horses. She hung out at places like Pandora's Box on Sunset Strip in the 60's. I totally idolized her as she wore no bra with a baby doll top, tight jeans and fringed boots. She turned me onto The Beach Boys and The Byrds. She taught me how to play guitar when I was 8 years old so, I guess I've been playing guitar for a long time. In High School my mother was sick and was dying of cancer. I was so distraught but for some reason I started playing electric guitar and I even brought it to school. The thing was, in my high school in The San Fernando Valley, girls didn't play rock guitar. It was like maybe if you played acoustic guitar that was cool, like Cat Stevens or something, but I had an electric so I didn't fit it and most people didn't like it. I went to school with bands like Toto with a very typical line-up of guys. A friend of mine Robin started hitching rides with Kevin Dubrow before he formed the band Quiet Riot. He also went to my school and she started going with him to Rodney's in Hollywood and to The Rainbow. I tagged along too and eventually met open minded others along the way. I even auditioned for The Runaways when they were a 3 piece and were rehearsing in a place on San Vicente. Problem was I wasn't a lead guitarist. I think I memorized some lead part off of a Lou Reed LP. Ultimately it didn't fly and they eventually found Lita Ford!
Spock and Genny by Donna Santisi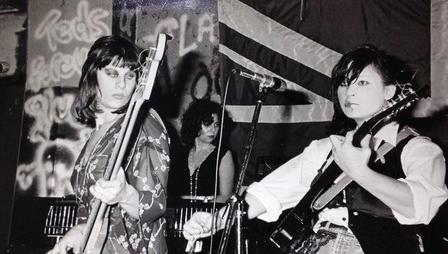 Punk Globe: How did Backstage Pass Start?
Genny: I had met the girls one fateful night at a record company party for the band Dr. Feelgood in 1975. Seeing Dr. Feelgood at the Starwood fueled my love for English bands. Marina Del Rey (then Joane Russo) was a journalist for teen magazine and Pam Turbov who never became a member of Backstage Pass after all, worked for a record company. I had come to the party with the girls arch enemy Michelle Myers who I must have met at Rodney's. She was Kim Fowley's assistant and thought of herself as "The Queen of Hollywood". I was kind of afraid of her I think. She was very masculine and loud. She knew a lot about the music and the scene! I remember meeting Pam in the bathroom and I instantly felt a connection. I kept thinking I would rather be friends with these girls than Michelle. How am I going to pull that off? I think she referred to them as the girls with fangs and daggers.
Starting an all-girl band was Marina's idea. Marina's whole idea for starting the band was not to be like The Runaways, which essentially was Svengalied by Kim Fowley. We started getting press right away. Even before we ever rehearsed!
I think I was the only musician in the band in the beginning. I eventually started writing songs and teamed up a lot with Spock. Holly Vincent (Baracuda) who also joined, was a main writer. She later had a hit song in England, "Tell That Girl to Shut Up" as Holly and The Italians.
I guess one of my favorite memories of BSP is when we opened up for Elvis Costello. After the show, he told me he liked the way I played guitar, then he said let's go kill someone! I said ok! I was the youngest and the craziest one in the group. There was lots of eye rolling from the other girls at the time! It's amazing that we all still know each other after 40 years and we got to be part of the original punk scene.
Punk Globe: How did you get your name Genny Body?
Genny: I don't know! I think it was because I had a curvy body. I could have gotten it from Farah Fuckit Minor (now Fay Hart). She was doling out Punk names and it could have come from her. She gave the punk photographer Jenny Lens her name one night at a club. She was quite a pistol. I used to go dancing with her and Exene Cervenka (before X) at The Rainbow in Hollywood.
Punk Globe: What was Backstage pass' contribution to the early L.A. punk scene?
Genny: I really think that we helped the punk scene emerge. Our biggest contribution was I think influencing other people, other women. Seeing us up there, other women playing instruments definitely influenced the original line-up of The Go Go's. They were like we can do this too. We also helped to build the rehearsal space at The Masque, literally, along with Chaz from The Skulls. Marina co-signed the lease for Brendan Mullen since he was from Scotland and needed a bank loan.
Punk Globe: I was reading that after Backstage Pass you started a clothing store, tell me more about that.
Genny: After the band, I started teaming up with Tony (Laumer Sales), who was Jake Rivera's wife at the time. He managed Elvis Costello. The name of the store was" Strait Jacket" and we bought the business and he was my silent partner. We had vintage clothes, black jeans, creepers and Beatle boots. Things that you couldn't get just anywhere. Tony liked to redo a lot of the vintage stuff by embellishing it. We also did custom clothing for bands like Wall of Voodoo, Psychedelic Furs and locals shopped there like The Plimsouls and The Bangs (Bangles). Bruce Springsteen even walked in there one day and bought a shirt he wore on the cover of Creem Magazine! Melrose really hadn't taken off yet, so we were really ahead of our time.
Punk Globe: What did you do after Strait Jacket?
Genny: I became a Wardrobe Stylist purely by chance. Strait Jacket was closing and I had the good fortune to be sitting next to Linda Ronstadt at a Tom Petty and Nick Lowe Concert. I had the nerve to turn to her and said "I know what you're doing. And she said "what?". I said, "You're checking out Tom Petty's Ass." And she said, "I am"! The next day I started working for her driving my clunker to where she lived in Brentwood. I started bringing her stage clothes from Melrose and various vintage shops. I toured with her extensively and also with The Bangles. I did various videos during The MTV era.
Paul Cook and Genny
by Donna Santisi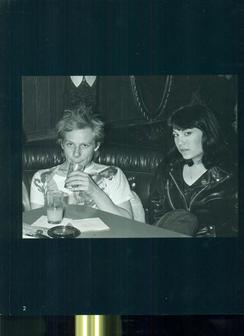 Punk Globe: What are you up to now?
Genny: The last Rock gig I did was working for Dave Stewart from Eurythmics in the nineties. I was prompted to go back to school after supplying matching Bangles costumes for a charity function called Women Helping Women. I was meeting women that were talking about all kinds of things and it opened my eyes. I eventually went back to school and became an Occupational Therapy Assistant. After a couple of decades, I started gravitating to Esoteric and The Healing Arts. I became a Reiki Master Healer, Crystal Healer and Tarot Reader and opened up my own place called Open Heart Space in Silver Lake. Anyone who wants to check it out can view my website www.openheartspace.com
Punk Globe: So, anything going on with Backstage Pass:
Genny: We've actually been talking about putting our music on CD Baby hopefully soon. They're live recordings, vintage and very raw! We have a Facebook Page that has a lot of pics and flyers from shows we did. https://www.facebook.com/backstagepassrules/
Punk Globe: What are you currently listening to?
My daughter's band! The Love-Inns, they rehearse in my garage. She been listening to a band called The Strypes from Ireland and I like them too. She likes a lot of the original Punk stuff. I've always liked the Jam, The Damned and Siouxsie Sioux. Also, British Invasion. I've always had a weakness for English bands. It was the main topic for most of my songs!
Punk Globe: I know you mentioned your daughter Eden (Hain) is the guitarist and the other vocalist for The Love-Inns, what are some of the differences you have noticed about the roles of women since you first started playing and now?
Genny: Ariela (Barer) the other half of The Love-Inns, is also an actress and they had the good fortune to get a Dunkin' Donuts commercial last year. As I'm watching their commercial I'm noticing that there are so many commercials with girls playing guitars. It wasn't cool when I started to be a rock 'n' roll guitar player as a woman. Now, it's selling T.V. ads…
Punk Globe: What's the best way for people to follow you?
Genny: You can reach me and find out more about me at my brand-new site http://genevieveschorr.com/ It has tons of pics from Backstage Pass and of musicians I've worked with over the years at my shop and as a stylist.
Che Zuro and Genny by Jenny Lens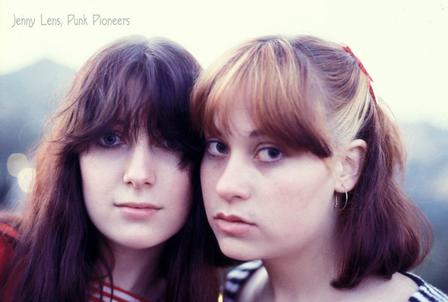 *Additional photo credits: 1.Frank Zappa and Genny by Tammy Taylor 2. Genny by James Stark 3. Backstage Pass with Rodney by Brad Elterman 4. Lance Loud and Genny by James Stark 5. Tommy Gear and Genny by Jenny Lens 6. Joey Ramone, Genny, Arturo Vega by Jenny Lens 7. Brian James and Genny by Jenny Lens 8. Backstage Pass by Jenny Lens 9. Genny and Del Shanon 10. Genny and Pam Turbov 11. Paul Cook and Genny by Donna Santisi 12. Genny by Donna Santisi 13 Genny and Wilko Johnson by Jean Ferro 14. Genny and Tom Petty by Jerome Satinsky