Interview by Angus Garrick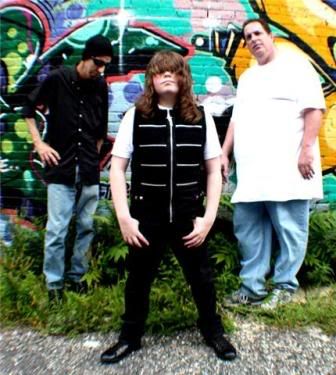 Fools on Sunday were formed in February of 2009 by strange circumstance. They have an usual makeup, yet rock as hard as any band out there. Their lineup consists of 12 year old Johnny Lightning on drums/vocals, 48 year old Johnny Rock (Lightning's father) on bass, and Rock's high school mate Stuart "Long" Johns on rhythm and lead guitars. Let's talk to the boys and see how this all started, and where they are headed.
Rock – Stuart, who I've known since age 16 called me in the winter of 2008 with some sobering news. He had been diagnosed with stage 3 throat cancer. In fact, one of the doctors in Nashville (where Stuart resided and ran an independent recording studio) felt he didn't have long to live. He was forced to relocate back to NY for treatments. That's when he contacted me. His request was, that if he was going to go, it had to be doing what he loved the most, playing live music for an audience. I had a request of my own however. My son (Lightning age 11 at the time) had been dabbling on bass, drums, guitars and if we were going to do something, it would have to involve him. We began rehearsing on Sundays in Astoria, Queens. Fools on Sunday were born.
Punk Globe - When did you guys start performing live?
Stuart – We did a few shows covering the best of late 70's punk in early 2009, even garnering a slot opening for 80's New Wave sensations Missing Persons. However, our career as an original act really only started about a month ago with our record release show in Rockville Center January 7th, 2010.
Punk Globe - Johnny (Lightning), tell me about your early start into music, writing, and influences.
Lightning – My parents were both very musical having played and recorded with various bands, so we always had musical instruments around the house. My first interest was the drums at age 5, but while I took a few lessons, nothing really clicked until age 8 when I discovered Green Day. After that I started taking playing more seriously, which obviously became more hardcore after the band began to rehearse. I take the time to practice drums, guitar, bass in a regular basis. My current influences cover a wide spectrum including The Beatles, Frank Zappa (my favorite guitarist as well), Muse, Sonic Youth, The Flaming Lips, and so many others we could write a book on just that subject. I wouldn't say our current recording reflects these influences, but watch out in the future!
Punk Globe - Speaking of the EP, I enjoyed the four tunes. Particularly Morning Blues. I noticed it was produced by Punk Rock Legend Andy Shernoff, tell me what working with him was like?
Rock – Andy is someone I've known since 1980. He produced a single which became a local hit(You're So Cool by the Cyclones) for a band I was in. With our current style being vintage punk, he was the only one we felt who could produce an authentic sounding 70's punk type recording. The other issue was we felt most producers wouldn't take working with a 12 year old seriously. Andy never mentioned age, he only focused on the music and the sound. You can have your own opinions about the songs, but the sound (particularly on the harder edge songs) is unquestionably vintage punk.
Rock – I'll start. I met Stuart through common friends in high school. Stuart had a reputation for not just being a fine guitarist, but that he had knowledge on how to arrange, and write as well. He was the first person I knew who was genuine punk rock. Not just in music style but in personality and attitude as well. After high school, I kind of broke away from the local Brooklyn scene and joined up with a group in NYC called the Cyclones. Through them I became acquainted with many of the top local bands of the day including the Fleshtones, The Dbs, the Bongos, and even had the opportunity to meet a then unknown REM in their hometown of Athens, GA. Later I joined a group called the Mad Violets, which featured NY's Lower East Side legend Wendy Wild. After performing and recording with several other local bands, I guess I put music aside until this project came up. One thing I always did however was maintain contact with Stu
Stuart – Like Johnny (Lightning) I started playing the guitar at a young age. One of my first bands was Aggression which featured Pete Steele (Carnivore and Type O Negative) as well as Josh Silver (Type O Negative). In HS I was part of a local punk band called the Penetrators, and basically befriended Rock around that time. After HS I moved to Los Angeles where I found myself part of the burgeoning Glam Rock or some would call the Hair Band Scene. Most notable of the bands I played in was Radio Babylon, although I did play in a group the Orphans which also featured a then unknown musician Izzy Stradlin(GnR) on the drums. During the early 90's I did a stint with the legendary LA punk rock group the Flesh Eaters, as well as worked in soundman capacities for folks like Beck and Mike Watt. After moving back to NYC for a while, I later relocated to in Nashville until late 2008. I'd like to add that playing in Fools on Sunday is as refreshing and rewarding as any other of the musical experiences that I've had. I see in Lightning many of the same traits I saw in others from my musical past who later became stars and legends. It will be interesting to see what the future brings for him, and for us.
Punk Globe - Great stuff.! What do you guys see as the immediate future of the band?
Rock – Right now, with Stuart cancer free and playing better than ever, we'd love to get on a tour such as Warped, or tour with other punk bands, possibly get on other festival bills etc. For now, we have some local shows booked, but are most excited about playing the Punk Island Festival in NYC on June 20th, as well as an open showcase to try out for the Uniondale stop on the Warped Tour. Of course until then we urge everyone to buy our debut EP The Best We Can Do!
Punk Globe – Thanks guys! Keep in touch!
For more information on Fools on Sunday, go to their myspace page
http://www/myspace.com/foolsonsunday
. You will also find them on Facebook,Twitter, and Reverb Nation.