Personnel:
Brent Alden -- bass
Paul Kostabi -- guitars
Art Chianello -- Drums
Dylan Maunder vocals, guitar
(died before the album came out)
Appearing on Tracks: Cheetah Chrome (Dead Boys), De De Troit (UXA),
Rick Wilder (Berlin Brats, Mau Maus), David Johansen (NY Dolls)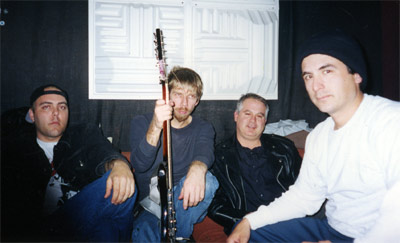 This band recorded this album back in the early part of this decade, and only came out last year. Life, a whole mess of shit and junk, has happened to these very talented and important players in the LA/NY post-punk scene. Bassist Alden's Incarceration in jail and a mental institutions and the death of key band member Maunder all played a role in delaying this release. But what a release it is!
The first thing you notice is the visually exciting cover artwork, done by the late Dee Dee Ramone and band guitarist Paul Kostabi (Mark's brother).