PUNK GLOBE:Thanks for doing this interview .. Give us a description Stranger Blaze?
ELIUD:How about, thank you very much for the interview ... Basically Stranger Blaze is a band that starts with the influences of old school thrash metal passing a bit by the consecrated bands of the BayArea and a little of the German thrash ... with the passage of time we started to develop a more experimental sound working all the influences of each of the musicians.
PUNK GLOBE:Tell us who is in the band?
ELIUD:STRANGER BLAZE although it has had many changes, it has always remained as a quartet, the members are ADOLFO SANCHEZ (Battery), SERGIO GARZA (Guitar Leader), BILLY PALACIOS (Bass and backup vocals) and your server ELIUD URDIALES (Rhythm Guitar and Vocals)
PUNK GLOBE:How many discs do they have and in what years did they come out?
ELIUD: At the moment we have 1 demo and two albums. The first demo titled Let The Destruction Begin is released at the end of 2011, at the beginning of 2013 comes out the first album of long play that bears the same name Let The Destruction Begin, and in early 2017 our second album was released.Which is a long play release...
PUNK GLOBE: Tell us about your last cd?
ELIUD:The Soulbreaker is an album that has different stories embodied in it, from protest and social discontent with the current Mexican government, to stories personal of the members of the band. the case of the Into The Gates Of Darkness theme which is a small tribute to my father, who served in Mexican armed forces in the decade of the 80s until the 90s, or the topic So Close Yet So Far Away, which deals with the feelings that unties being far away of a family member who crossed the border in search of a better life, something very common in our country, and also part of the personal situation of one of our ex-members.
PUNK GLOBE: Who does the graphics for the band's CD?
ELIUD: It was not very complicated, since the first song The Soulbreaker came out, that we were already playing on the national tour to promote our first album LTDB, in my head. I saw a soul trying to escape its torment, a punishment, that's where the cover comes from. We wanted something simple, but that would reflect the complete feeling of the same album.
PUNK GLOBE: Who are some of your musical influences?
ELIUD: There is a lot of variation in them, since each one of us is a fan of different genres, which gives him a plus when composing material ... Adolfo Sanchez, our drummer is a lover of Death and Black Metal, while Sergio is a follower of heavy metal and traditional thrash metal ... Billy Palacios comes from the scene of punk rock. I have always been attracted by the sounds of classic thrash metal, but there is always some modern metal band willing to be part of my influences
PUNK GLOBE: How is the music scene in Mexico?
ELIUD: Like everything, it is a complicated scene, in which if you do not want to reach the public, you will not achieve much. You have to stand firm in a constant struggle, chop stone. As we say here, to keep you in the mind of the Mexican metal community, once you do it, everything is easier, since the Mexican metal scene is quite passionate
PUNK GLOBE: Are there many places to play in Mexico?
ELIUD:In fact, there are enough bars and venues to carry out presentations, as well as establishments with a higher capacity for festivals and things like that. In some time the situation became turbid in the north of the country, due to the violence caused by drug trafficking, which forced us to take the scene to the backyards of some friend. The homemade hits were where we began our adventure. for the year 2014 or 2015, the thing was improving in the security issue and therefore the scene went out to become strong again.
PUNK GLOBE: some favorite places to play?
ELIUD: Our city Monterrey, it is always special to play in our own nest, although sometimes we can not play so often in Monterrey, you know, to travel a country as Mexico can take a long time, but whenever we play in our city, it is something special. in the city of Bogota, in Colombia, in which we had the opportunity to present ourselves in 2014, we realized how passionate the Colombian scene is, consequently, it is our second favorite city to play.
PUNK GLOBE: Is the band signed with a record label?
ELIUD: The band remains independent at the moment.
PUNK GLOBE: What do you remember from your first concert? What were you feeling?
ELIUD: It was at that moment, in which we realized that, this was what we wanted to dedicate ourselves for life, the power that generated being on a stage (in this case a patio) and that the people were willing to kill themselves in the pit at the least provocation, it is the most glorious memory I have.
PUNK GLOBE: Have you toured?
ELIUD: Yes. We have had the fortune of making 4 tours through our country, and 1 tour of 2 cities through the Republic of Colombia.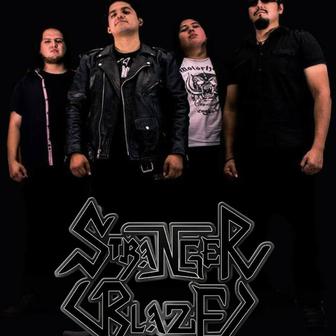 PUNK GLOBE: With what bands would you like to share the stage with?
ELIUD: In my particular case, I have always wanted to alternate with Trivium and Angelus Apatrida, with whom we had the honor of playing last year (2016).
PUNK GLOBE: Tell us about your best show you played?
ELIUD: In the city of Bogota in 2014, the warmth of the Colombian people and the passion that overflowed a total crowd for a band like us, was simply spectacular the people were wild in the pits, and they showed the pride of being part of the Colombian metal scene. We are looking forward to going back to the east 2018.
PUNK GLOBE: And the worst?
ELIUD: I could not say that I have some "worst" experience, since all of them have been useful for our development as a project, every bad situation has to be converted in something good.
PUNK GLOBE: Do you have day jobs?
ELIUD: Unfortunately we can not pay the bills with our music for now haha, so we all have our respective jobs. I (Eliud) am a sales manager in a company that produces accessories for off-road vehicles in the US market. Adolfo Sanchez is a stockist of some years ago, Sergio Garza is a seller with a very popular painting company in Mexico, Billy works in a cardboard production factory.
PUNK GLOBE: Do you have any Internet addresses that you would like to share with Punk Globe readers?
ELIUD: Of course, people can contact us to say hello, insult or ask for merchandise from the band through Facebook.com/Stranger Blaze ... our youtube channel: STRANGER BLAZE, the instagram: oficialstrangerblaze ... or our twitter: @xStranger_Blaze for booking, you can write to: thecontender_316@hotmail.com
PUNK GLOBE: Some last words for Punk Globe readers?
ELIUD: Greetings to all the readers of Argentina who support the Latin American metal, see you soon there in your country