Ellen Degenerate
Modern Girl

by Carl Macki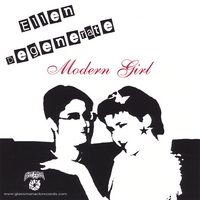 Ellen Degenerate
Modern Girl
Glass Manacle Records
Personnel:
Deryck Despotic (or Degenerate) -- guitar and vocals
Zenu--drums
Brad Shitt -- bass
Adolf Dahmer -- guitar
Track Listing


Who Made Rock & Roll Just for Girls
Modern Girl
Ellen
What Once Was
Savage Nation
U.S. Mutt
I'm Political
Fuck Death Proof
Affirmative Action
Cheap Labor
Sold by:
http://cdbaby.com/cd/edegenerate
sold out -- try itunes
http://www.myspace.com/ellendegenerate
http://www.glassmanaclerecords.com
Were it not for the deft guitar work and the heat inversion in the sardonic lyrics, this would just be another collection of bright-minded pop coming from out of the Cleveland/Akron area. The band is loud and melodic, self-assured and composed. A minor tour de force. Listening to this CD kept me happy one morning while looking up addresses online for a temp job. Deryck did all the vocals and guitar work on the album; the other members are in the live band.