I first met Easter Teeth from my pals over at Zap Records playing them On Whatever68 Radio and having them on our compilations,I enjoy the music and they are cools guys who are supportive of the music scene go check them out on social media and listen to the music!
Punk Globe: Hi and thanks for the interview can you tell us the current band members and positions?
Easter Teeth: Hi! Thanks for having us! Sure thing. Easter Teeth is Tim Eymann on bass, keys, and various gadgets, and Josh Eymann on drums. We share the vocal duties.
Punk Globe: Tell us the brief history of your band.
Easter Teeth: [Tim] Easter Teeth started when the guitar player in our old band, Springtime is Wartime, couldn't make a gig, so we figured out a set we could play without him. People seemed to dig it and we had fun, so we kept doing it as a side project. When our guitar quit in 2010, then we just made Easter Teeth our main project. Springtime never did an extensive tour because the guitarist never wanted to. So when he dropped out, we cut a demo and hit the road as quick as we could, and haven't looked back!
Punk Globe: Describe the making of your music and releases
Easter Teeth: [Tim] Since there's only two of us, the process of making music is pretty dang easy. Most of the time, I [Tim] bring a groove to the table and we build from there. But it's always a collaboration. Really, we just listen to a lot of James Brown and ask, "Have we done that beat yet?" We keep the song structures and lengths very simple and manageable. I think that's sort of as a reaction to our previous band, which wrote long songs with a lot of atypical song structures and time signatures. We've officially released 2 full-lengths plus a split 7" and a 2-song single. Our second full-length, Truckstop Fear, just came out October 19th. You can be order physical copies or download it at easterteeth.bandcamp.com. And it's streaming just about everywhere.
Punk Globe: What/where is your hometown? Do the people back at home support you?
Easter Teeth: [Tim] We claim Goleta, CA, It's just west of Santa Barbara. We sometimes draw a decent crowd in our area, but we've never been the cool kids in town. We don't get asked by other bands to join a show very often. We tend to be the ones that have to do the asking. But we don't resent it. [Josh] So, while we are not very popular in our home town, we are lucky that our location allows easy traveling to Portland, Las Vegas, Phoenix, LA, Oakland, San Francisco, Bakersfield, Orange County where we've done really well and made a lot of good friends.
Punk Globe: Describe your music scene?
Easter Teeth: [Tim] The word we use often for our music scene is "transient." Santa Barbara is a college town and an expensive beach town driven by tourism. People either leave when they're done with school or leave because they can't afford to stay here. So the music scene doesn't ever seem to gain any momentum. Especially when all the college kids are into either EDM or Jack Johnson and Sublime. It can be tough for punks here. [Josh] I describe it as the the scene with the most wasted potential in the USA. An hour or so from LA. 60,000 college kids. Affluent, so kids can afford to start bands and play, but the majority of the bands sound like a bad 70s jam band, or white reggae, or just really safe a derivative.... like we all live in some "out of touch" place like Medicine Hat or something. And the college kids who come to UCSB, by and large, are not really into bands as much as we've noticed college kids in other towns are. It's just a weird quirk of this city.
Punk Globe: Is there anything you feel can be done to improve your music scene?
Easter Teeth: [Tim] Well, we feel like we've done about all we can. We started an all ages venue (The Hard to Find) way back in the early 2000's, and still run shows off and on. We have a policy of always having at least one local band on every bill. And we've tried to collaborate with the college radio station and other promoters. But we're getting pretty freakin old now and kinda feel like it's the next generation's turn to take up the torch. All it takes is one or two people to get passionate about music to get a scene really going. [Josh] There are always a couple excited, energetic people with good ideas who try to get something going here, and there have been dozens of really good bands here, but the mass population of the place is pretty much just into mood music for shopping at Pacific Sunwear and doing drugs. They buy tickets to Coachella once a year, that's about all the bands they need unless their friend starts a band, then they only go to that friend's shows. Until it becomes cool to like bands again, and Santa Barbara can kind of poseurs into that a couple years late, our town will probably continue to be a place where vibrant bands and artists and promoters and what not leave instead of stay.
Punk Globe: If you guys were to describe yourself in simple word choice.. what would you say?
Easter Teeth: [Tim] If you're talking about genre, we like the term "soul punk" or "soul core." Can't remember where we first heard someone describe us as such, but it seems to encapsulate exactly what we're going for: loud but groovy. [Josh] Queen Latifacore.
Punk Globe: Do you guys have any other hobbies besides, obviously, making music?
Easter Teeth: [Tim] We're both really into baseball. We were both pitchers in high school. We grew up Angels fans. So we prefer touring in the summer, not just because the weather is better, but because we can listen to Angels games on the long drives. Josh does a lot of graphic design too. He's pretty talented with that junk. He's done all of our album art, merch, and show posters. My other hobby is pretty much just chasing my kids around, Melody and Charlie. Umm, what else? Been really addicted to this board game for a year or so now called Ticket to Ride.
Punk Globe: What's your most embarrassing band experience?
Easter Teeth: [Tim] Hmm. That's tough because we are a constant embarrassment. Well I will never forget the time a record label guy was scouting us at a show. If you've ever seen us live, you know I [Tim] have this briefcase full of percussion instruments like tambourine, vibraslap, shakers, etc. And I keep that on top of my amp to reach into throughout our set. So we had just gotten on stage, all ready to start our first song. The crowd had gathered close to the stage, including this record label scout, and I somehow knocked the whole briefcase off behind my amp. So they all had to sit there for what seemed to me like 20 minutes (it was probably only 2) while I fumbled around on the floor behind my amp picking up everything. When we finally launched into our set, I was so flustered that we played pretty rough on the first song or two. Needless to say, we did not get signed by that label. Haha. [Josh] I have actually never played a bad set because I'm like the Julius Caesar of drums. [Tim] And as modest as Caesar too! [Josh] But we have played a show in Tucson where our only friend in town was the only person in this sketchy ghetto shack we were playing in. The guy who set up the show didn't come, and the guys who were running the show tried to talk us out of playing, and then just left after we started our set. We finished. Silence. We packed alone, left the place unlocked and went on our way.... only the dusty desert air and a guy named Greg knowing we'd ever played. [Tim] And our buddy Joe was there too because he toured with us. So TWO people were there!
Punk Globe: What do you do when you hear your band on the radio?
Easter Teeth: [Tim] I pee a little. No, I just have a tiny bit of quiet satisfaction, and then post about it social media. Cuz if you don't toot your own horn, who's gonna do it for you? Right? But let's not kid ourselves here, we've been on the radio possibly 12 times? Mostly in random corners of the universe like Alaska and Bakersfield. London and San Diego (on the incomparable Whatever68 Radio!) more recently, those aren't so random. [Josh] I grab the nearest total stranger and cram my gooey wet ear buds into their ears yelling "WE DID IT! WE DID IT! WE ARE ON THE RADIO JUST LIKE ELVIS!" like in that scene from the incredible Tom Hanks movie That Thing You Do. Or I just smile and move along with my day.
Punk Globe: Who are your musical and non-musical influences?
Easter Teeth: [Tim] We try to blend the sounds of post punk and post hardcore kinda bands like The Jesus Lizard, Fugazi, At the Drive-in with old soul/hard funk groups like James Brown, Kool & the Gang, The Meters. [Josh] We mix a little old punk like Buzzcocks and The Minutemen and maybe some Pylon/Magazine/Pere Ubu type stuff into the details as well. [Tim] As for non-musical influences, I'd say our dad. He's not very musical, but he's been a big influence. I think he did the best he could to teach us how to not compromise what we believe at all, to be independent thinkers and to not just go along with the masses.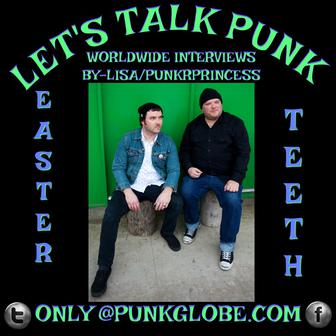 Punk Globe: What are your dreams and goals for the band?
Easter Teeth: [Tim] I dunno, we've already done more than we ever imagined we would: touring the country multiple times, pressing vinyl, making a music video...We could roll our Kia minivan today and die happy. If that doesn't happen and we keep at it, we'd love to put out a 12", maybe do another music video. I wouldn't mind getting to tour Europe, but only if it made sense, not just for the sake of doing it. Prolly not gonna happen. [Josh] We're pretty happy just having a hobby that lets you travel the country for free and has the built in feature of getting to meet cool people in every town you stop in. If more opportunities come along great, but we don't stress out about our band and it's success. We wanted to have a great time, and we are, so it's a success.
Punk Globe: What advice would you give to fellow bands?
Easter Teeth: [Tim] Well, to young kids I want to say first off, learn drums or bass. Not guitar. Guitar players are a dime a dozen. If you become a decent drummer or bass player, you'll never be without a gig. We also really preach the idea of keeping it light. Don't take yourself so seriously. All you'll do is piss off your bandmates and suck all the fun out of it. Don't stress over recording, touring, making merch, whatever. Instead just be grateful that you have the opportunity do as much or as little as are. Realize that most people don't even get to do that much! [Josh] Also, there is nothing wrong with taking your time, getting your style strait, getting good at that. When we were really young, and bands really had to compete for spots on shows, bands would practice for 6 months before anyone ever even heard them. Now I have kids who are in a 1 year old band asking for contractual guarantees if they come across the country and play our venue.... and they are the ones asking for the show.... and they sound like a band that is brand new and pretty crappy. Practice people! The bands you hear about that "make it after 12 shows" are usually made up of guys who were in 3 bands before and know how to get going fast. Take your time.
Punk Globe: In your opinion what are the biggest obstacles for bands?
Easter Teeth: [Tim] I can think of three big ones off the bat. #1 is egos. Musicians all think they're special snowflakes. Trying to make 3, 4, 5 how ever many people are in your band, all work together and compromise and be civil can be pretty tricky. That's part of why we are only a two-piece, fewer egos. #2 is relationships. I guess that's kinda related. But it could be relationships outside of the band too. Boyfriends, girlfriends, what have you. Those can alter the course of a band pretty quick. #3 is substance abuse. I know some people might think it's not super punk to say this, but no one can deny that too much drinking or drugs has killed off a whole lot of bands. Some bands, that's the whole reason they even exist, and that's their choice. But if a band wants to actually grow and improve, it's pretty hard to do that and maintain a hearty alcohol drug habit. [Josh] #4 Solo Act Fascism. Too many low talent hacks are sitting around alone writing really bad songs and then playing shows in front of friends who tell them they are good. Most of them are not, but since it's easy to be a solo act and not have to compromise your generally crappy musical vision with other's ideas, people do it a lot. It's healthy to create music with other people. #5 Netflix.
Punk Globe: How do you promote the band and events?
Easter Teeth: [Tim] We do the Instagram and Facebook thing, but we also go old skool when we can. For local shows we still flyer at and around the venue. Sometimes we even do handbills and pass them out at other local shows. [Josh] Josh takes his shirt off.
Punk Globe: Where can we find you before and after your shows?
Easter Teeth: [Tim] Before the show I'm at home with my wife and kids playing Legos or Nintendo. Josh is at his place watching Netflix. After the show, no doubt, we're at Del Taco. Well, that is, if we earned it. If we played a good enough set. [Josh] Right before a show we are generally found in our maroon KIA mini van named Whistle Pig. Then we like to hang out with people at the show, play some songs, then hang out with more people.
Punk Globe: Any shows/tours or anything else you would like us to know?
Easter Teeth: [Tim] We've got a show in Goleta on January 22nd with a couple bands on Penniback Records out of LA - Espresso and The Crudes. Also Arrington de Dionyso is playing it, the frontman from Old Time Religion. And another local band called Pookie. That's at The Hard to Find Showspace. Beyond that, no real plans.
Punk Globe: Any shout outs you would like to give?
Easter Teeth: [Tim] Yeah, shout out to Dave Emmerson of ZAP! Records. He helped us put out Truckstop Fear and is doing a lot to help push the album. Stand-up guy. Shout outs to Luis and Julian of Penniback. They've been hooking us up with some fun shows in the LA area over the last year or so. Really appreciate those cats! And of course, shout out to Lisa Monday-Gomez PunkrPrincess for doing this!
Punk Globe: Thanks for the interview and your awesome tunes for Whatever68 Radio.