DOOM KOUNTY ELECTRIC CHAIR
Reissue of the 2002 "Cabin Healed Killers"
Special Bonus Disc 1999
"Homicide" EP
Persuasion Records/Independent Anonymous: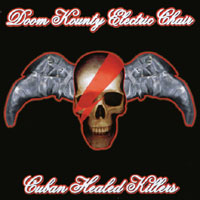 I first became aware of Doom Kounty Electric Chair through Scottie Diablo at a Helvis and The Hellvettes show in Costa Mesa and finally got to see the band live. They rawked hard when I saw them play at The Opium Den. Both of these CD'S are much welcome releases.. These too HOT for words CD'S can be purchased at CD Baby
www.cdbaby.com
or you can order it direct from
www.doomkounty.com
Standout tracks are "Crime in The City", "Baby Kisser" "Mannish Boy", The Damned's "Stretchercase Baby" and of course 999's "Homicide" and we can't forget the Tom Petty cover "I Need To Know."
Persuasion Records
1624 East Broadway Street
Anaheim, CA 92805
www.persuasionrecords.com
curt@deliriumrecords.com