Dirty Martini is one of Burlesques key players. Currently on tour with Dita Von Teese, Dirty Martini knows her shit. Check out the in depth chat we had with her about burlesque.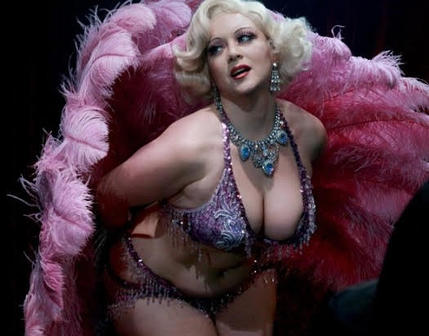 PUNK GLOBE: Why is burlesque important in today's society?
Dirty Martini: I believe that burlesque, at it's most authentic can provide an avenue for women to have a conversation about their sexuality on their own terms. This may sound counter intuitive when discussing a form derived from what is and was considered to be a part of the sex industry run primarily by men. It includes performers that span both worlds, performers in "Gentleman's Club's" and art and pop up venues. We have much to learn from both ends of the spectrum. Previously in feminist history, these conversations have been hushed or ignored due to a misunderstanding of our own sexual needs and their relationship to being a fully fulfilled and entitled human being. The conversation itself is taboo! The actuality is that women historically have had a major role in the sex industry and that industry itself has been innovative in areas of technology, human rights and fashion. My S-heroes are: Jennie Lee, founder of the Burlesque Hall of Fame and union organizer, Zorita, notorious burlesque bad ass of the past, Tura Satana, cult icon of bad girl style and Liz Renay, burlesque and screen star known as much for her screen appearances and jail time as she is for her amazing memoir and resulting advice books for a previous generation of housewives. These women had small roles in our collective memory, but a huge influence on the way women are perceived in the world. More importantly, they kick started the revolution of the new burlesque by inspiring a generation of young women who started to question the status quo post sexual revolution.
Why is all this important? Now more than ever we are seeing a major backlash in the USA under the threat of religious conservatism and the election of a man who blatantly uses women to bolster his own self image and thereby narrows the perceived image of a strong woman. Burlesque in it's current form is all about strong women expressing themselves and their intense femininity whether that looks like pretty retro vixens or "normal" looking women on stage performing more conceptual work and everything in between. Both can be very satisfying to watch while women and men who support them are riotously cheering in an audience.
PUNK GLOBE: What sets Burlesque apart from other dancing?
Dirty Martini: Burlesque has its roots in the birth of American Jazz music and social dance forms such as the jitterbug. "Exotic" dance forms that were less understood by Americans such as Middle Eastern dance and Hula were also imitated to create a new vocabulary of "sexy dance" that was thankfully recorded and made into stag and exploitation films. These were the very places that women felt oppressed by and excluded from. Burlesque is a form of dance that hasn't previously been "discovered" or discussed by dance historians. This is something that drew me to it when I saw my first burlesque reel from the 50's. After a conservatory education in dance and choreography, it was akin to discovering King Tut's Tomb! No one was discussing the merits or contribution of burlesque to theatrical history. This was one of the reasons that I felt I needed to start recreating it for this generation. I felt that if I could show people in a new generation what the old burlesque had to offer, then a new art form could be instigated. Was I right or what!!! Thanks to others in the field who had similar goals, namely Dita VonTeese and directors like John Cameron Mitchell, there is now a basis for starting burlesque anew! Dita, Catherine D'lish and the LA troupe The Velvet Hammer influenced the creators of the film Burlesque with Cher. In New York, John Cameron Mitchell who made the movie Hedwig came to The VaVaVoom Room and used many of those performers for his groundbreaking film Shortbus. Currently, Dita Von Teese is touring her stage show Art of the Teese all over the country and Canada featuring a diverse cast of burlesque innovators including myself. Burlesque festivals such as the one in Edmonton have popped up all over the world to showcase all of the amazing new and established performers that are the newest generation of this unique art form.
PUNK GLOBE: You are often hailed as the Queen of Burlesque, alongside Judith Stein. How does that make you feel?
Dirty Martini: I feel like an overnight success which everyone knows takes 10 years to accomplish! I'm so excited to perform alongside the cherished Grand Beaver of burlesque who exemplifies the beauty, comedy and innovation that burlesque brings to the world. She is such a treasure to Canada and the world. We need to create the kind of icons that we wish to see in the mainstream, because there is so much more to women than just Victoria's Secret Angels and Real Housewives. This is the 21st century people! Time for women to make our revolution and be the glamazon army we need! Can we have Rihanna & Nikki Minaj for Generals please?
PUNK GLOBE: What inspired your signature style - both in dance and fashion?
Dirty Martini: My curvy form has always dictated my sense of style mainly because of the limited options for purchasing clothes that fit. Women speak to me all the time about creating more of a market for Curvy women in fashion. I'm certainly trying as far as social perceptions go, but the fashion industry is like a brick wall. When it comes to what ends up in the stores, we are limited by narrow minded professional buyers and the lack of diverse patterning. Not to mention the exportation of labor and fabrication in troublesome economies such as Indonesia, Mexico and China. There are many fabulous smaller venues in which to buy fashion, but most curvy girls find the price limiting when Walmart offers stretch clothing for under $10. We have to reframe how we buy clothing for ourselves until there are better options. Trashy Diva and Mode Merr are my favorites for shape and fabric quality offering a large variety of styles and sizes between the two. Pinup Girl and Bernie Dexter are also incredible sources for a special occasion outfit, but I wear them everyday! Karl Lagerfeld said to me after our photoshoot "together, we could change fashion". I keep this in my mind as a pep speech when professionals in the industry tell me that buyers will not stock and thereby order larger sizes in both lingerie and ready to wear.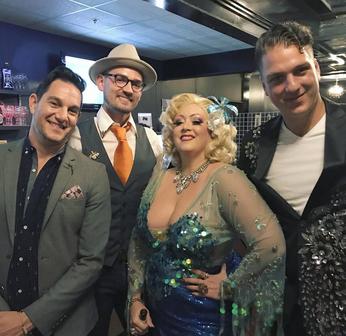 PUNK GLOBE: Where do you see the art of burlesque going in the future?
Dirty Martini: I can only hope for the by-product of my career to be greater understanding of women as artists, a more comprehensive array of types of beauty on view, and the elevation of the contributions of burlesque artists of the past. It's time these women were lauded as the ground breaking bad asses that they are. I don't believe that burlesque is a fad, because I've been innovating in it since the early 90's and it's only grown bigger. Punk rock started at CBGB's which is now gone but not forgotten. 30 years ago you could see Blondie there. At that time, no one knew the name The Ramones or Blondie, but they started a revolution in music. I hope the same for burlesque. Unlike Rock and Roll, the world of dance needs an infusion of cool. I believe burlesque could be that infusion. Even though The Velvet Hammer is long gone, there's a new generation of boastful, fabulous, PT Barnum-esque social justice warriors ready to bust up the mainstream!