"THE BUTCHER'S BALLROOM"
by Pamela Torres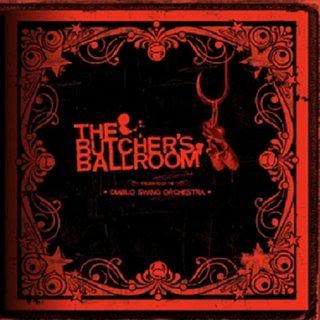 Ah, yes, "The Butcher's Ballroom." Let's see. Where do I possibly begin? For the past couple of years, I have been in a seemingly endless pursuit of talented musicians capable of pushing the melodic and lyrical boundaries, and words just can't describe how much I worship the mad genius work of Stockholm, Sweden's Diablo Swing Orchestra. Just so everybody knows, the DSO is NOT, under ANY circumstances, A SWING BAND, at least, not when compared to the Big Bad Voodoo Daddies or the Royal Crown Revue. From what I understand, several members of the band are direct descendants of a group of traveling musicians who were persecuted and savagely executed by the Catholic Church back in the 16th century.
In their 2006 LP (which was released by the label Gillioutine Grooves), the DSO concocts a mindfreak mosiac of sound by ravishing and twisting a multitude of contemporary genres inside out. Here are a few breathtaking highlights one can look forward to:
"Balrog Boogie" is a 4-minute blast of big band swing percolating in a vat of port wine and holy water.
"Heroines" can best be described as a stomping elephant march of plucked double bass strings followed by crunching guitar riffs.
"Poetic Pitbull Revolutions," with its blaring Spanish horns, is a heaping spoonful of heavy metal dressed in a fiery matador's cape.
"Rag Doll Physics," which apparently is meant to be an anti-war anthem, acts like 3-step alt-violin waltz being shamelessly danced on top of a landmine.
The track "D'Angelo" gives listeners a graceful earful of Italian opera floating on a gondola in Venice.
"Gunpowder Chant," an exciting sonic interaction between an Indian sitar and an Australian didgeridoo (representing the harmony that could form between two strikingly different cultures across miles of blue ocean), bleeds and crashes right into the hard-hitting slide rock rhythms of "Infralove," an angst-driven tune about the average citizen's struggle to maintain his/her individuality.
Another instrumental track called "Qualms of Conscience" is a smoky bistro interlude played solely on piano keys.
What is also quite fascinating about DSO's "The Butcher's Ballroom" is the songs' pseudo-grunge lyrics, which are sung by frontman Daniel Hakansson and the otherworldly Annlouice Logdlund. One will have to read the inside cover pages to figure out that the overall theme of "Ballroom" is the rickety roller-coaster of lost love and brittle relationships.
"I will let you shine like the most sincere little lie.
It will grow on you like Tender Force, Brutal Love."
http://www.myspace.com/diabloswingorchestra
back to home page