Turn Me Off
Grave Mistake Records
by James G. Carlson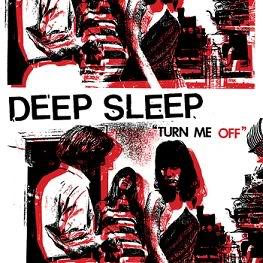 Maryland hardcore punk quartet Deep Sleep are wide awake and ripping through ten all-new songs on their first full-length studio release, Turn Me Off, on Grave Mistake Records. With a sound that is all too rare in the hardcore punk scene these days, Deep Sleep have married old school with new school in a way that brings to mind something like Horror Show meets Kid Dynamite meets Youth of Today (Can't Close My Eyes and Disengage days, that is), and so on like that.
Now, quite a few bloggers and music journalists have compared Deep Sleep's sound to The Descendents, Chemical People, and the Hard-Ons, but I personally don't hear it. If anything, they are more on the Propagandhi side of punk...a band they have shared the stage with, as a matter of fact, in addition to Strike Anywhere, The Loved Ones, Cro-Mags, Paint It Black, Dillinger Four, and others.
Like most good hardcore punk, Deep Sleep's songs are short bursts of distorted sound with driving drumbeats and strong, burning vocals, most of them between one and two minutes in length. Turn Me Off's opener "Live Forever" sets the pace for the rest of the album with its rapid-fire verses and heavy choruses, along with well-placed hooks and sweaty, from-the-gut vocal deliveries. "Turn Me Off," the title track, is definitely one of the standout songs on the album, with great lyrics like, Heart beats fast, won't let me rest...pull that shit right out of my chest! Other standouts are "Be With You," which has a sort of DRI Thrash Zone quality to it; "Destroy Everything," which is super-short and hits hard; and "Head Spins," which judging by the lyrical content is the closest thing to a drinking song Deep Sleep has to offer.
Musically, Turn Me Off is tight but not too tight, just as a hardcore punk album should be. And the recording is a good studio job, though far from over-produced...again, just as a hardcore punk album should be.
As I have already mentioned, Deep Sleep is a four-piece band. Its members are Nick Vance (guitar), Darick Sater (drums), Mike Stearns (bass), and Tony Pence (vocals). Definitely a smart lineup of longtime Baltimore hardcore and punk musicians. One that I expect we will hear more from, too.
Back in December, writers Anthony Glaser and Kristen Swanson contributed an informative interview with Deep Sleep at NationalUnderground.org. On the band's origins Deep Sleep vocalist Tony said, Me and Nick were friends from when I worked at a local Baltimore punk store called Reptilian Records in the 90's. We played in a hardcore band together called Never Enough, and when that band folded we wanted to continue playing together in a more punk direction, so we started Deep Sleep for that purpose. Darick and Mike both lived in Westminster, Maryland, and had been playing together in different bands since they were in high school, so it was a no-brainer to have them join us. This lineup has been going for about four years now.
Turn Me Off is available from Grave Mistake Records on both CD and vinyl formats. And if you're looking for some genuine hardcore punk, and not that pre-packaged assembly line garbage that passes for punk in recent years, Deep Sleep's Turn Me Off might be one for your collection.